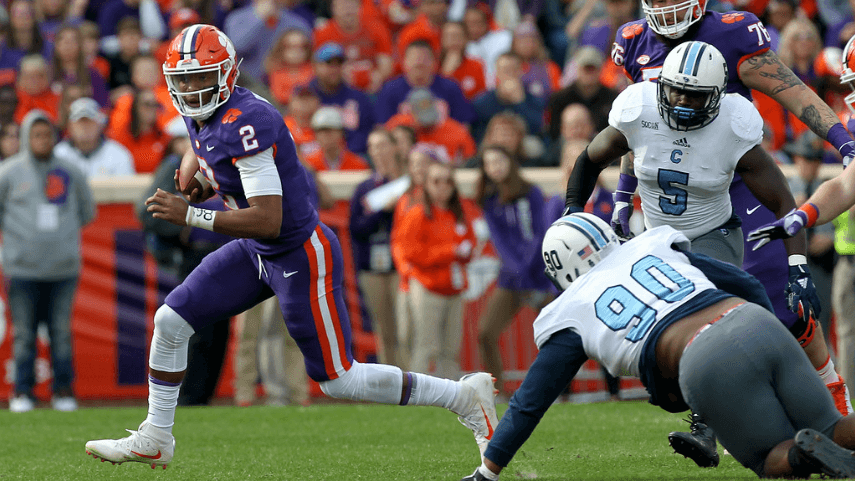 Moments after Clemson QB Kelly Bryant announced his intentions to transfer, I posted this on Twitter:
BREAKING: QB Kelly Bryant to transfer from Clemson. #Gators should immediately reach out to him.

— InAllKindsOfWeather.com (@AllKindsWeather) September 26, 2018
As I expected, this tweet received some vehement disagreement. At the risk of sounding arrogant, I have a large enough following that I've come to expect there to be disagreement from someone, somewhere, with pretty much every opinion I state. Which is fine, as everybody is entitled to have their own opinion, the same way that they're entitled to voice it. People who have voiced their opposition to wanting Kelly Bryant have used four key points: it would thwart the growth of Feleipe Franks, it would send the wrong message to currently committed and enrolled quarterbacks, Bryant isn't that good anyway, and Florida should be recruiting its own QBs to mold and develop rather than relying on grad transfers who will only be here for a year anyway.
The problem is that disagreeing with this tweet- which stated that Florida should reach out to Kelly Bryant, not offer him the world, get on its collective knees and beg him to play for the Gators- for any of the first three reasons shows either a profound lack of awareness of the Gators' last decade worth of history at the quarterback position, or a severe case of Dunning-Kruger disease in regards to the abilities of Feleipe Franks. And while I'll nod and say "fair point" to reason number four (and will answer more extensively at the end), I still see no downside to simply gauging Bryant's interest in playing for Florida.
In 2017, Bryant took over the Tigers' starting job and flourished, completing 262 of the 398 passes he attempted (65.83%) for 2,802 yards, sixteen touchdowns and only ten interceptions, guiding Clemson to an ACC Championship and a spot in the college football playoff. He also rushed for 662 yards and eleven touchdowns on 195 attempts. Now compare those numbers to those of Feleipe Franks; we can't compare him to Emory Jones as Jones has yet to take a meaningful snap. Since becoming the starter in last year's opener against Michigan, Franks has completed 175 of 324 passes (54.01%) for 2,180 yards, 21 touchdowns and ten picks. And it goes without saying he isn't a fraction of the running threat Kelly Bryant is.
On a hypothetical team that owns both quarterbacks, arguing to start Franks is silly. Those fans out there who are giddy about a utopian future with Franks because he completed half his passes against a Tennessee team that hasn't won an SEC game since 2016 are performing a mind-blowing exercise of self delusion, one that's bound to come to an abrupt end when Franks faces the likes of LSU and Georgia. I'm not arguing that Bryant is a Heisman Trophy candidate, because he's not and never will be, but he's proven to be better than Franks both through the air and on the ground. And it isn't close.
As for sending the wrong message to guys like Emory Jones, Jalon Jones, Anthony Richardson and Kyle Trask? Maybe it does, but if sends the wrong message to them, then they have the wrong attitude to play at a place like Florida. The presence of a veteran like Bryant would serve as the perfect de-recruitment tool, the kind of message that says, "we still love you and want you here, but we're not going to give you anything; you're going to have to work hard and prove that you're the best every single day against a proven leader." And as an added bonus, veteran leadership is as good a bet as any to help kill off the sort of entitlement that poisoned this team against Kentucky.
None of this is to say that Bryant should be offered the starting job in a meeting at his home. None of this is to say that Bryant will beat out Franks or Emory Jones if he does transfer to Florida. None of this is to say that Bryant even has a shred of interest in playing for Florida.
But for Dan Mullen to not even reach out to him and see if he's interested displays a dangerous amount of self-confidence in his ability to breed quarterbacks, because that would boldly declare that the Gators would rather take their chances with the quarterbacks on the roster that they currently have as opposed to a proven winner who's already been far more productive than anybody Florida currently has. Don't promise him anything. Don't be desperate. Just pick up the phone and ask a simple question: "have you ever thought about playing for the Gators?"
Failure to make the simplest effort to reach out is a gamble that says you trust four guys who have never taken a meaningful snap and one guy who has, on the whole, looked really bad in the fifteen games of meaningful snaps he did take… over a guy who hasn't looked great, but has looked consistently good in general and leagues better than what you have. Swing and miss on a gamble like that, and the coaching staff looks far more foolish than it would for calling the wrong defense or starting the wrong guy, because the character trait that we as a fan base- myself included- love Mullen for would then be rightly thrown into question. If Florida doesn't even bother to contact Bryant, who then goes elsewhere and excels while the Gators' decade long quarterback struggles continue, Mullen & Co. would look mighty foolish for not attempting to add Bryant to the roster.
Of course, Bryant very well might not start at Florida next year. Emory Jones has a higher upside and is younger than Bryant, so if Bryant can't demonstrate to be clearly better than Jones, the right move would be to go with the go with the younger guy. But now consider this: the last time Florida completed an entire season without being forced to play its backup quarterback was 2008.
2009: Tebow (Kentucky)
2010: Brantley (various)
2011: Brantley (various)
2012: Driskel (Louisiana)
2013: Driskel (Tennessee)
2014: Driskel (Tennessee)
2015: Grier (PEDs)
2016: Del Rio (North Texas)
2017: Franks (Kentucky)

Look at that track record. Never a bad idea to have depth https://t.co/0pE7HNGXEp

— InAllKindsOfWeather.com (@AllKindsWeather) September 26, 2018
This is my answer the fourth and only logical reason to not want to add Bryant to the program: every good team has a Plan B. In each of the last nine seasons, the Gators have had to call upon their backup quarterback. In four of those seasons (2010, 2011, 2013 and 2017) the Gators had to use their third string quarterback, and it's a safe bet they would have in 2015 as well had there been a serviceable backup behind Treon Harris. You can never have too much depth at quarterback. And if he does transfer to Florida and is clearly the best option at quarterback on the roster next year, then he plays while the next in line- whoever that may be, gets more time to develop and get ready to run the show in 2020. No, I don't want Florida to get into the habit of landing grad transfer quarterbacks, because I'm with most of you in that I'd like Florida to recruit and develop them themselves. This is by no means an acceptable formula for success long term, but Bryant may be the placeholder QB Mullen needs to get the program off the ground while he rebuilds the other parts of Florida's roster in the meantime.
Given that he is transferring because of being benched, Bryant probably doesn't want to transfer somewhere to be a backup. He wants to transfer somewhere to play. Florida cannot realistically guarantee him this; all the Gator coaches could truthfully say is that he'll have a chance to come in and compete for the starting job. That's all they really should say. If Bryant doesn't like that pitch, he can look elsewhere. But someone on Florida's staff should absolutely make that call.
And if nobody does, then the Gators had better demonstrate a better product.