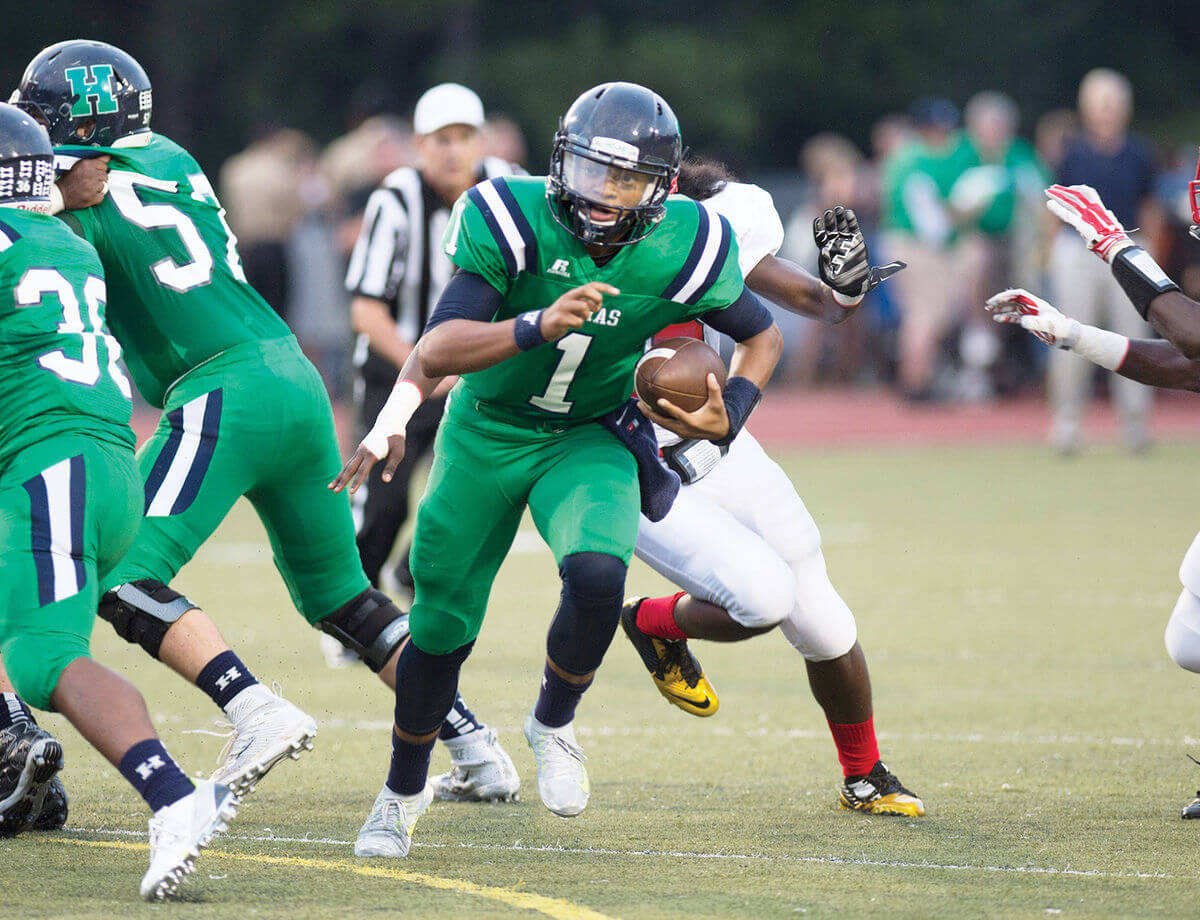 It's extremely rare for high school recruits to decommit twice during their recruitment, but it does happen. Which means that there's at least some precedent for the hypothetical scenario where the roller coaster that is the life of high school quarterback Justin Fields includes parts where he decommits from Penn State, commits to Georgia, decommits from Georgia and commits to- and signs with- Florida.
On the surface, it makes sense for him to stick with Georgia. There will be fewer returning quarterbacks on the depth chart in Athens than there will be in Gainesville. He's made friends with all the recruits and current players. Given their stunning success this year, he has to think UGA presents him with a realistic opportunity to compete for a championship. And then there's the obvious fact that the overwhelming majority of recruits committed to a given school after Thanksgiving weekend ultimately sign with that school.
But even with Matt Corral already committed to the Gators, Fields owes it to himself to at least give UF a look. Mullen has a long, decorated history of developing mobile quarterbacks, from Alex Smith to Tim Tebow to Dak Prescott. But even without that history, Mullen makes Florida a different Florida than the Florida Fields turned down a few months ago. The Florida today currently represents a place where the offense he was born to run exists, whereas the Florida of this past summer- or even earlier this month- was a place where he would have to adapt to being a more pro-style, traditional quarterback.
As a result, Fields is now thrown right back into the same position he was in this summer. He liked Florida very much as a school and as a place, and he'll still have to beat out Matt Corral (assuming he sticks) but now he would be tasked with doing so in an offense that he's much more suited to run. In a way, he has a new suitor coming after him- and so he has a real choice to make.
Because of the perennial sunny vibe he exudes on social media and in interviews, Corral is sometimes difficult to truly read. For example, we have no idea how he really feels about Mullen coming to Gainesville and bringing his offense. Sure he seemed excited on twitter, but perhaps he saw it as a challenge that would make him have to learn to carry the football three or four times a game- and maybe with Fields competing against him for a role where that would not just be one of the requirements, but the more you do it, the better, Corral is beginning to question his future at Florida. I don't know that for a fact, but to dismiss that as a possibility is extremely short sighted.
And if Fields can beat out Corral, the job suddenly appears to be his. I think the world of Jake Allen both as a person and as a quarterback, but he, like Corral, is best suited for a more traditional drop-back quarterback role. And nobody here who's watched Feleipe Franks this year seriously believes he poses a serious threat to Fields for the starting QB job, right?
By contrast, if Fields were to stick with the Bulldogs, he'd have one less quarterback to have to bypass on the QB ladder, but by the same token, two very, very good ones. Jacob Eason and Jake Fromm are going to be difficult to usurp on the depth chart, and assuming neither transfers then Fields may never take the field in Athens.
So at the very least, Fields owes himself the opportunity to hear Dan Mullen out. And if he hears what he wants to hear, he very well make that move and flip.