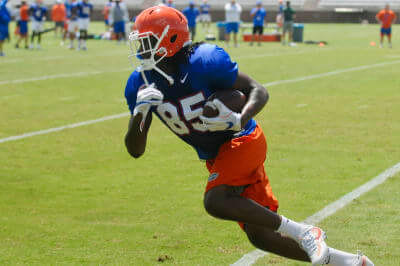 James Robinson's football career is over before it began.
A few months ago, Robinson was found to have a heart condition. As a result of this discovery, Robinson's freshman season was shut down. And earlier tonight, he tweeted that it would be a career ending issue:
https://twitter.com/_stunnajayy_/status/939227027986624515
It's a heart wrenching end to a roller coaster story. Robinson committed to and signed with Florida over Ohio State, Oklahoma and Ole Miss, but that commitment came with some baggage. Ohio State stopped recruiting him after he was busted for marijuana at an off campus party eleven months ago in Columbus and then again this past August in Gainesville. Jim McElwain did everything he could for Robinson, even calling several other schools to see if they had a place for him before fighting a second war with UF admissions to get him enrolled- which he won. And thus, Robinson became a Gator.
But after being nailed for marijuana the second time this past summer, Robinson was suspended for the opener against Michigan and then never received his clearance to play due to the heart issue. Robinson received an echocardiogram this past September and visited a heart specialist in Philadelphia while watching the season in street clothes. Not much has come out about the details of his heart issue, nor has any news about his potential eligibility come out since then.
Until today, when he tweeted that his career was over. Confirmation from UF soon followed and that was that. Robinson will not play at Florida, and almost certainly not anywhere else.
It sucks that it had to end this way for him, and of course I wish him nothing but the best in all that he does moving forward.