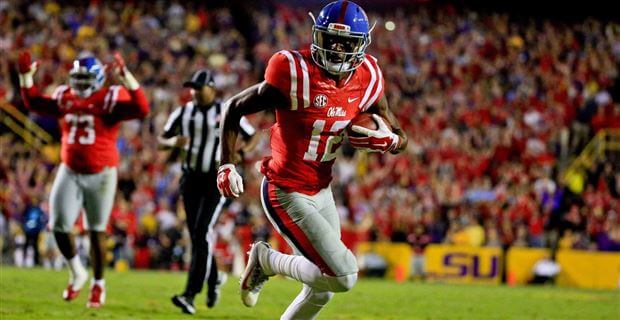 Florida's wide receiver corps just got an enormous boost.
Mississippi transfer Van Jefferson has been declared immediately eligible to play for the Gators in 2018 by the SEC; he is now pending approval from the NCAA. Jefferson transferred following a rough stretch for the Rebels that included the departure of head coach Hugh Freeze due to his involvement with prostitutes and an NCAA-administered bowl ban. The ruling comes on the heels of a new NCAA rule that offers leniency with regards to instant eligibility if the transfer was due to a postseason ban.
Florida actually appears to be in good hands at wide receiver for the first time in nearly a decade, even without Antonio Callaway. Freddie Swain, Josh Hammond and Tyrie Cleveland all have extensive game experience, with Cleveland emerging as a breakout star despite the program's general inability to find a quarterback affecting him for his first two seasons, too. The key to this offense will lie with who delivers the ball to the receivers, not the receivers themselves.
But even with that said- and despite Shea Patterson's approval for immediate eligibility creating a positive forecast for Jefferson- the news comes as a tremendous confidence boost regarding this team. Jefferson hauled in 456 yards' worth of passes as a freshman for the Rebels in 2016 and 543 more as a sophomore last year, and will almost certainly become a featured part of the offense once he learns the playbook.