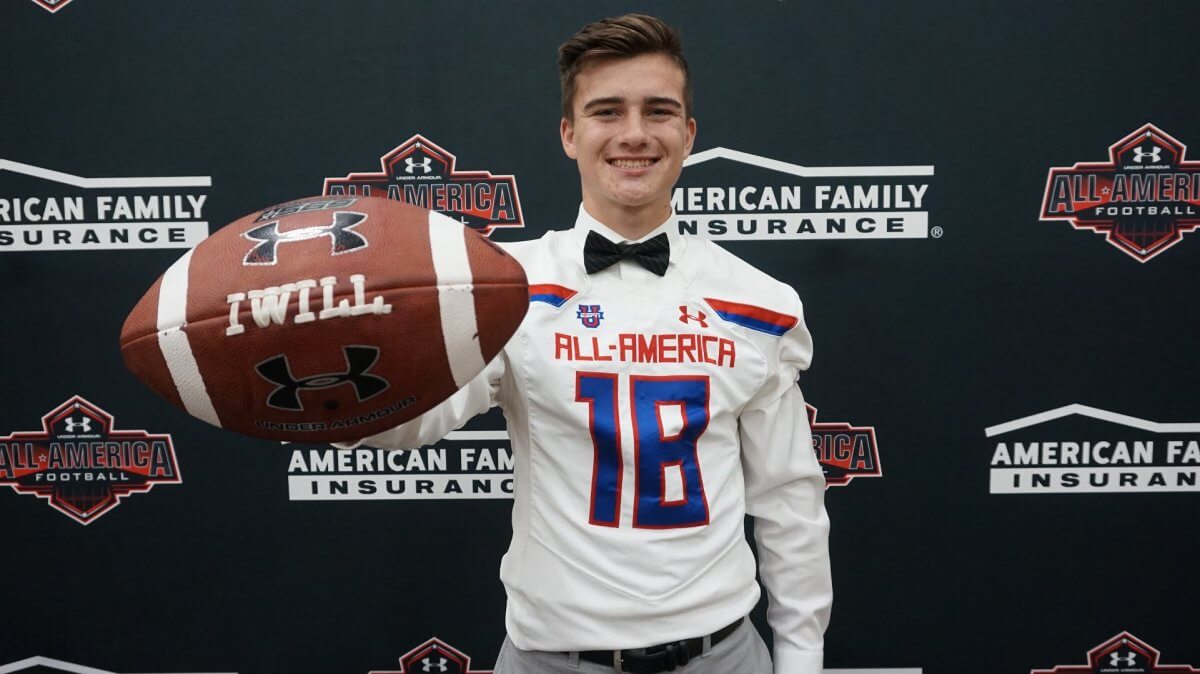 Welcome to our official 2017 (for the class of 2018, so maybe technically 2018) early Signing Day tracker.
A lot less will happen today than on a normal Signing Day given the lower volume of recruits making decisions today, but there is still plenty to look forward to. Along with many of the 13 committed future Gators set to enroll early today, Florida is in good position to land defensive back Trey Dean and flip dual threat QB Emory Jones from Ohio State, so keep checking back for updates in those departments.
UPDATE 7:55am: it's not even 8am and Florida is up to four signees already. They have received letters of intent from: RB Iverson Clement (Mount Holly, NJ), DB Amari Burney (Clearwater, FL), S John Huggins (Deltona, FL), and running back Dameon Pearce (Bainbridge, GA).
UPDATE 8:03am: make that five. Offensive lineman Chris Bleich (Hanover, PA) has sent in his letter of intent.
UPDATE 8:05am: did I say five? I meant six; these letters of intent are flying in at a rapid fire pace that's hard to keep up with. Tight end Kyle Pitts (Warminster, PA) has sent in his letter of intent.
UPDATE 8:21am: JUCO offensive line transfer Noah Banks (Council Bluffs, IA) has sent in his letter of intent. That makes seven of the thirteen commits who are signed, sealed and delivered.
UPDATE 8:26am: kicker Evan McPherson (Fort Payne, AL) has sent in his letter of intent. Dan Mullen has officially inked his first major flip, although to be fair the task wasn't that hard given that the school he flipped from was Mullen's previous team over in Starkville. And we're up to eight signees.
UPDATE 9:38am: that appears to be it for the early signees among those already committed. But Florida is still in play for defensive back Trey Dean and mobile quarterback Emory Jones, so keep your eyes peeled for updates on those two.
UPDATE 10:54am: tight end Dante Lang (Boca Raton, FL) has sent in his letter of intent. UF has nine of its thirteen commits signed, sealed and delivered.
UPDATE 10:59am: safety Randy Russell (Miami, FL) has sent in his letter of intent. Florida now has letters of intent from ten of its thirteen commits.
UPDATE 11:15am: prized Ohio State quarterback commit Emory Jones is set to announce his final decision in fifteen minutes live from an Atlanta bar. Two hours after he announces, defensive back Trey Dean will announce in the same bar. Florida is expected to flip Jones from OSU and land Dean over Alabama and Tennessee.
UPDATE 11:33am: Emory Jones is stuck in traffic and will be late to his signing. This is the world of recruiting, after all.
UPDATE 11:39am: Jones has arrived and the announcement ceremony is set to begin. Watch it live here:
UPDATE 11:52am: BANG! Jones has pulled the trigger and made the move. After a seemingly endless interview with his high school coach, Jones finally got his turn to speak and announced his intentions to become a Florida Gator, putting on a Gator hat and signing his letter of intent to make it official.
UPDATE 12:23pm: you've gotta love Dan Mullen's reaction to landing Emory Jones:
The reaction says it all. 🐊🐊

Welcome to #GatorNation, @exjones6! #AllBite18 pic.twitter.com/K6DV90Kc5x

— Florida Gators Football (@GatorsFB) December 20, 2017
UPDATE 1:27pm: linebacker David Reese (Fort Pierce, FL) has sent in his letter of intent. That makes twelve of the now fourteen committed Gators in the class of 2018 to send in their letters of intent.
UPDATE 1:49pm: the final matter of business today is the commitment of DB Trey Dean. As expected, the announcement is delayed, but is expected to come at the top of the hour.
UPDATE 2:00pm: Trey Dean is on the scene and set to announce. Thanks to our friend Bill Sikes of Gators Breakdown, you can watch it live here:
https://twitter.com/realbsikes/status/943556182903439365
UPDATE 2:02pm: and there it is. Trey Dean is a Florida Gator. Dean picked Florida over Alabama, and gives the Gators their second commitment of the day and fifteenth overall for the class of 2018.