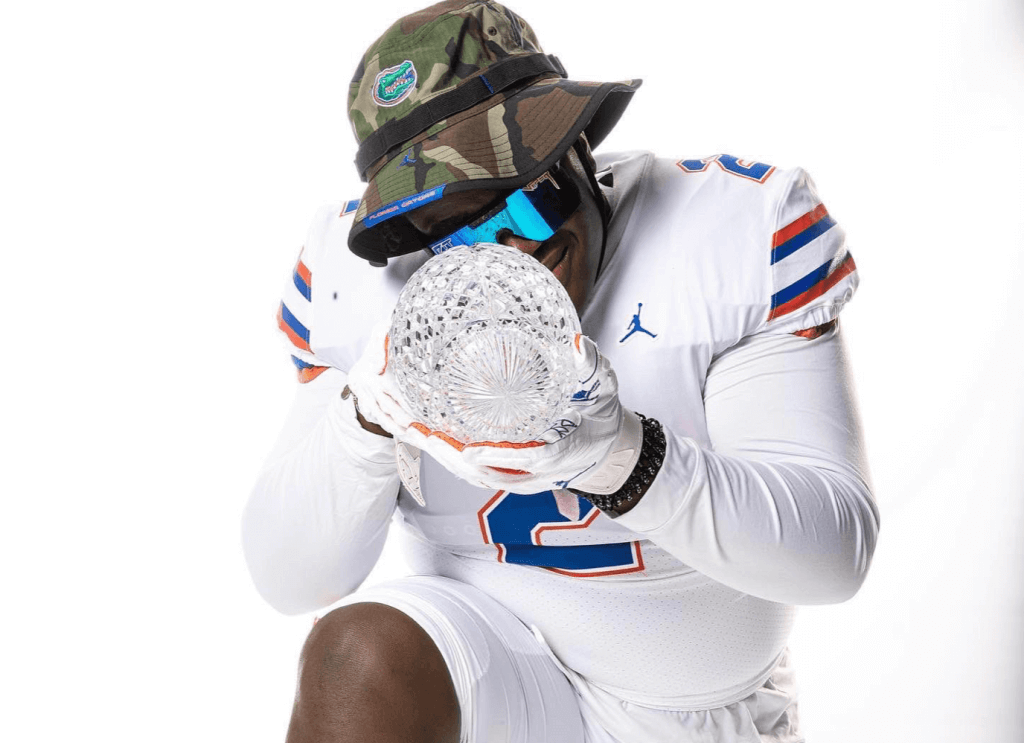 As any Gator coach over the last three decades will tell you, SEC football is all about controlling the line of scrimmage. And when the time came to begin construction of his 2023 recruiting class, Billy Napier went right to work building his line of scrimmage by landing commitments from offensive linemen Knijeah Harris and Bryce Lovett.
The first of these two pieces was Knijeah Harris, from IMG Academy, who committed a week ago.
Ignore the star rankings from the various recruiting sites. That's a matter of interpretation. What's not up for interpretation, though, is the fact that Alabama, Texas A&M, Georgia, Auburn, Ohio State, Oklahoma, LSU, Oregon, Miami, Penn State, USC, Michigan, Notre Dame, and FSU all thought enough of him to offer him a scholarship.
You can watch his highlight tape here.
As you can see from his highlight tape, Harris is nasty as a run blocker. He leaps out of his stance quickly and engages his defender with some real authority. He's also got very quick feet, and thus is especially troublesome for defenders when he moves laterally to pull block. He's already plenty big enough to handle the SEC trench warfare at 6'3, 335 pounds, although scouts do warn that he might have to make some slight adjustments in that area.
But as it stands, Knijeah Harris is at worst a multi-year starter for Florida and possibly a Day One starter as a true freshman. Every recruiting class needs a true difference-maker in the trenches to build off of, and Harris checks that box.
(Side note: first things first: the so-called IMG curse is long dead. You know, the whole idea that claims Florida supposedly couldn't land a kid from IMG. That notion was actually shattered by Dan Mullen when he landed Kamar Wilcoxson, and then its pieces were reduced to ashes when Napier poached Kamari Wilson from Georgia. Now, not only is Florida not incapable of landing recruits from IMG, the Gators are establishing a true pipeline to the Bradenton athlete factory.)
As it would turn out, Knijeah Harris would have to share the spotlight on his commitment day with ATH Creed Whittemore, the younger brother of current Florida wide receiver Trent. Whittemore is certainly a solid pickup, and he can certainly play. Offers from Michigan, Texas A&M, Miami, West Virginia, Mississippi State and Penn State are evidence of that.
And then today, Napier continued his theme of building from the ground up. Now he's landed another recruit- his third in ten days, and his second offensive lineman in ten days- in Rockledge offensive tackle Bryce Lovett.
To be blunt, Lovett's offer list doesn't quite match what I see on film. There are a few nice offers on there, including from Indiana, Louisville, Arkansas, Kentucky, West Virginia, and Missouri- but the tape shows a human bulldozer who's eager to flatten the nearest defender. His hands are strong, as evidenced by the fact that he also competes on his high school's track and field team in the throwing events, and he carries that trait into his blocking efforts by literally throwing defenders to the ground (legally, of course).
Lovett may not be a Day one starter, but at the very least he's going to provide some depth at tackle, and he could potentially see playing time at some point in his freshman season. He's more of a project, but that means he's only going to grow and get better.
And here's where you remember that Florida has two offensive line coaches under Napier: Super Bowl winner Darnell Stapleton and former New York Giants OL coach Rob Sale. Combine that fact with the fact that two of the first five members of Napier's first full recruiting class are offensive linemen, and it's become clear that Napier is following through on his promise to start his build of the Florida program with the most important position group.
Not only that, but he's doing a pretty good job of it so far, too.