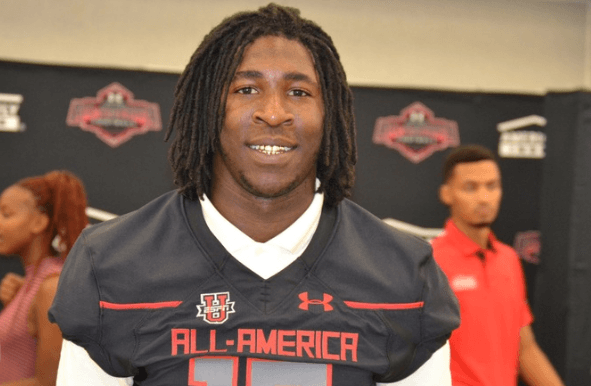 Florida's hopes of enjoying a strong National Signing Day just took a huge hit.
The University of Florida administration has forced Jim McElwain to yank the offer of prized four star wide receiver James Robinson. The move comes two days after Robinson was cited- not arrested- for possession of marijuana during his visit to Ohio State, and after initial reports indicated that the school was still pursuing him. The Buckeyes rescinded their offer to Robinson, too.
But this move by UF brass seems highly hypocritical, if not downright thoughtless. Prior to coming to Florida, athletic director Scott Stricklin allowed Dan Mullen to sign five star Jeffrey Simmons after he was arrested for assault at Mississippi State. To boot, Florida has been recruiting Robinson for over a year now, and you'd think it would be nice if they would stay by his side and show some interest in overseeing him grow and develop from this poor decision.
Oh and let's not forget, UF has dealt with dozens of marijuana related incidents with then-current players over the years without kicking them off the team, which is the equivalent of yanking a high school kid's scholarship before he signs. Simply put, Florida messed this up.
And I don't say that with a "we need him so let's overlook the fact that he did something stupid" attitude, but more with an eye roll and a quick reminder of all the character concerns the school has overlooked in the past. While Robinson definitely could have used better judgment than to party with weed a week before National Signing Day, it doesn't seem like the type of mistake that should be punishable by killing his opportunity to play top level college football. Again, look around the country at all the players who do far worse and don't lose said opportunity to play top level college football.
UPDATE: per multiple reports, Jim McElwain has been hard at work helping Robinson find a new home. That's an extremely classy move by Mac, as he no longer has any personal motivation to help him yet is still going out of his way to do so. Say what you want about McElwain, but this guy really cares about the people he recruits. And you can bet that future recruits are taking notice of that.
Without Robinson, Florida's class appears set with just one true wide receiver in DaQuon Green. This decision by the higher-ups at UF hurts in that respect, too. There's no doubt in my mind that there will come a time where the Gators will miss him on the field. But more importantly, I'm embarrassed that the UF administrators overreacted to such a minor transgression rather than try to see him learn from his mistake and be better for it.