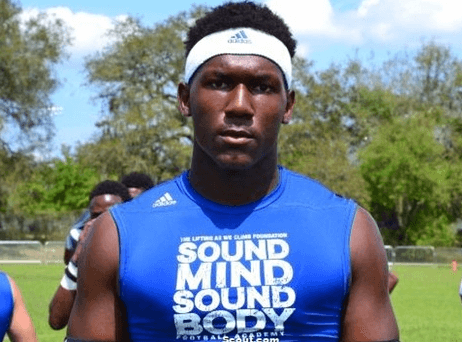 Jim McElwain will have a LOT of potential future Gators on hand this weekend. With National Signing Day less than two weeks away, it's critical that he close strong.
Below is the list of players visiting, along with what can be expected of their visit.
QB Jake Allen (committed: Florida)
The ringleader of this class and arguably the best recruiter Florida has will have a lot to say to the uncommitted guys. He's here on business.
CB Marco Wilson (committed: Florida)
Extremely talented and promising, Wilson will be among the next generation of stars at DBU. He's not quite as vocal as Allen, but you can bet he'll have something to say to the undecided kids, too.
OL TJ Moore (committed: Florida)
Moore isn't quite as locked in Florida as most of the other commits, but this feels like a chance to lock him up. He's coming down to Gainesville to confirm to himself that this is where he wants to be, and he's come out and said that if this visit goes well, he'll shut down his recruiting process.
CB CJ Henderson (uncommitted)
The former Miami Hurricane commit has been hearing a lot from Alabama's staff since he reopened his recruitment. Here's Jim McElwain's chance to finally beat out his former boss for a big time prospect. Henderson is close friends with several Gator commits from the South Florida area, and a current Gator freshman told me last night that this is a great chance to win him over for good.
LB Zach Carter (committed: Florida)
Like Allen, Carter is here on business; the business of recruiting his buddies. He's done an excellent job selling Florida on social media, and now he gets a chance to make an even stronger impression in person.
DT Elijah Conliffe (uncommitted)
I get a sinking feeling that Conliffe is just here to have fun. Alabama, Penn State and Tennessee all appear to be in better position to land him than Florida, as this is Conliffe's first ever visit to Gainesville (though Florida has visited him). Then again, Allen, Carter & Co. have proven to be great recruiters, so who knows. I just wouldn't hold out much hope for him.
DL Tedarrell Slaton (uncommitted)
Florida needs defensive linemen. Badly. Here's their shot to get one. The good news is that Slaton named the Gators as his leader, and this appears to be their shot to close with him. He can play on both sides of the ball, too, so Florida would also be adding to its body count on the offensive line in case of an emergency.
WR DaQuon Green (committed: Florida)
Green is another unpaid Gator recruiter, and he may be the key to the whole class. Rarely have we seen such a talented wide receiver that's so in love with his school and actively recruiting potential teammates to Florida at the same time. He's here to have fun, yes, and get to know his future teammates, but more to add to the list of people he can call his future teammates.
TE Zech Byrd (committed: Florida)
Byrd is going nowhere. And don't be scared off by his three star ranking, either. Anybody remember the last couple of tree star tight ends Florida landed? Here's a hint: both have been among Florida's top four pass catchers in each of the last two years.
RB Malik Davis (committed: Florida)
Davis won't be twisting anybody's arm about it like Allen and Carter, but he's basically here for the same reason they are. Even if he says he's still looking around after… he really isn't, unless something happens this weekend that really turns him off.
LB Nick Smith (uncommitted)
Here's Florida's shot to land a quality talent at the last minute. Smith just decommitted from NC State, but LSU and UNC are making major pushes for him, too. Randy Shannon being named defensive coordinator should help matters, but the Tigers get his last visit. It's up to Florida to make a "you can't not come here" impression on him this weekend, or leave it up to LSU to close- in which case the Orlando prospect might wind up on the Bayou.