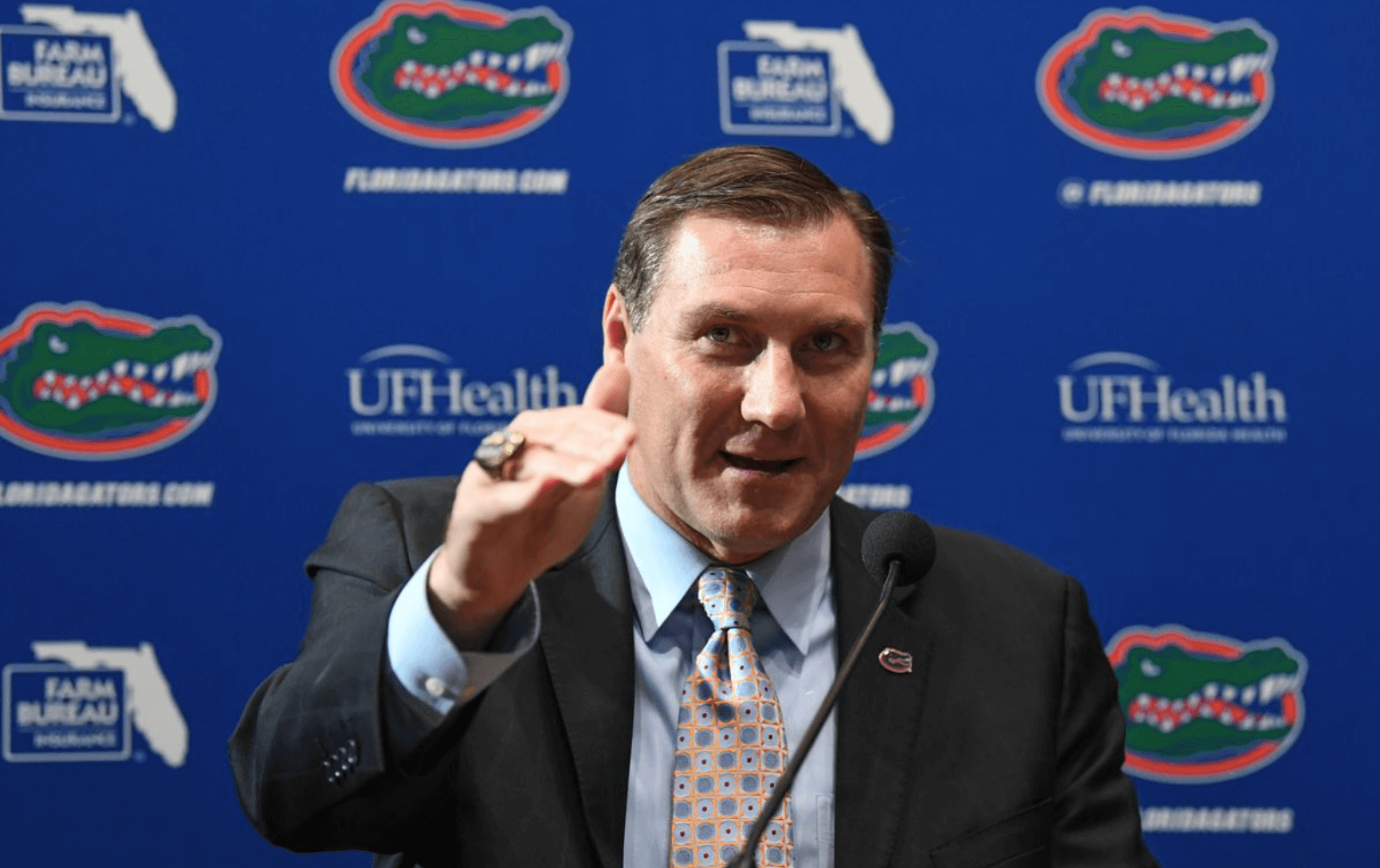 By any and all measures, Dan Mullen's inaugural recruiting class at Florida is already a whopping success. He's held onto most of the committed players, landed ex-Texas, LSU and FSU wide receiver commit Justin Watkins, flipped Griffin McDowell from Mississippi State, and most importantly of all, flipped explosive dual threat QB Emory Jones from Ohio State. He even flipped kicker Evan McPherson from Mississippi State.
But the Gators' class is far from finished. Florida has fifteen slots filled, which doesn't count safety Randy Russell. That leaves room for several more of the nation's most highly sought after players to join them. Who might they be?
5-star OT Nicholas Petit-Frere (uncommitted)
NPF, as he's referred to, is a freak of nature who, luckily for Gator fans, has built great relationships with the new Gator staff. He knows the Gators could really use his efforts on the offensive line, and sees the opportunity to play right away. Don't be too alarmed by his visit to Ohio State this weekend; he just wants to take all his visits and maximize the attention that gets showered on him as many recruits do. There's a lot to like about this kid, and luckily for us, there's a lot for him to like about Florida. Prediction: Florida (high confidence).
4-star OT William Barnes (uncommitted)
Barnes is a similarly talented athlete who could play right away at the tackle spot opposite Martez Ivey. But his future appears cloudier than NPF. Barnes appeared set to visit the Gators this weekend but has since canceled those plans. (A logical factor could be the embarrassment of wealth Florida has on the offensive line.) UNC has long been after and drawn interest from him, and while anything is possible with him, I'd be stunned if he ends up in Gainesville at this juncture of his recruitment. Prediction: North Carolina (very high confidence).
4-star WR Jacob Copeland (uncommitted)
Copeland originally committed to Florida during Jim McElwain's inexplicable recruiting rampage last July, backed off just before Thanksgiving, and is now down to Florida and Alabama in the waning moments of his recruiting process. The Gators' new staff made a great impression on this explosive pass-catcher, making Copeland think hard about his looming decision. The Crimson Tide have to be considered the team to beat, but Florida gets the last visit with him. However, as far as recruits go, Copeland's love for attention and trolling his prospective fan bases is among the worst I've ever seen, which has unfortunately eroded our abilities to take anything he says or does seriously. Prediction: Alabama (low confidence).
3-star DE Dorian Gerald (uncommitted)
Gerald is arguably the most underrated player in this entire class, and is a perfect example of why I hate the star ranking system: despite a three star ranking, Gerald boasts offers from Alabama, Georgia, Miami, Oklahoma, FSU, Tennessee, Texas A&M… and among others, Florida. He's visiting Gainesville this weekend, too, heightening the intensity of what feels like a three team race for his services between Florida, Texas A&M and Tennessee. He seemed like an Aggie following a visit to College Station and an in-home visit from Texas A&M coach Jimbo Fisher (man, that feels weird to type) but assuming this visit to UF goes well, he's likely a Gator. Prediction: Florida (medium confidence).
4-star OT Richard Gouraige

(committed: Florida)
About the only reason to doubt Gouraige's status is that he committed to Florida two months before the early signing period, and unlike the rest of the class, didn't sign early. It looks to be down to Florida and Clemson for Gouraige's services, the winner of which will be announced on Signing Day. Both schools hosted him in January, so now he's going to sit down and think about it until then. But I'm almost positive that he sticks with his commitment. Prediction: Florida (very high confidence).
3-star DE Malcolm Lamar (uncommitted)
Another three star with a ridiculous offer list, this one consisting of Oklahoma, Alabama, LSU, FSU, Georgia and Florida. The former Oregon commit was visited in his home last night by a plethora of Gator coaches, including Dan Mullen, Todd Grantham and Sal Sunseri. Willie Taggart was thought to remain in control of Lamar's recruitment when he swapped Oregon green and yellow for FSU garnet and gold, but his recruitment suddenly swerved completely out of Taggart's control when Lamar canceled his visit to Tallahassee this weekend following the in-home from Gator coaches. That leaves UF as the last team to visit him, and suggests he's seen all he needs to know where he's going to go. Prediction: Florida (medium confidence).
4-star Andrew Chatfield (uncommitted)
Chatfield took a visit to Florida last weekend and came away impressed. But the question is, will it be enough to sway him away from the Miami Hurricanes, the school that has held the edge for him for a long time? He now has a few more days to think about it. FSU, which at one time was a real player for him, no longer appears to be in serious contention for him. Nor is Oklahoma, which has made an eleventh hour push for him. This is shaping up to be another Florida-Miami battle, one that still favors Miami- but Gator fans should nonetheless pay close attention to his announcement ceremony. Prediction: Miami (FL) (low confidence).