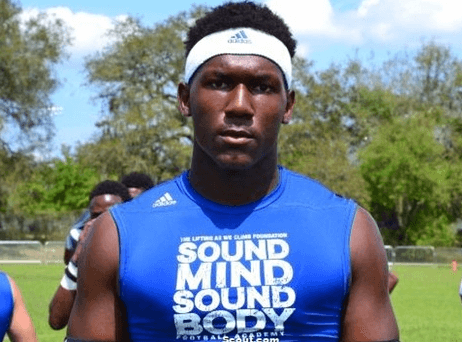 Jim McElwain first full recruiting class is really starting to pick up steam.
Florida has landed a commitment from strong side defensive end Zach Carter, from Tampa (Hillsborough). Carter gives the Gators their third commitment in the last two weeks; fellow defensive lineman Jaqueze Sorrells committed on June 11th, and top corner Elijah Blades committed two days ago. The trio bumps the Gators' 2017 recruiting class up to nine members.
Carter is more than a body or a number, though. A consensus four star recruit from the talent rich Tampa area, Carter boasts a ridiculous offer list that includes Oklahoma, Mississippi, Georgia, Michigan, Nebraska, Ohio State, LSU, FSU, Notre Dame, Clemson, Auburn and Miami. Maybe his highlight tape has something to do with all those offers?
As that highlight tape would suggest, Chris Rumph landed himself quite a playmaker. Carter has decent speed (a 5.22 40 yard dash) and a solid frame (6'5, 245 lbs.) but his instincts and nose for the backfield are off the charts. He reminds me a little bit of Cece Jefferson, possessing a similar array of moves and methods to beat offensive linemen off the snap. And like Jefferson, I wouldn't be surprised to see him play right away. He has a little bit of learning to do, but he's also got one more year of high school to do said learning before he arrives on campus.
Make no mistake. This is a huge deal. The Gators could very well be in need of defensive linemen with the impending departures of Caleb Brantley and Bryan Cox Jr. next year, and Carter is more than capable of filling one of those voids or at the very least providing some quality depth right away.