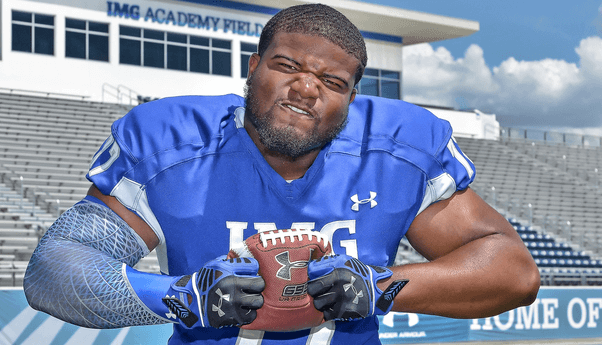 Jim McElwain just landed the biggest recruit in a class filled with them.
Extremely highly touted defensive tackle Shavar Manuel (IMG Academy) has committed to Florida. Manuel, a consensus four star recruit and top ten defensive tackle in the country, also had offers from LSU, Alabama, FSU, Auburn, Georgia, Miami, Missouri and countless others.
His highlight tape more than backs up that list. Manuel is, well, a strong dude, and displays a level of quickness that spawns tremendous promise for his college career. His strength, size and speed combine to give him a consistent ability to split the offensive linemen and blow up the play in the backfield before it even gets started. He's the kind of guy that, if he continues to grow upon arriving at Florida, can eventually become the guy that offenses have to completely game plan around. Don't be fooled by his four star rating; he's got all the talent and upside of a five star.
Manuel rounds out (for now, at least) a solid defensive line class for Florida. The Gators now have a consensus top ten defensive tackle in Manuel to join a consensus top ten defensive end in Antonneous Clayton and a consensus top 30 defensive end in Jordan Smith. We have defensive line coach Chris Rumph to thank for all that, so: thanks, coach Rumph.