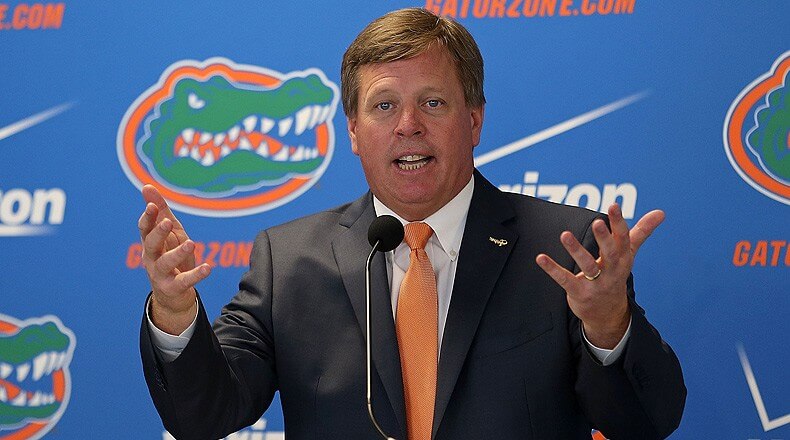 Florida appears to be picking up steam on the recruiting trail, and may even be on the verge of landing a few commitments in the coming weeks. Thus, it's time for another update to our Recruiting Big Board.
You can check out the complete Big Board here.
The most notable status change in this edition is the rise of QB Emory Jones. He's currently committed to Ohio State, but Florida is making a serious push for him and I'm told that he's seriously listening to what Gator coaches and recruits have to say. Compare that to the situation of another quarterback on Florida's radar, Artur Sitkowski, who responds politely but without any real interest.
Florida's added interest in Jones has moved him from "other interested recruits" to "very high priority," and his odds have improved from 5% to 25%. Which is self explanatory; the Gators' odds to land him still aren't good enough to bet on, but Florida at least has his attention.
The Gators have also increased their efforts with a pair of central Florida offensive tackles. William Barnes (Apopka) and Reuben Unije (Bradenton's IMG Academy) have long been on Florida's radar, and now the Gators are looking to close the deal with them and fend off Auburn for Barnes and Alabama for Unije. There's no timetable on either one's commitment, but both have built great relationships with the coaching staff and even nine months away from Signing Day, I'd be surprised if either one doesn't ultimately sign with Florida.
Wide receiver Anthony Schwartz is looking good, too. He's built a great relationship with Randy Shannon and at this point he appears to be just waiting for confirmation that Florida is his home. Miami is also making a push for the Fort Lauderdale native, but the Gators are definitely his favorite at this point.
On the flip side, Florida has fallen out of contention with a couple of other recruits. Whatever slim chances the Gators had with defensive end Brenton Cox and offensive lineman Cleveland Reed vanished with their commitments to Ohio State and Miami, respectively. Elsewhere, top corner Patrick Surtain appears to be cooling on the Gators, although his father is pretty high on them. Surtain seems to be down to LSU and FSU, with Miami close behind.