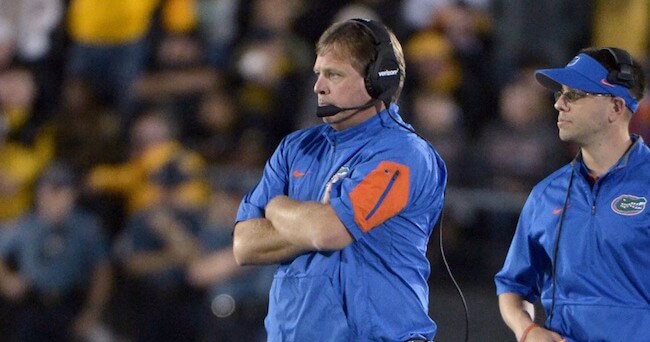 Ah, SEC Media Days. The offseason milestone that lets you know you're kind of close to kickoff, but still far enough away that summer practice is still a little ways off.
Florida takes its turn today, and Jim McElwain has chosen to bring cornerback Duke Dawson, safety Marcell Harris and offensive tackle Martez Ivey. The two main events to take note of are McElwain's address to the media at 3pm, and McElwain's subsequent visit to the Finebaum show at 5, which will be on the SEC Network. The players will be roaming around from 2 to 5 today, doing different interviews at their pace; I'll do my best to track down as many of them as I can and link them all there so you can enjoy all that Media Day has to offer from one centralized place.
As people say things and things get published, I'll be updating this page with the various occurrences, so be sure to stay on here and keep refreshing to get the latest from the day's verbal action!
12:00n
Jim McElwain and his players are boarding the plane for the short 45 minute flight to Birmingham. So, we're close to some talking action.
Off to #SECMD17 with three great Gators! Excited to share what's to come for @GatorsFB. #GoGators pic.twitter.com/KmR8dixfnw

— Jim McElwain (@CoachMcElwain) July 11, 2017
1:45pm: McElwain is talking to the local media.
McElwain on Malik Zaire: "He didn't come here to hold a clipboard. And if you're afraid of competition you can just run away."
McElwain on Antonio Callaway: "He's doing the things he needs to do. No reason for any speculation on his status against Michigan." (Note: Callaway was cited for possession of marijuana this spring.)
McElwain on big stage season openers: "We should definitely schedule more of them. The fans deserve them." (Note: Florida will also kick off the 2019 season against the Miami Hurricanes in Orlando.)
McElwain on LSU game being named the Homecoming game: "I just heard about it when I got off the plane from Montana. That's something UF does based on its alumni base." Sure, coach.
Here's what the scene looks like, by the way, thanks to the Gainesville Sun's Graham Hall:
#Gators coach Jim McElwain meeting with local media now pic.twitter.com/URlXfohZDe

— Graham Hall (@GrahamHall_) July 11, 2017
Looks like #TeamNoSocks is growing.
Looks like @7upya__ has joined #TeamNoSocks with @CoachMcElwain!#Gators are underway at #SECMD17 in Hoover pic.twitter.com/oC4R7Le3DF

— Florida Gators Football (@GatorsFB) July 11, 2017
McElwain on James Robinson: "We'll see. He's still got some stuff with the NCAA he has to get done."
Martez Ivey on not being picked to win SEC East: "Yeah, we're pissed off about not getting the credit we deserve."
McElwain on team speed: "I really felt that, just going through spring practice, that I think Florida's team speed is back. I think we're a much faster football team in a lot of ways."
McElwain on offensive line: "I think we've got a really good offensive line. Hopefully now we can jump on their back and let them protect our quarterback."
Note: Jim McElwain will be taking the main podium at 3pm.
Duke Dawson on Malik Zaire: "Oh man, we bonded right away. Very first day we met. He's very outgoing and I just love being around him."
Well, then…
Mac said he knows who his starting quarterback is going to be. Not ready to announce it yet. He did say Franks has had fantastic offseason.

— Robbie Andreu (@RobbieAndreu) July 11, 2017
McElwain on back to back SEC East championships: "The past is the past. You look at the team you have and you say, well, what can we do to make it three? And I'm excited about where we're at."
McElwain on getting his players to believe: "The base principles and foundations haven't changed over time. The presentations of those have to be regenerated over time. And I think more than anything, it's explaining the why- and not just when things are going wrong. Let's investigate the why when things are going well."
McElwain on why the offense has struggled: "It's not about the hand you were dealt, but rather what you do with them. I mean, we inherited four scholarship offensive linemen. Sometimes, it's about keeping our weaknesses away from getting exploited."
McElwain on Zaire: "It's about the competition. And competition breeds excellence."
McElwain on QB competition: "I'll know who my starter is for the Michigan game when the time comes. I don't know where that (rumor about I already have my starting QB picked out) came from."
McElwain now takes the podium to address the main ballroom and general media.
McElwain: "I'm really excited about not just our team, but our organization. I hope you guys enjoyed the guys we brought with us, and getting to know them."
McElwain on LSU rivalry: "First and foremost, rivalries are what make college football as great as it is. Here at UF, we have a bunch of rivalries. That's why you come to Florida. To play in rivalries."
McElwain on QB situation: "We're always looking to add to whatever we do. Competition breeds excellence. We've finally got some real options there. Zaire is excited to be here, and we're excited to see him this fall."
McElwain on Martez Ivey: "He was a left tackle coming out of high school. It speaks volumes of his selflessness that he was able to move to guard and thrive."
McElwain on Florida-Georgia rivalry being moved: "I haven't heard anything about that. All I know is Jacksonville is a great place to play that game."
McElwain when asked if this will be his best team: "Time will tell. We have to create an identity for ourselves."
McElwain on the rumor that he had figured out a starting QB for Michigan game: "I figured out a lot of things at my lake house in Montana. That wasn't one of them. I know we will start a quarterback, though."
McElwain, after being asked for the fifth time about LSU being the homecoming game: "I love the fact that you guys all think this is news."
McElwain in scheduling Michigan: "Our fans deserve to see us play good competition. It's something moving forward that we're looking to do more. It's something we should do."
McElwain on picture of him allegedly humping a shark: "I bust chops, but when it gets to a point where people attack my family… when you know it isn't you…" Voice trailed off. He is PISSED.
McElwain on where his team is perceived within the conference: "It's not something you really focus on. All you've got to do is go out and play. Where we're picked doesn't matter. It's the attention to detail you put into it that matters."
McElwain on Antonio Callaway: "As soon as he walks through the gate at practice, it's on. He's one of those guys. He's just a great person."