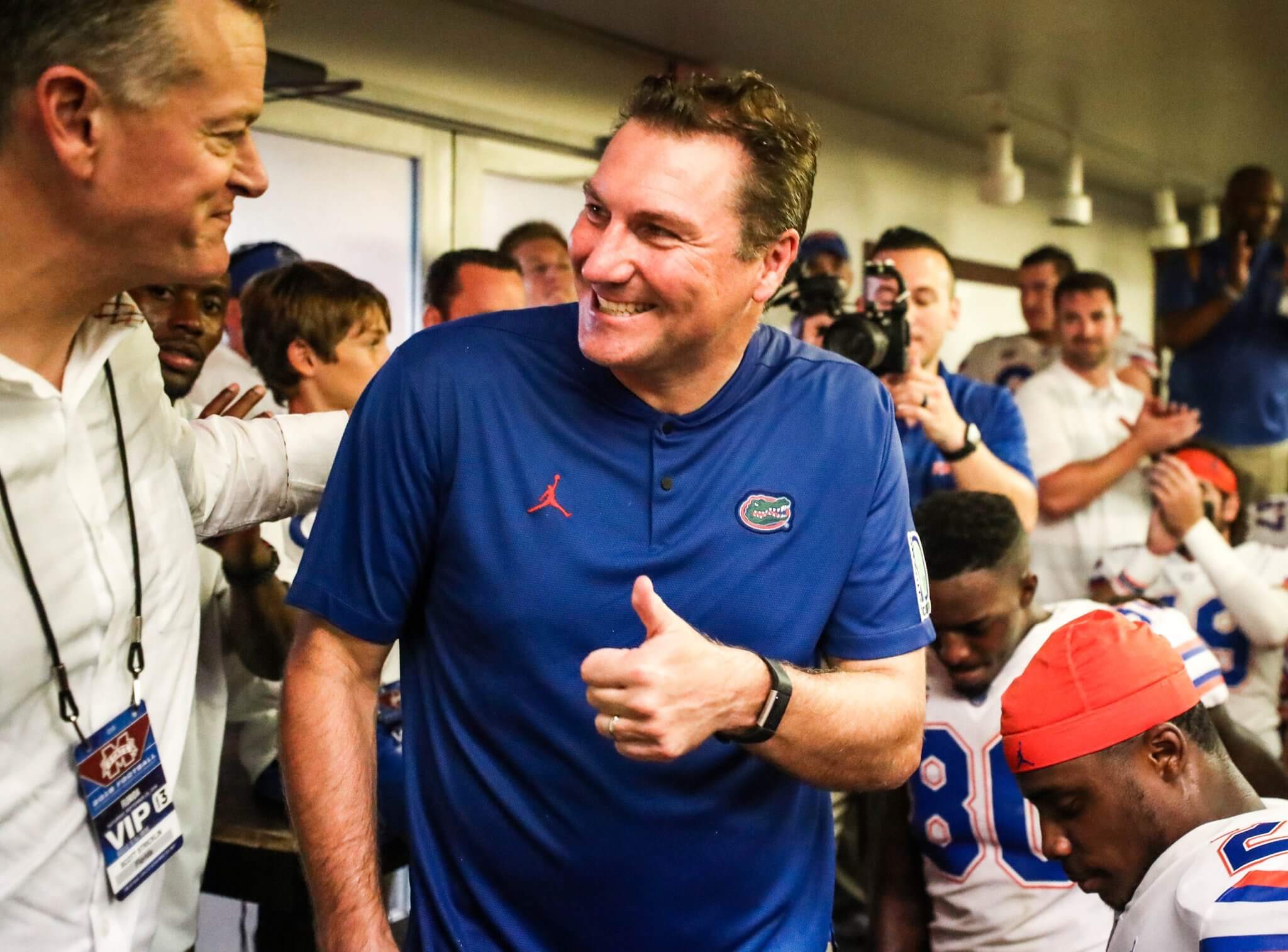 With Florida's 2019 recruiting class approximately 90% complete, it's time to look back at the class as a whole and evaluate what, exactly, Dan Mullen and his staff added to the program.
Best overall recruit landed, offense: TE Keon Zipperer
Zip, as he's referred to, was one of the trio of Lakeland products that signed with Florida yesterday. He's a four star on every ranking system, but he's a five star mismatch opportunity. If you're an opposing defensive coordinator, don't you dare think you can get away with putting a linebacker on him in coverage. Though not quite as explosive as Percy Harvin or Louis Murphy were, he's still an excellent route runner with a wide receiver's ball skills. Whereas C'yontai Lewis was a serviceable tight end for four years, Zip is a major upgrade as a wide receiver at the tight end position. If he can improve a little bit as a blocker, and thus can be trusted to play in any and all situations as opposed to just obvious passing plays, we're talking Mackey Award or All-American potential.
Best overall recruit landed, defense: DE Lloyd Summerall
Summerall is another of the Lakeland Dreadnaughts-turned-Florida Gators from yesterday, and he has to be considered an immediate impact player if either Jachai Polite or Jabari Zuniga leave. Even if they both come back, though, Summerall will be hard to keep off the field. He's tall, rangy and quick with an explosive first step off the snap, and is one of those guys that really stands to benefit the most from an offseason with Nick Savage. He's got some solid pass rush moves, but if he can turn that area of his game from good to great, watch out. Like Zipperer, Summerall is as safe a bet to become an All-American as anybody is the day after they sign their letters of intent.
Best head to head recruiting win over a rival: RB NayQuan Wright
Excuse me, Miami. We're just going to sneak in here, and, just kinda take this guy from you. Thanks. Debate the degree of difficulty in flipping a Miami Hurricane commit all you want, as Wright is not the only ex-Cane commit Florida signed in this class, but it's a whole other animal to do it at a position you're currently loaded at. For all Wright knows, both Jordan Scarlett and LaMical Perine will return in 2019. That would mean he would have to fight past those two, plus Dameon Pierce, plus Iverson Clement for some carries. And he picked Florida over the sinking ship in Miami anyway. In any case, Wright may not play immediately, but there will come a day where the Gators will reap the benefits of this flip.
Most likely to make an instant impact: OT Michael Tarquin
Tarquin is another former Canes commit who flipped to Florida recently, but unlike Wright, he's just about guaranteed to play right away. Florida will lose at least three, if not four, of the five starters on the offensive line next year, and the instant chance for playing time made flipping him that much easier. He's a massive man with a high level of intelligence and quick feet, which makes him the ideal candidate to protect the quarterback's blind side. Signing early and going through spring ball will only help him even more. Pencil him in at one of the starting tackle spots for 2019.
Dark horse: QB Jalon Jones
Much to his credit, Feleipe Franks has improved beyond the point that many of us thought was possible, and he has a chance to write a nice ending for himself in the Peach Bowl. But to really do what Dan Mullen wants to do offensively, and unlock an entirely different chapter of the playbook, will require someone like Emory Jones… or Jalon Jones. At this way-too-early juncture, Emory seems to be the favorite to start in 2019, but what about Jalon? He's fast as a runner with impressive touch on a lot of his throws, and he seems intelligent enough to grasp the offense quickly. He may be headed for a redshirt in 2019, but discounting him completely would not be wise.
And don't forget about: LB Tyron Hopper, CB Jaydon Hill, OG Deyavie Hammond
These guys have a long ladder to climb for some instant playing time, particularly the first two, but all three should be considerable pieces of the Gators' production totals by 2020.
Verdict: this is a good class, and can still become a great class pending the decisions of Khris Bogle and Chris Steele. Florida filled some needs, signed the obligatory quarterback needed in every class, and brought in some guys that can play right away. It's not the ultra-talented class that Urban Meyer used to sign, but it's certainly a good first step. And closing this class up early gives Mullen the chance to get to work in earnest on his 2020 class.