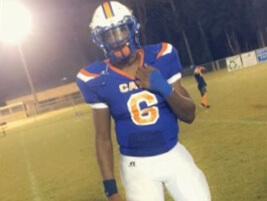 Florida's 2021 recruiting class- already one of the best in America- got even better late last night. Thanks to the efforts of defensive line coach David Turner, strongside defensive end Justus Boone (Sumter, SC/Sumter HS) has committed to Florida.
Boone, a consensus three star prospect who was thought to be a heavy Gamecock lean, also had offers from South Carolina, Georgia, Virginia, Oklahoma, Tennessee and West Virginia. Perhaps a large part of what made him so highly sought after was his combination of physicality and athleticism. Standing 6'5 and 250 lbs, Boone is plenty big as it stands right now, yet still has plenty of room to grow. He's more than good as a run stopper, and is fast enough to beat running backs to the outside, and is adept at shedding blocks and making plays both inside and outside the box. He's got some fearsome pass rush moves, but the thought is with some time under Turner in Gainesville he can become a more well-rounded and complete pass rusher.
The synopsis of all that is when it's all said and done, Justus Boone could be the next in a long line of three star defensive ends who turned out to be just plain stars in Gainesville, including Jachai Polite, Jabari Zuniga and Jonathan Greenard. And of course, it's not fair to outright compare a high school recruit to Florida Gator legends- after all, he's only a junior in high school, and he's a different player- but in terms of production, that's about his upside. You can watch his highlight tape here.
The addition of Boone lifts Florida's 2021 recruiting class from #4 in the country up one spot to #3, according to 247's composite rankings. Boone, for his part, becomes the second defensive end commit in the 2021 class after Tyreak Sapp.