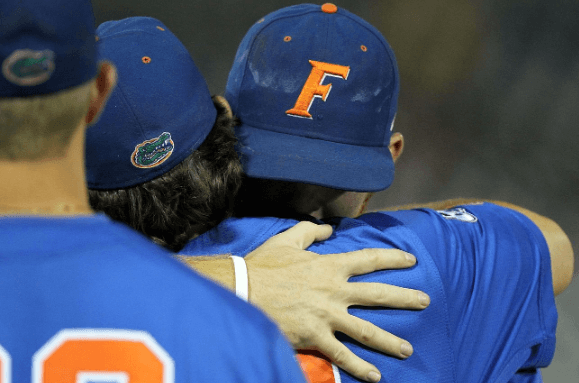 This wasn't how it was supposed to go.
After their bats went silent in an ugly 2-1 loss to Coastal Carolina, the Gators suffered a 3-2 loss to Texas Tech that bounced them from the 2016 College World Series. The defeat marks a sudden, nauseating and disastrous end to a season that began with so much promise, and a postseason that began with even more promise.
This week was supposed to be a journey to glory, not a procession to a funeral. It was supposed to be about redemption for the Gators on the stage their 2015 season ended, not about an even worse collapse on that same stage. It was supposed to be the year in which Kevin O'Sullivan, much maligned for never guiding a team to the ultimate prize, finally did so with what many believe was his most talented team ever.
Now, in the span of less than 48 hours, that's all gone. Instead of creating a legacy as the first team to ever win a national championship, the 2016 team will be remembered as perhaps the Gators' most devastating postseason meltdown in a history filled with them.
Alex Faedo pitched phenomenally for Florida, striking out nine hitters and allowing just two runs through 7 and 2/3 innings. But he did miss on one pitch, and with the way the Gators were hitting (or not), that was all it took. Faedo hung one up in the zone to Texas Tech's Eric Gutierrez, who blasted the mistake pitch for a two run homer in the fourth inning, and the score remained that way until Peter Alonso's ninth inning throwing error made it 3-0. There was the faintest, slightest glimmer of hope when Buddy Reed singled to start the ninth, and Alonso followed that up with a towering homer; however, the Gators went down one, two, three after that, the last out coming on Jonathan India being thrown out trying to stretch a base hit into a double.
But don't let the variety of things that didn't go Florida's way fool you; while there were mistakes on the base paths, in the field, and on the mound, the Gators lost this game because of their lack of an offense, particularly in their half of the sixth inning. Jeremy Vasquez singled, Dalton Guthrie walked, Buddy Reed sacrificed them over a base each, Alonso was then intentionally walked, and up came JJ Schwarz with a chance to be a hero. Bases loaded, one out, down 2-0- and then Schwarz received three straight pitches out of the zone to get a 3-0 count.
What happened next was stereotypical Florida Gators College World Series baseball.
Schwarz grounded back to pitcher Davis Martin, who threw home to nail Vasquez. The catcher then threw to first to try to get Schwarz- and the throw hit Schwarz. But the umps ruled that Schwarz was out of the 45 foot lane between home and first, and called him out for the double play. That's a stupid rule, I know. But the rule is in place, and so the call was correct. Yeah, it was more upsetting than writing about it can indicate.
And just like that, it was all over. The hype, the promise, the excitement, and the journey all died in one hell of an ugly game, and one hell of an ugly trip to Nebraska.
Looking ahead to next year, the Gators should again be good, but it's impossible to say they'll be this good. Alex Faedo will be the lone pitcher with significant experience returning next year, as Logan Shore, AJ Puk, Dane Dunning, Shaun Anderson and Kirby Snead are all gone. The Gators will have to rely on Brady Singer and Jackson Kowar to step into larger roles, and while they're certainly talented, it's unfair to say they'll be able to seamlessly replace first and second round MLB Draft picks. The offense doesn't lose much, but it does lose Buddy Reed and Peter Alonso, a pair of second round picks.
So the Gators can certainly compete for a national championship again next year. Virginia in 2015, not to mention the ridiculous number of upsets in this year's NCAA Tournament so far, prove that anything can happen, and if the Gators are relegated to a #3 Regional seed next year, they'll still have just as much a mathematical shot to win it all as the teams who replace Florida as the favorites. That seems to be a theme this year, anyway.
It's just that this year felt like the best shot for them to ever pull it off, and so the shame of it all is that a lot of Florida fans will never have a reason to believe in them again. It's impossible to believe that there will ever be another Gator team this loaded with talent from top to bottom, particularly in terms of pitchers. And that, too, is the shame of it all; Florida was undoubtedly the best team in the country throughout the course of the season, but sometimes, the best teams really don't win.
We watch kids play a sport, and we feel for them when they lose. It sucks for them, and depending on your level of fandom, for you as a fan, but somebody has to lose, and everybody over the age of toddler has to understand that. Even when our team is the overwhelming favorite, every game carries the distinct possibility that the other team will win. We learned that lesson in a particularly heartbreaking fashion today; nothing is guaranteed, anything can happen, and sometimes the better team will lose.
Nobody expected the 0-1 game of the College World Series to be this team's swan song. And perhaps the shock of the loss, rather than the fact that the team lost, is what makes the end of this promising season so frustrating. But the sun will rise tomorrow, and Florida will field a solid team again next year. In All Kinds Of Weather, y'all.