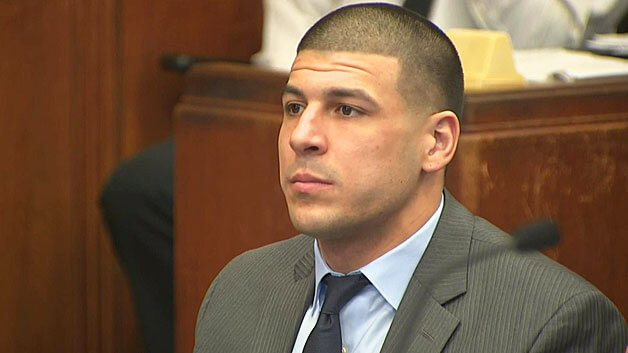 For Aaron Hernandez, it was the end of the road.
It was a road of more downs than ups, but a road of some monumental, unforgettable ups. Those ups included a national championship with the Florida Gators, a quick rise to stardom with the New England Patriots and wealth beyond one's wildest dreams. But the downs were too morbid for any of those ups to ultimately mean much to his story.
And the story of Aaron Hernandez is now being written about, in past tense, because he chose to end it early this morning in his prison cell in Shirley, Massachusetts. Hernandez stripped his bed of its sheets, tied the sheets up to his prison window, tied the other end around his throat and dropped himself to the floor, snapping his neck.
He committed suicide. He hanged himself. He killed himself. He took his own life. Call it what you want, but his life is over. And now that it's over, it serves as a classic example of what happens when someone with the world at his fingertips throws it all away.
Hernandez, of course, was serving a life sentence for the now highly publicized murder of Odin Lloyd. He was also accused of committing several other similarly disgusting crimes, such as a double murder and an attempted third murder of a once close friend by shooting him in the eye, though he was found not guilty of those additional crimes this past week. Which serves as a bit of irony that Hernandez would kill himself now after being acquitted.
But before committing those unforgivable crimes, Hernandez lived the life that many of us could only dream of.
Committing to Florida out of Connecticut gave him an opportunity that few in the American northeast had, and that was to play college football in the nation's best conference. Initially backing up Cornelius Ingram, Hernandez gradually grew into a larger role for Florida as the 2007 season began. By the time Tim Tebow was accepting the Heisman Trophy, Hernandez was already being touted as a dark horse breakout candidate for 2008. And when Ingram blew out his knee prior to the 2008 season, Hernandez was suddenly the starter.
Hernandez was "injured" for… no, I meant suspended for the Gators' opener against Hawaii for failing a drug test, so he began his career in earnest the following week against the Miami Hurricanes. On Florida's first drive, Tim Tebow rolled to his left and lofted a pass to the back of the end zone, where Hernandez climbed the ladder and grabbed it for a touchdown. The following week against Tennessee, Hernandez caught the third of Tebow's four career jump pass touchdowns. And it just went from there; with every passing game, his legend grew. It reached its apex with a few tough grabs in the SEC and then National Championship games at the end of that season, plays that elicited reactions of appreciation from Florida fans.
The following year, he was even better. With the departure of Percy Harvin and Louis Murphy, Hernandez was forced to play a larger role in the Gators' offense, and while the offense struggled some under the direction of Steve Addazio, he continued to flourish. His most memorable moments included a twisting, violent zigzag run on a screen play against Georgia and then another one that dwarfed that one against FSU. In both cases, the Gators thumped their rivals, and Hernandez was hailed as a hero. He capped his college career by winning the John Mackey Award for the best tight end in the nation. To say that fans loved him is an understatement. For a college kid, he had it all.
Hernandez's decision to turn pro caught a few by surprise. There was no denying his talent, but this was when the first concerns about his character began to surface. There were rumors of a bar fight in which he busted a bar owner's eardrum with a punch (later confirmed). There were reports that a "Hawaiian looking man" that someone identified as Hernandez had pulled the trigger in a drive by shooting. Hernandez fell to the fourth round in the draft due to these character concerns, which at the time were only publicly identified as "failing a drug test." But at the time, nobody could have foreseen what was to come.
Hernandez quickly paired up with Rob Gronkowski to become the most feared tight end duo in the country; an attempt to do that statement justice is the fact that they were the first tight end tandem to each catch five touchdowns in back to back seasons. It certainly didn't hurt that Tom Brady was pulling the trigger, either, but Hernandez made his own mark as one of the most explosive receiving tight ends in the game.
By this point, Hernandez truly had everything one could possibly hope for. Money. Fame. A job he loved. And so it's possible to feel sad- not necessarily for him, but sad in general- given what happened next.
On June 17, 2013, Hernandez killed a man named Odin Lloyd in an industrial field about a mile away from his house. He shot Lloyd from point blank range, execution style, multiple times in the head and chest. He began to finally pay for his crime nine days later, when he was arrested in his home in South Attleboro, Massachusetts. He was subsequently jailed, tried, convicted and sentenced to life in prison.
There were several other crimes he was tied to- including a pair of double homicides and an attempted murder of an ex friend- but it was the murder of Lloyd that ultimately led to his life's downfall. We will never know if he truly did commit those other crimes or not, as a not guilty verdict in a court of law does not mean that he didn't do it, but rather that he is not guilty beyond a reasonable doubt and thus cannot be convicted in an American court of law. The possibility that he did commit those additional crimes remains, and I'll leave the speculation up to you as the individual. But even in the best case scenario for him- the reality being that he didn't commit those crimes- he still did commit the worst crime a human being can commit, and therefore is still responsible for throwing away everything that he both was gifted and worked so hard for.
And so I don't feel sorry for Hernandez. I do think it's worth pointing out that there was a time in his life when he hadn't done anything criminal, before he got to Gainesville, and for that troubled 17 year old kid from a rough neighborhood in Connecticut, I do feel sorry. I wish I could tell him to talk to someone, anyone, about what he was thinking and feeling. I wish I could persuade him to fight through the rough times that come with living without a dad. I wish I could convince him that life would be better without street cred, or gangs. Perhaps I have the linguistic skills to do so, but I don't have those types of backgrounds to be able to give meaning to my words, because how would I know? I have a great dad and had better quality friends than Hernandez did. Even if I did have a comparable background, I don't have a time machine to go back in time and say these things to him. For this reason, in this cosmic sort of way, yes, I do feel sorry for Hernandez.
But he was a grown man and fully understanding of right and wrong when he committed the atrocious crime he did, and so at the same time I don't feel bad for him in the least. The family of Odin Lloyd is going to be hearing the name of their relative's killer now for quite some time as his story is unpacked- that's inevitable- and that's not to mention the underlying fact that, um, Hernandez killed Lloyd. That's the bottom line here. We are discussing the story of a convicted murderer, who murdered someone, and that someone's family will forever be without their dear relative who was murdered.
From every story arises a lesson. Hernandez's story should serve as a lesson to those who think they're A) above the law B) invincible C) justified or D) all of the above. And it serves as an example of the tragedy that can ensue when one gets everything he ever dreamed of and more, and throws it all away.