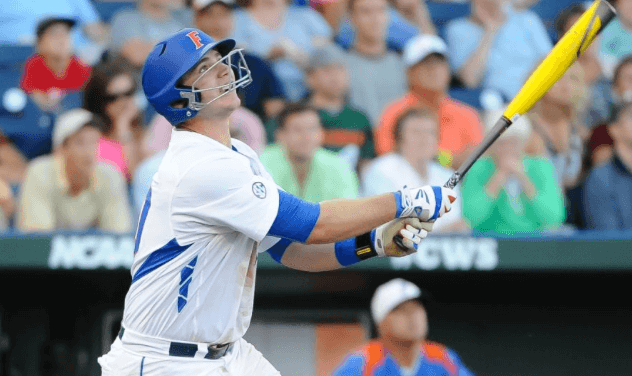 After watching Kentucky snap their 17 game winning streak, the Gators simply started a new one.
Thanks in large part to an eight hit weekend from Peter Alonso, two of which left the park, Florida followed up its 3-2 midweek win over FSU with a convincing sweep of Texas A&M. The Gators now sit at 27-3 on the year, have won 27 straight games at home, and appear to be headed straight for one of the top eight national seeds that guarantees them home field advantage up until the College World Series.
That's what tends to happen when a team of this caliber gets a fire lit beneath it and is stripped of its number one ranking. And as an underrated bit of comedy- not to mention additional motivation- Texas A&M came into the weekend series ranked #1.
But Florida wasted little time disproving that theory.
The Gators jumped all over the Ags in the Friday game, enjoying a four hit, three RBI game from Jonathan India to stake a 7-0 lead that they'd never relinquish. Meanwhile, Logan Shore was highly effective as usual, keeping the Aggies off the scoreboard until he exited in the fifth. From there, he turned it over to the bullpen, and though A&M made things interesting in the ninth, Shaun Anderson came in and slammed the door shut in a 7-4 win.
A&M got off to a quick start on Saturday, jumping on Alex Faedo for two early runs. But while this is becoming a somewhat alarming pattern for Faedo, his subsequent effort is to be commended. And by "subsequent effort," I mean a nearly flawless five inning stretch in which he allowed two runs. On the other side of things, Mike Rivera came through with a two-RBI single, and Alonso replicated India's stats from the previous night by banging out four hits and bringing in three runs. Jeremy Vasquez then joined in on the fun with a double and a single in his last two at bats. That all added up to a 7-2 win, and the series.
Today's game was the most entertaining, albeit the most concerning. Starting pitcher AJ Puk lasted only 11 pitches before leaving due to back spasms. This forced the Florida bullpen to be used much more than anticipated, and predictably, the results were horrendous. For the first time all weekend, Texas A&M looked comfortable hitting Gator pitching, collecting 12 hits on the day. In addition to that problem, Florida displayed some base running that was less than good and more than frightful, most notably getting thrown out at second trying to tag up on a fly ball.
Luckily, the Gators remembered how to hit. Florida matched Texas A&M with 12 hits, and unlike the Aggies, were able to bring most of them home to score. The back and forth game saw the Gators take the lead for keeps in the 7th on JJ Schwarz's RBI single to score Dalton Guthrie, and Alonso followed that up with an RBI single to score Buddy Reed. Schwarz then scored on a wild pitch, and the bullpen, battered and beaten for most of the day, came through in the end as Shaun Anderson mowed the Aggies down in the 8th and 9th innings to secure a six-out save, a 10-7 win, and a series sweep.
Up next for Florida, aside from their #3 national ranking? Well, it doesn't get easy, but it does get easier; a midweek game against Jacksonville and a weekend series against SEC West-leading Mississippi State are on the docket this week. There is the question of AJ Puk's health, but if he can't take his start against MSU, Florida could slide Tuesday starter Dane Dunning into the Sunday slot. Do remember that Dunning is a tremendous talent himself, and would be a weekend starter on just about any other the team in college baseball.
So in short, it's safe to say that the Gators have rebounded nicely from losing the Kentucky series. Now the goal for this team reverts back to what it was before last weekend: keep taking care of business.