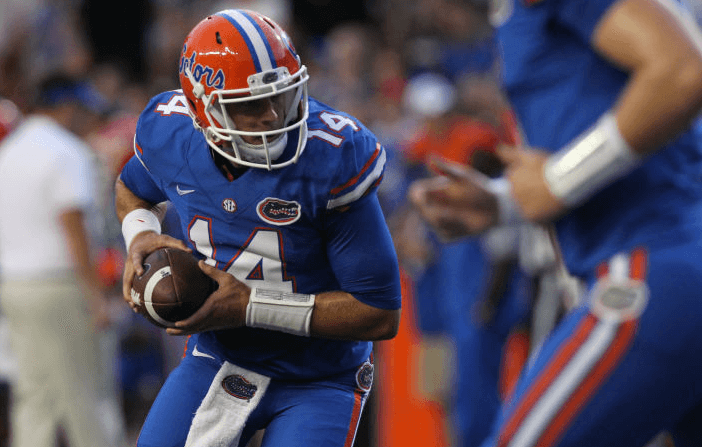 Florida's too-close-for-comfort 24-7 victory over Massachusetts on Saturday brought a lot more nervousness than it did joy about the start of a new season, and excitement about what that new season could hold.
One of the big story lines all offseason was, of course, the quarterback position. Eight long months (or ten, if you want to include the games Treon Harris played) of wondering who the quarterback would be ended when Luke Del Rio emerged as the clear cut favorite, and then was subsequently named the starter by Jim McElwain. We all heard several cliches about why: game manager, doesn't make mistakes, careful with the ball, and so on.
And for the most part, Del Rio looked the part of a conservative "game manager." He never tried too hard to make something happen when there was nothing there, displayed an ability and willingness to hit his check down route, and made sure to throw the ball away when he had no receivers open with defensive linemen bearing down on him. Furthermore, he never looked truly flustered, and only ran out of the pocket when there were complete breakdowns. That's all well and good, and gives me real reason to believe in him going forward.
But he also looked a bit too conservative at times, and while I'd obviously prefer a quarterback to err on the side of caution rather than taking too many risks, there's a balance he has to learn if he wants to succeed in the SEC. There was one play in the third quarter where he appeared to look at his primary receiver briefly and then detected an edge rusher who was farther away from Del Rio than he thought; Del Rio then did what passes for panicking for him, broke off his progressions, and forced an awkward off target pass to Mark Thompson that fell incomplete. And in general, Del Rio didn't seem to notice blind side pressure as much as maybe he should have (which happens when you don't take hits in a live game for two years).
Obviously, having a functional offensive line and serviceable blitz pickup from the tailbacks won't hurt. However, there will come plays where even the best offensive line gets beaten, and even though Del Rio's response to being pressured is different than most quarterbacks, it can still lead to trouble if he isn't careful. He may not force balls into triple coverage like some other quarterbacks in recent history who shall not be mentioned, but he may try to force a screen pass to a tailback, or he may try to throw the ball away. The defensive line, though, doesn't care where he's trying to throw the ball; all they need to see is Del Rio pull back to throw, and they'll go for the strip-sack. If Del Rio senses the blocking breaking down, but can't feel the immediate impending danger off the left side of the line, the recipe for disaster is there.
But if this is the worst Luke Del Rio will ever play- and being the son of a coach and a naturally intelligent human being gives me reason to believe that it was- I can tolerate it. In fact, I'd be thrilled. Del Rio's performance against UMass was already better than anything Treon Harris ever did, both from a statistical standpoint (29-44 for 256 yards, two touchdowns and no interceptions) and how he looked as a leader. Since Tim Tebow's final game as a Gator, only Will Grier and Jacoby Brissett looked to have this firm an overall grip on the offense, and neither held it for very long (for, um, different reasons). Now remember that this was Del Rio's first game and therefore has lots of room to grow and gain an even better grip on the offense.
Del Rio was essentially all he was advertised to be in his debut. That may not sound encouraging, but he was never advertised to be a Heisman Trophy winner. Which is fine, because neither was AJ McCarron or Greg McElroy, and Jim McElwain coached them both to a national championship. All Del Rio has to do is continue to grow, and he could become the next name in that list.