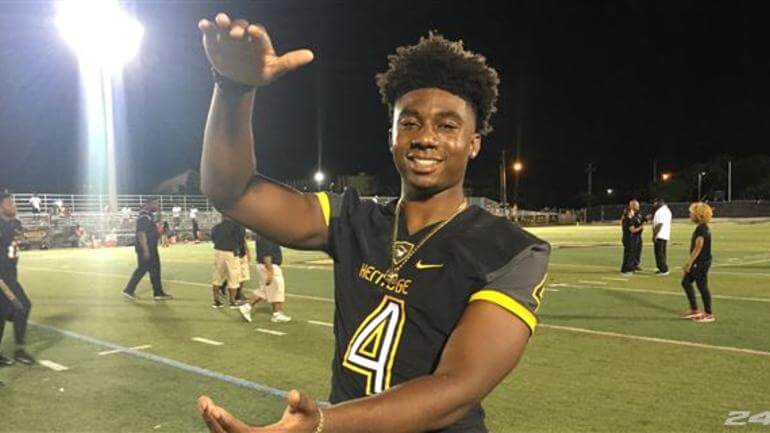 With National Signing Day just two weeks away, most of the focus among Gator fans is on the current recruiting class. Which is understandable.
Dozens of the nation's top uncommitted prospects will make their college decisions in the next two weeks, and several of them have Florida listed as one of their favorite schools. Those recruits will soon garner waves of attention regarding their visits, and their twitter feeds will be hawked for any sort of clue that might indicate where they're going to go (a tactic that rarely works, by the way). Well, actually, that's already happening, but it's about to ramp up even more.
Lost in all the madness of the recruiting home stretch, though, are the six early enrollees at the University of Florida, who can just calmly sit back and watch that madness unfold. And one of those six, James Houston, has a special story that no amount of recruiting insanity should overshadow.
Houston, a highly touted linebacker from Fort Lauderdale, committed to Florida last summer after the Gators' Friday Night Lights camp. Which OK, cool, but his commitment appeared to be nothing really unusual; that event draws a few commitments each year. But Houston's commitment was unusual, and a little more than just cool.
You see, James Houston had torn his ACL a few days before that Friday Night Lights camp, and thus the UF coaches knew he would not be able to participate. That didn't matter to Jim McElwain, who held that offer out to Houston despite knowing he wouldn't have a senior season to improve and develop.
And Houston left Gainesville a Gator commit, rewarding McElwain's trust in him with some peace of mind down the road.
Florida's linebacker position, which was thin to begin with in 2016, now has to replace Alex Anzalone, Jarrad Davis and Daniel McMillian all at once. So it was imperative for McElwain to load up on linebackers in this class, and he landed a talented one in Houston. What he didn't know- and couldn't know until he saw for himself- was that in the same body, he got an extremely hungry kid who couldn't wait to embark on the next chapter in his life.
"I enrolled early because I felt like it's a great move for me," Houston told me. "I wanted to come up to UF, get some therapy I need to heal faster, learn the playbook, start taking some classes and get my GPA off to a good start."
And that's all reasonable. Houston knows he's got a future at the next level, so he chose to get himself as best prepared for that next level as possible. Plus, the medical treatment at UF likely tops that of any place he could go to locally.
But still, this is not a decision a lot of high school seniors make- and it's fairly easy to see why. Many of the nation's top uncommitted recruits opt to drag out their recruitment process until National Signing Day (which is about a month after the early enrollee deadline) and enjoy the limelight that gets thrown on them during their last few months in high school. Even after the commitment and the letter of intent is finalized, the attention will continue to find them, as they become known as "that guy who committed to ___ for football!" It's human nature for anyone to want to enjoy loads of attention, and so it's tempting, really tempting, for a 17-18 year old kid to want to spend their last four months in high school soaking in a truckload of it.
Not James Houston. He's never cared for any of the extra attention that comes his way as a talented athlete, and so for him, it was easy to give it up. "It was a business decision," Houston stated matter-of-factly. "I never had any regrets about doing this."
Florida's not likely to have any regrets about him, either. The injury he suffered may have scared away some other schools, but McElwain remembered what he saw on Houston's highlight tape. He remembered the well rounded linebacker with a nose for the football and more than respectable range. And he remembered the glowing reports teachers and coaches gave about him. Stars be damned, you will never go wrong with a kid that excels at a prestigious school like American Heritage and is a first class human on top of that.
Not to mention one who can't wait to get to work for your program.
"When I first set foot on Florida's campus, it just felt like home," Houston declared. "And I thought it was time to come home."