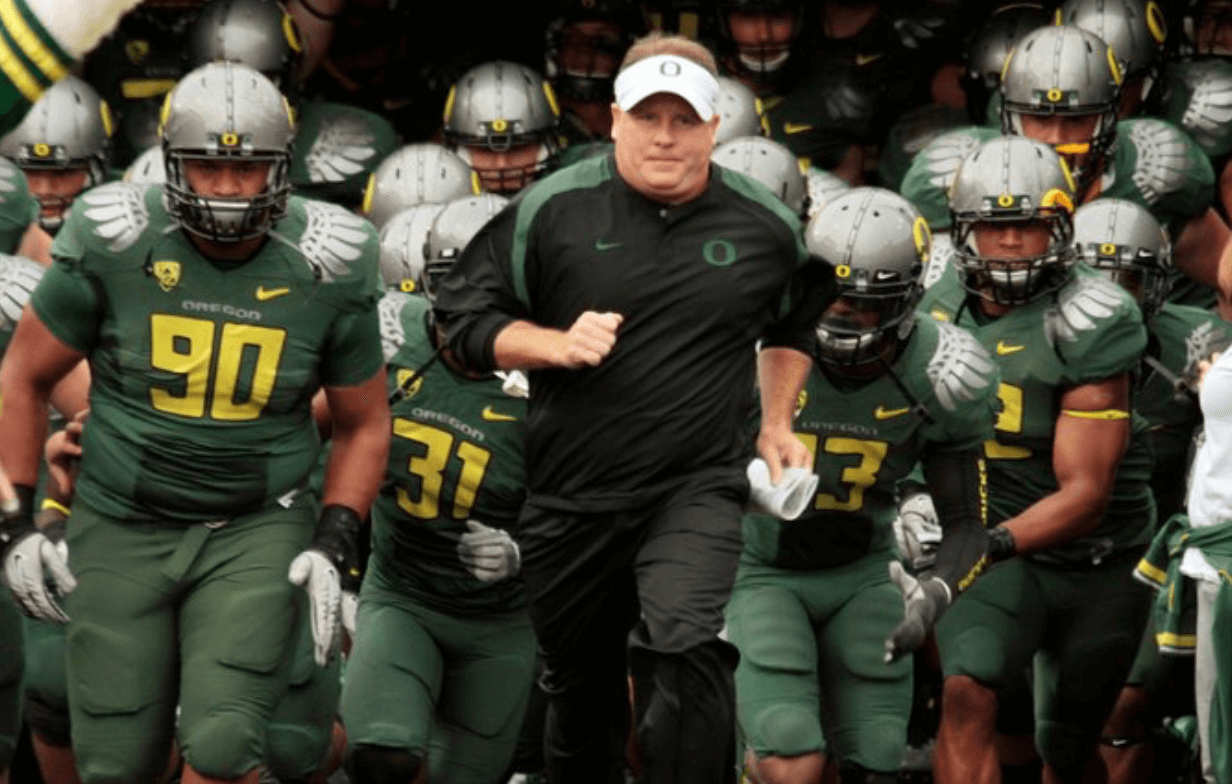 UPDATE 11:55am Saturday: Chip Kelly will coach UCLA, as first reported by Yahoo.
Kelly and Florida has agreed to a deal last Sunday, which was why UF was willing to fly its AD, contract specialist and media relations director up to New Hampshire to discuss the details of his contract. It was a done deal, and Kelly was going to be Florida's new coach. But Kelly backed out of the deal and told UF he needed to reconsider, which was when athletic director Scott Stricklin decided that he had enough of chasing after somebody who couldn't be straightforward and ended the pursuit of him. Florida cut the chase, not the other way around.
UPDATE 2:52pm Friday: CBS's Dennis Dodd indicated late Wednesday night that Chip Kelly is expected to make his decision between Florida and UCLA on Sunday. The report also confirms that he entered a "non binding agreement" with Florida.
But now, Yahoo Sports is reporting that Chip Kelly is out of the running for the Florida vacancy, and that Florida is pursuing other options, the first of whom is presumed to be Scott Frost at UCF. That report made it seem like Florida dumped Kelly, not the other way around.
Stay tuned.
UPDATE 7:11pm: And just as quickly as that story linked in the previous update appeared, it disappeared.
Cue your favorite eye roll GIF.
UPDATE 6:31pm Wednesday: UCLA's 247 site has reported that Chip Kelly has decided to coach the Bruins.
That is a direct contradiction from everybody else who has previously reported on this crazy chase for Chip's services, from LA-based Bill Plaschke to Gainesville's Buddy Martin, to Orlando's Edgar Thompson, to his old boss Mike Bellotti to my own sources. And this is what you get with a coach who's as famously reclusive as Kelly, leaving those closest to him as in the dark about what he wants as a random fourteen year old in Serbia.
UPDATE 12:34pm Wednesday: Mike Bellotti, under whom Kelly served as offensive coordinator at Oregon in 2007-08, told ESPN that he believes Kelly will take the Florida job:
"If he has a choice between UCLA and Florida, I think he would take Florida. They're both good jobs, but UCLA has fired every coach since Terry Donahue. People think he's got the success on the West Coast, but the reality is he's an East Coast guy… UCLA is a very good job. I'm not sure I could say it's a great job."
UPDATE 11:11am Wednesday: more reports are flying around today than ever before. Let's start with the biggest of them, from Florida based lawyer Darren Heitner:
Sources: Chip verbally agreed to Florida before South Carolina game & Florida has been vetting dozens of assistant candidates.

Chip signed an agreement with Florida on Sunday. Agreement includes window for Chip to back out of deal. Hence UCLA talks.

Reporting w/@biggamejames36

— Darren Heitner (@DarrenHeitner) November 22, 2017
Sources have told me that Florida flew the contract up to New Hampshire this past Sunday to have Kelly sign- and that he didn't, but gave UF his word that he would, so UF left it there with him. Heitner says that Kelly did sign the contract on Sunday, but that it came with a delayed execution date. Either way, the effect is the same: Kelly promised to be the Gators' next head coach, but left himself with a little bit of wiggle room to back out if he got cold feet.
There's also a report from Mark Schlabach that claims Kelly flew out to LA to meet with the Bruins yesterday. That means the reports of Kelly meeting with UCLA are officially all over the place (check the last few updates).
UPDATE 7:30am Wednesday: Yesterday, Yahoo Sports reported that Florida was preparing to move on from Chip Kelly and widen its search if this continues to drag on. That alone shouldn't be alarming; of course they should be prepared to. Until Kelly signs on the dotted line, Florida does not have a head football coach, and they should be doing all they can to get the best one that they can, as soon as they can.
Yesterday also featured a report that Kelly met with UCLA on Sunday, but Buddy Martin suggested last night that UCLA had moved on from Kelly since then. There was also a third school- this one without a current vacancy (which screams Texas A&M)- that reached out to Kelly's agent.
Although no agreement was signed last Sunday- and any reports that an agreement was signed is false- people I spoke to close to the situation remain certain that Kelly is the guy. The source of my personal confidence regarding Kelly coming to Gainesville was, and still is, how well his meeting went with Florida administration, which flew up to New Hampshire with the sort of people you don't fly up with- like your school's AD, president and director of communications- unless you know you're going to get your guy.
At this point, an announcement seems extremely unlikely to come before the Gators' season finale against FSU. If it doesn't happen within a day or two after, Kelly may have thought twice and backed out and this may not happen after all.
UPDATE 10:02pm Monday: Reports have swirled that Kelly may not be allowed to sign another contract without surrendering a lot of the money the San Francisco 49ers owed him after firing him last year (an offset) until a certain date has passed. But The Read Optional's Trey Wallace did some digging into the details of the contract, and unearthed a pair of interesting nuggets.
One was this screenshot from California's Mercury News, which says that if the next job Kelly takes is in college, the likely way to go about paying him would be for the school to pay a small amount with the 49ers forking over the rest of the $6 million his contract stated he would be paid a year to coach the 49ers- and if he was fired, in buyout money. The other was this screenshot from Forbes that stated Kelly will be paid $6.5 (the remainder of which is from the Philadelphia Eagles) whether he's coaching this weekend or not.
Whatever time elapses between now and when the announcement is made is almost certainly going to be done to ensure the best for both parties from both financial and PR standpoints, as with no reported competition from UCLA and a clear indication that Kelly is Florida's guy, it's just a matter of time.
UPDATE 7:58pm Monday: as of this posting, there have not been any confirmed reports of Kelly meeting with UCLA today despite it now being 8pm on the east coast and 5pm out in Westwood. You'd think that if the Bruins' brass did meet with Kelly today, someone, somewhere would have reported on it by now. Now tack that on to a long time LA columnist being extremely doubtful that UCLA has any interest in Kelly.
UPDATE 4:00pm Monday: LA Times columnist Bill Plaschke is extremely skeptical of the possibility of Chip Kelly going to UCLA…
Chip Kelly to UCLA?

"I don't see it happening by any stretch of the imagination…he's got that show cause baggage & that's the last thing UCLA needs in the wake of this China incident" – @BillPlaschke pic.twitter.com/oIfibhKiH3

— Paul Finebaum (@finebaum) November 20, 2017
…and that raises eyebrows for a multitude of reasons, not the least of which is that UCLA athletic director Dan Guerrero broke a long standing precedent and axed Jim Mora with just one game left in the season.
But this would make a lot of sense from a purely logical sense otherwise. And UCLA's firing of Mora could have been done at the time it was to give them the jump start on the head coaching search with a completely different guy in mind to zero in on. (Somebody like, say, Jeff Fisher.)
On another note, my sources have reiterated to me what they told me last night: that they expect Kelly to be named the head coach, possibly as soon as 24-48 hours from now.
UPDATE 10:24pm Sunday: nothing has been signed tonight, and there will not be an announcement because Kelly is considering the coaching vacancy at UCLA, according to a tweet from the Gainesville Sun's Robbie Andreu.
And then he immediately backtracked on it:
I misspoke on earlier Tweet about Kelly. I should have said he may want to talk to UCLA before making a decision about where he coaches next.

— Robbie Andreu (@RobbieAndreu) November 20, 2017
Two of the three aforementioned sources were firm in reiterating that they fully expect Kelly to sign the deal with Florida as soon as within a day or two. The third has not yet responded.
UPDATE 9:34pm Sunday: multiple sources have told me that Chip Kelly will be the 27th coach of the Florida Gators. Each of the sources confirmed that an announcement will not be made tonight, but that they expect it could be made within 24-48 hours.
The deal might have been signed a few hours ago, as the son of UF search leader Andy Fawbush indicated with this tweet. And UF players certainly helped ignite the anxiety with a choreographed tweet storm earlier this evening.
More details will become available, including confirmation by the school, so keep checking for updates…
UPDATE 7:47pm Sunday: the plane that brought UF administrators to New Hampshire is now on its way back to Ocala: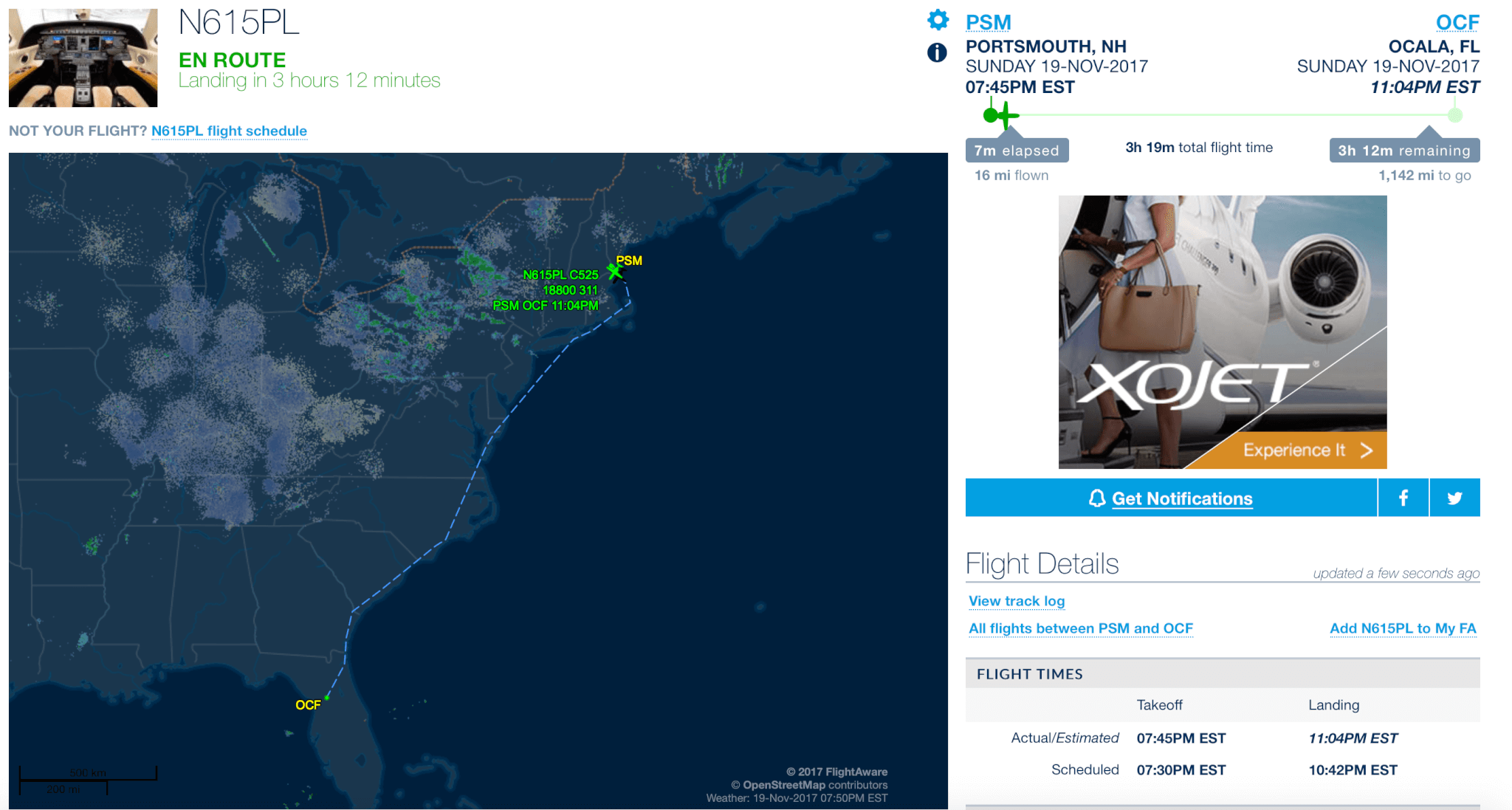 UPDATE 6:18pm Sunday (various): after a rather stagnant 48 hour period of time, the chase for Chip Kelly has picked up again.
It started when Ocala based radio host Buddy Martin- who authored the biographies of Urban Meyer and Steve Spurrier- reported that Florida admins were on their way to New Hampshire, where Chip Kelly lives during the week. Martin stated that these admins were making the trip with a contract in hand for Kelly to sign and make him the next head coach of the Gators.
And a quick check on FlightAware.com showed that there was indeed a private jet that went from nearby Ocala to New Hampshire. (A logical guess for why Ocala and not Gainesville is because UF officials saw how thousands of fans tracked the flight last week out of Gainesville, and wanted to keep things a little more on the DL this time. Which of course isn't working.)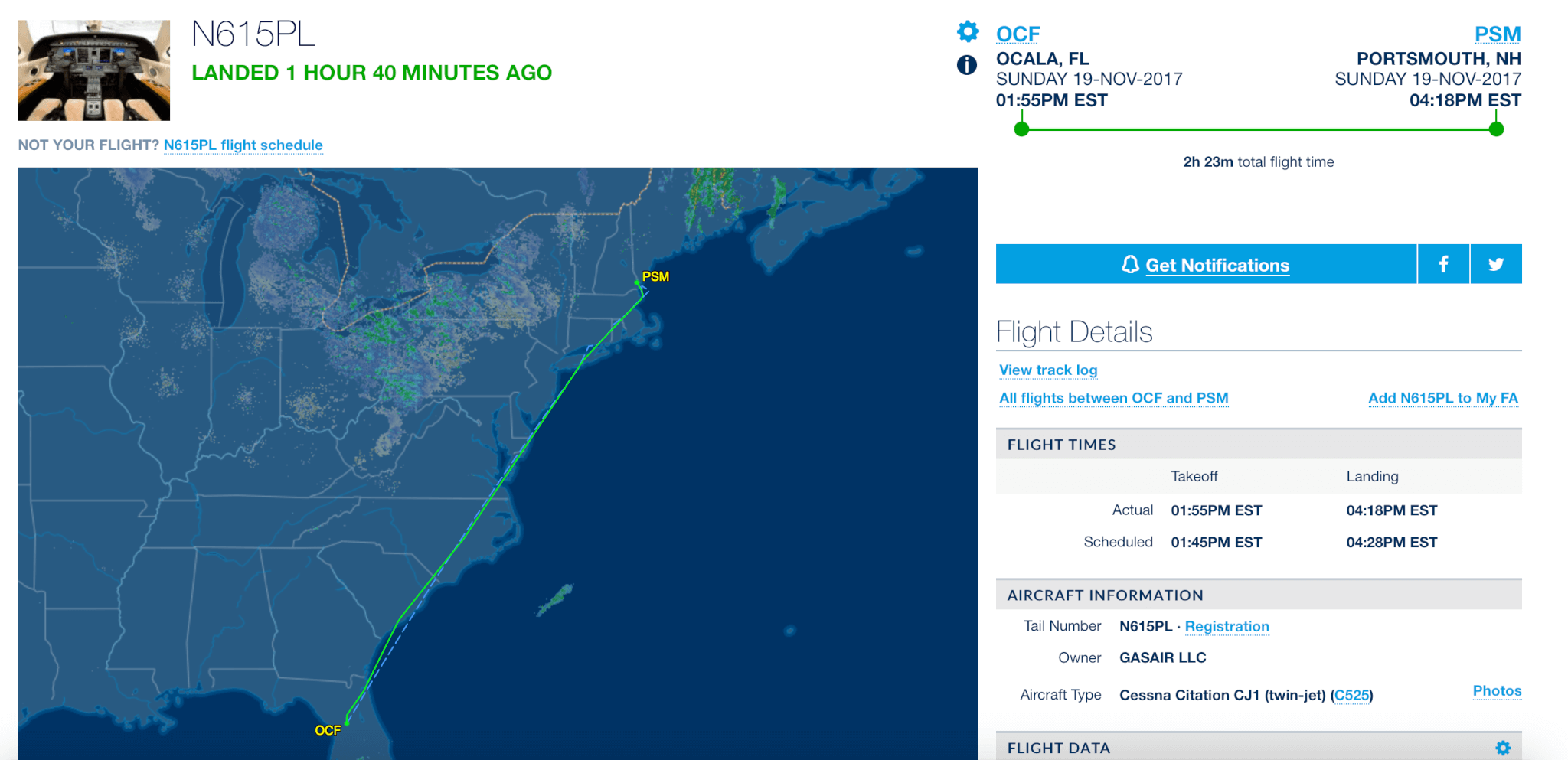 In addition to Martin's report, my own sources have added that UF has completed its vetting process of the assistants on Kelly's list (see Thursday's update), and has approved it. That's why UF administrators were willing to make the trip up to New Hampshire. And that's the explanation behind this.
This negotiation process has seen more than its fair share of holdups and delays, and there is always the possibility of an eleventh hour breakdown in discussions. But both sides are obviously extremely interested in making this happen, and barring an unforeseen last-second collapse, Kelly could be named the head coach of the Gators by the end of tomorrow.
UPDATE 3:05pm Friday: 24 hours have come and gone without a substantial update; things more or less stand where they were yesterday afternoon. Florida is still in the vetting process.
Worth noting, though: ESPN analyst Jonathan Vilma- who works directly with Chip Kelly on the same ESPN studio team- specifically stated on the Ryen Russillo show, "Chip Kelly to Florida."
UPDATE 3:10pm Thursday (Joey Vizzi): First, the main news: multiple sources have confirmed that Chip Kelly has accepted the job in principle. But there is a holdup.
Throughout the time in which Kelly has been unemployed, he's kept a running list of assistant coaches he would want to bring along with him to his next head coaching job, wherever he would be. That way, when he accepted the job, he could then run through his list and assemble his staff within a day or two- which with the newly introduced early signing period this year becomes critical.
The University is now in the process of vetting each and every one of these assistants, much like they did with Kelly. I do not have names of the assistant coaches at this time, but logic indicates that at least some of them were at Oregon while the NCAA violations occurred, hence the need to vet them.
The deal is still not signed as of yet because Kelly wants to be assured that he can fill his entire staff with his hand picked guys. That indicates that no current assistants, with the possible yet unlikely exception of JaJuan Seider, will be retained.
But the bottom line is this: at this point, the only way Florida does not hire Chip Kelly is if the University receives negative results in its vetting process of his wish list of assistant coaches, will not allow Kelly to bring one or more of them on as an assistant, and if this disagreement happens in a fashion that pisses Kelly off so much that he decides he doesn't want to coach under this administration.
---
I'm well aware that I run one of many websites, blogs, and social media handles who's range of topics include the Florida Gators to some capacity. This can be a good thing in a lot of different respects, as different perspectives can all blend together to form your own personalized web of Gator information.
But unfortunately, you get negative side effects like this:
BREAKING: Sources telling me Chip Kelly and The University of Florida have officially agreed to terms. 6 years/4.5 M per year. Press Conference is set for Thursday at 11 am.

— GatorsCenter (@GatorsCenter) November 14, 2017
That account is run by a childish troll who started a GoFundMe to free Aaron Hernandez from prison the day after he was convicted of the murder of Odin Lloyd, but that's besides the point. The larger point is that in a fan base like Florida, anxiety in moments like these- you know, amidst one of the most important head coaching searches in school history- breaks all scales and previously estimated ceilings. And as a result, you get impulsive kids running twitter accounts and masquerading as news sources, posting what Donald Trump calls "fake news."
The truth of the matter is, there's nothing new to report since two days ago, when I reported that Florida had drawn up the papers to make Chip Kelly the next head coach. While that proves that Florida is sold on Chip Kelly and is going after him, hard, we're now three hours past this loon's "reported" press conference as of this publishing, and that has undoubtedly sent this fan base's anxiety into overdrive.
The only update there is since then is that Florida's camp and Chip Kelly's camp are negotiating the details of a contract right now. Sources tell me that Kelly wants more money up front and less in incentives. Where these negotiations are taking place and where the negotiations currently sit is being kept private by the two camps, and quite frankly I'm not even sure I want to know where the discussions currently sit. It's not even known if these discussions are taking place in person or via a conference call, contrary to what the fan base's super sleuths have told you from watching a live feed of Gainesville Regional airport, and there's still no timetable for when (or if, yes, we're still in the stage where if has to be included in this statement) a deal could be signed by.
As a byproduct of all that, we know that Kelly has reciprocated at least a basic interest in the job, enough to enter the negotiations phase, but not enough to sign the contract that Florida crafted up.
Whenever any more details are provided, either in private to myself, my staff writer Joey Vizzi, or on a public platform, they will be added to this post. Keep checking back as the day and weekend progress.