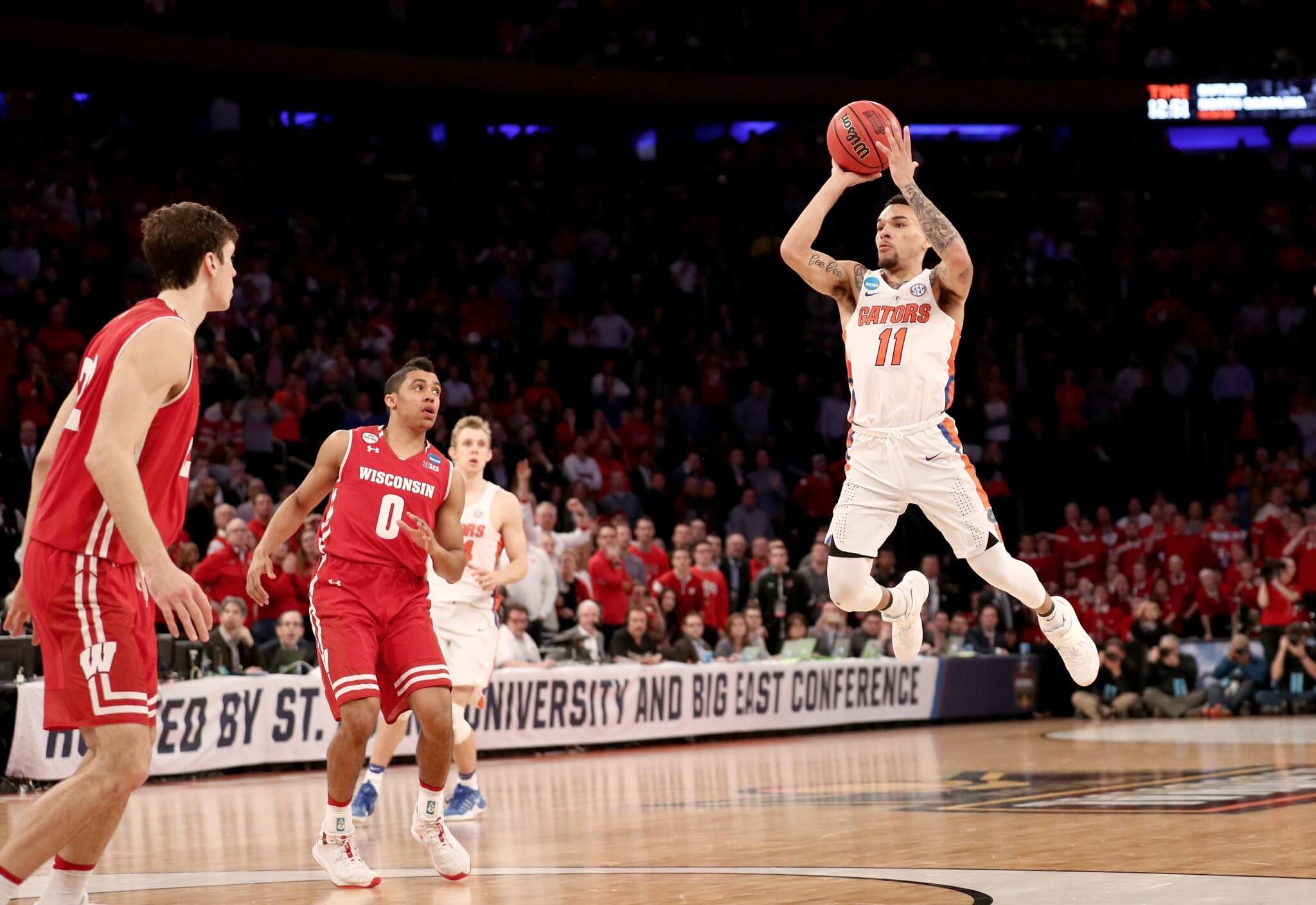 As Chris Chiozza floated toward the hoop and released a wild, off balance shot with less than a second to go, Wisconsin players huddled up, preparing to storm the court and mob each other.
Instead, they all sank to the floor in disbelief. Because Chiozza's shot defied logic and cemented his place in Gator history by going in.
On Florida. And on goes Florida- onto the Elite Eight, for a rubber match with the South Carolina Gamecocks with a trip to the Final Four at stake.
But that's not what it seemed like would happen for most of the night.
Already way ahead of schedule under Mike White, Florida appeared ready to settle for the Sweet 16 to be the defining words of this season. The Gators didn't start this game well at all, while Wisconsin shot the lights out from three point land and immediately built a double digit lead.
And Florida seemed to be headed for a loss.
Somehow, the Gators recovered and built a 12 point lead midway through the second half thanks to a terrific 35 point night from Kevaughn Allen. But the Gators then choked away that 12 point lead in the final few minutes, a lead that slowly shrank until Zak Showalter's wild, lean in three finally tied the game at 72 with two seconds to go.
And Florida seemed to be headed for a particularly devasting loss.
The Gators started off overtime by making a stray free throw and then commencing one of their famous scoring droughts. Wisconsin scored six consecutive points, while Florida's next four possessions went thusly: Chiozza missed, Allen missed, Kevarrius Hayes turned it over, and then Allen and Chiozza missed three straight threes before Wisconsin finally grabbed the rebound and Florida had to foul down 77-73 with 1:40 to go.
And Florida seemed to be headed for the most devastating loss in program history.
But Wisconsin let the Gators hang around. Nigel Hayes split the two free throws, which meant that when Canyon Barry then made a layup Florida was still somehow within three. Showalter then made two free throws, which Allen replied to with a layup to bring the deficit back to three. Ethan Happ could only make one of his two free throws after the ensuing Gator foul, and Chiozza made a pair of his own, Florida was suddenly within two.
And Florida seemed to be toying with its fans' emotions on its way to the most devasting loss in program history.
Then along came Canyon Barry, donning a cape after weeks of doing virtually nothing of note and violently rejecting Khalil Iverson's layup with 34 seconds to go- a layup that would have all but put the game away, and turned what seemed into what was. Moments later, Chiozza tied the game with a layup, but that also gave Wisconsin the last possession- and with four seconds to go, Nigel Hayes gave the Badgers a two point lead by draining both of the free throws that Justin Leon's foul gifted him with.
And Florida seemed to be headed for the most devastating loss in program history just moments after it seemed like they'd saved themselves from suffering the most devastating loss in program history.
Then Chris Chiozza etched his name in history forever.
The game winner. pic.twitter.com/uCEMV7xasv

— InAllKindsOfWeather.com (@AllKindsWeather) March 25, 2017
And now instead of being left to recover from the most devastating losses in program history, Florida has been propelled to its fifth Elite Eight in seven years by one of the most spectacular wins in program history. Suddenly, all that stands between Florida and its sixth Final Four in the last 24 years is a South Carolina team that the Gators crushed last month without the talented yet mysteriously not so dearly missed John Egbunu- a situation that not even the most optimistic fan could have dreamed of two weeks ago.
I honestly don't know if the Gators deserved to win the game tonight. I do know that they showed tremendous guts, heart, and resilience throughout the game- essentially, all you need to become the champions that they're three games away from becoming.