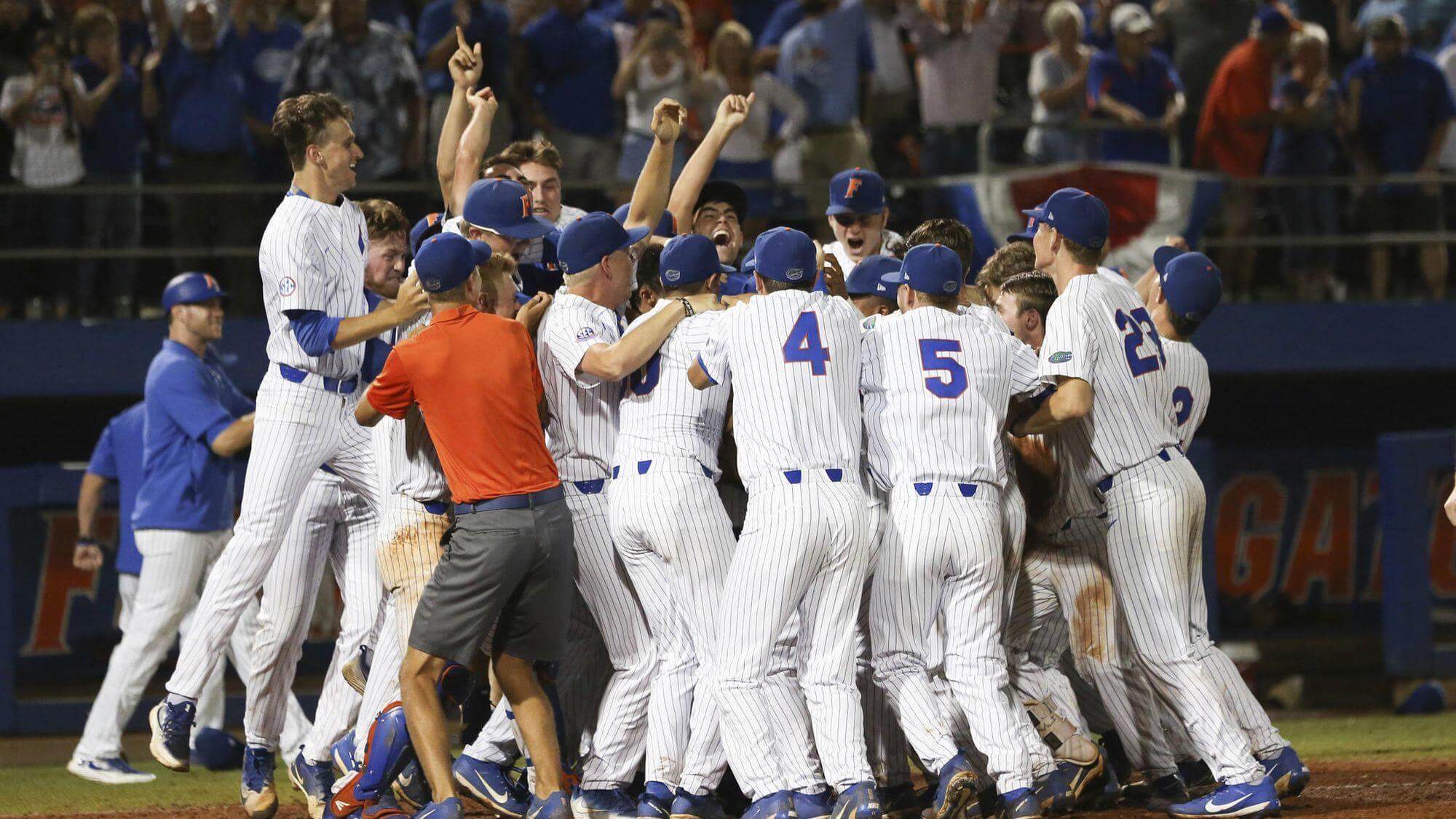 Though barely in both cases, the Gator baseball team survived the Gainesville Regional final against FAU and the Gainesville Super Regional against Auburn. That puts them back in the College World Series for the fourth straight year- and halfway to their goal of repeating as national champions with five wins under their belt and five still to go.
Here are the three opponents Florida could potentially face en route to the CWS Championship Series
#9 Texas Tech Red Raiders (3rd Big 12, 44-18)
Scouting report: Texas Tech eliminated Florida from the World Series two years ago by throwing out Jonathan India on his attempt to stretch a hard liner off the wall into a double, and though they're ranked lower this time around, they're worlds more dangerous. Not only are the Red Raiders second in the country with a scorching hot .423 on base percentage, but they hit for power, too, blasting a homer and a third per game- and while Omaha's TD AmeriTrade Park is difficult hit the ball out of, the Raiders will still be able to blast the ball into the power alleys for extra base hits. Josh Jung (.381 batting average) and Grant Little (.380) headline a terrifying lineup without a real weak spot. The lack of dependable pitching could be the Raiders' Achilles heel, though, and so the Gators may be able to outslug them- particularly if Florida gets JJ Schwarz back.
Key fact: Tech lost key starting pitcher Steven Gingery before the season even started, and Davis Martin and Caleb Killian have both been extremely up and down. So the key fact about TTU is to not get alarmed if the Gators get down by two, three or even four runs early, because their entire pitching staff has a penchant for inaccuracy, which can lead to either walks, bombs, or a sweet a combination of both.
Projection: Honestly, no idea. Tech is almost certainly going to score some runs, but their entire performance hinges on what kind of performance they get from their pitching staff. If they lose the plate, Florida should beat them easily. If they command their pitches, Florida will be in for a battle.
#5 Arkansas Razorbacks (T-2nd in SEC, 44-19)
Scouting report: Arkansas's offense is every bit as scary as Texas Tech's, if not even more so. The Hogs know how to both hit for power (1.52 homers per game) and get on base (.396) and like the Red Raiders, don't really have a weak spot in their lineup. Freshmen Heston Kjerstad (.343) and Casey Martin (.341) sit one and two on the team in batting average, while All-American Carson Shaddy (.339) sits right behind them at third. On the other side of things, Blaine Knight (2.84 ERA) and Kacey Murphy (3.12) provide the Hogs with a reliable 1-2 punch in the pitching rotation. Both have great "stuff," as the experts call it, and are capable of shutting down anyone they face. Rounding out their roster is a solid (albeit not fantastic) bullpen, one that Florida would do themselves a favor by getting to early because of a lack of depth in it.
Key fact: Florida got to Kacey Murphy earlier this year in a 5-4 win, and absolutely assaulted #3 starter Isaiah Campbell in a 17-2 sledgehammering. Once they knocked the starters out of the game, they beat up their successors from the bullpen as well. So while the Razorback pitchers have good numbers, the Gators have seen them before and done quite well against them.
Projection: Arkansas has a great team on paper. Florida has a phenomenal team on paper. Florida beat Arkansas two out of three in March. None of that is going to matter if these teams square off again in Omaha. Flip a coin for this one, because with two teams that mirror each other so closely, that's as reliable a method to guess the winner as any.
#13 Texas Longhorns (Big 12 Champions, 42-21)
Scouting report: While not a joke by any means, Texas kind of feels like the odd man out in an otherwise loaded top bracket. The Longhorns sit 62nd in on-base percentage (.379), 52nd in homers per game (.93) and 80th in ERA (4.09). Good stats, certainly, but nothing eye-catching. The Horns don't generally get deep outings from their starters, but they get good enough five inning starts that they can turn it over to their bullpen and win the game from there. And though the lineup as a whole isn't terrifying, pitch to Kody Clemens (yes, the Rocket's son) at your own risk.
Key fact: What makes Texas so noteworthy is that they're a scrappy bunch. This is a team without a particularly glaring weakness, but also without much star power beyond Clemens. This is a Super Regional level team that got to Omaha because Ole Miss choked twice against Tennessee Tech.
Projection: Florida would be getting a gift to play Texas in a winner's bracket game, for as difficult as everything is in Omaha, this would be the least difficult opponent to both pitch to and hit off of from a talent standpoint. The Horns are a good baseball team, but the Gators are better and on an average day for both teams, should have no problem.