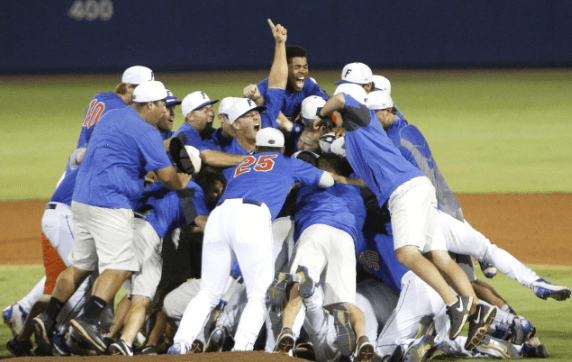 The five months of college baseball can see a lot of things change and progress. The relatively large length of the season gives predictions numerous chances to be turned on their heads, favorites countless chances to stumble and underdogs plenty of chances to rise. In short, the mantra "anything can happen" is never more accurate than when used to describe college baseball.
And there's never been a season in college baseball history where that has been proven more.
Seven of the nation's top sixteen teams were bounced from their own Regionals. Five more- including two of the nation's top four teams- were eliminated in the Super Regionals, with only FSU's demise being expected since they faced a fellow top sixteen team in Florida. And only one other Super Regional matchup (TCU-Texas A&M) featured two Regional hosts. This sets up one of the wackiest World Series fields of all time.
The 2016 College World Series consists of a pair of Cinderellas, Coastal Carolina and Cal-Santa Barbara. Three other teams, Arizona, Oklahoma State and TCU, remain among the final eight teams standing despite their records indicating that they have no right to do so. This year's tournament featured so many wacky upsets that the favorites to reach Omaha actually doing so (Florida, Miami and Texas Tech) were anomalies.
That all makes what Florida has accomplished this year more incredible.
Kevin O'Sullivan's club somehow began the year with a preseason #1 ranking, held onto it throughout the course of the season despite playing in the nation's top conference, and entered the NCAA Tournament with the same ranking. The Gators then dispatched Bethune-Cookman, Connecticut and Georgia Tech to meet up with rival FSU for a trip to the College World Series- and after dropping the opening game, came back to bludgeon the Noles twice to book their ticket to Omaha.
So here they are, on college baseball's biggest stage, now the overwhelming favorite to win it all with #2 Louisville and #4 Texas A&M gone. The Gators haven't looked particularly dominant thus far, but neither has anybody else. In fact, only two of the eight teams to reach the World Series have done so without losing at least once in either the Regional or Super Regional round. And those two teams, Coastal Carolina and Oklahoma State, made it to Omaha via Regionals that were immediately turned on their heads.
But there's no doubting that from a pure talent standpoint, the Gators are the nation's best team. The pitching staff is so deep that the fourth best starter, Dane Dunning, was a first round pick in last week's MLB Draft, and validated that selection with two impressive long relief efforts against FSU. The top three starters- Logan Shore, Alex Faedo and AJ Puk- are similarly dominant. And even though it's worth noting that Puk has been trending down lately, he's still capable of shutting teams down for long periods of time if he's at his best.
The Gators' bullpen is similarly effective. Dunning can be relied upon to go four or five innings in any given game to keep the damage from getting worse and give the offense a chance to fight back. Brady Singer will probably be a starter next year, so while he doesn't have nearly as much experience as Dunning, he's still got nasty stuff and could very well be called upon for some extended relief if Dunning can't be used. Rounding out the bullpen are the short term relievers- Kirby Snead, Scott Moss and Shaun Anderson- who have all demonstrated their worth on multiple occasions.
Meanwhile, Florida's offense, much maligned for its dormancy in Game One against FSU, has proven itself to be quite capable of stringing some runs together in every other game this postseason. Peter Alonso has crushed four homers this postseason, and I use "crushed" instead of simply "hit" because, well, he's absolutely crushed them. His ability to barrel up on pitches in a wide variety of locations combined with his sheer strength makes him a true terror at the plate. Behind him is the equally dangerous JJ Schwarz. His numbers are down from last year, sure, but that's more because of the way he's been pitched to. He's still capable of sending one into outer space, as he did in Game Three against the Noles- with the bases loaded, no less.
But Florida got to where they are now with more than just two big hitters. Rather, they've got a lineup filled with them, which includes Jonathan India, Deacon Liput, Mike Rivera, Buddy Reed, and perhaps most importantly, leadoff man Dalton Guthrie. These guys don't get the buzz Alonso and Schwarz get, but each one of them have come through in a big spot for Florida this year, and Rivera is second on the team with nine homers. Getting production out of this batch of guys will be key for the Gators.
And that, realistically speaking, is the team's lone question mark aside from what we're going to see out of AJ Puk. We know Florida's got the pitching, we know they can play defense and we know they've got some pop in their lineup. The key- again- will be whether or not the Gators can come through with the big hits in clutch situations, as India did against UConn and Schwarz did against FSU. Baseball is a complicated game in a lot of ways, but for a team of this caliber, it's really that simple.
By now, the Gators' long list of so-close-yet-so-far Omaha tales has lost its last hint of obscurity. If you didn't witness the Gators' horrifying collapse in the 2011 CWS Finals, the ensuing year's meltdown as the #1 overall seed, or even the 2005 CWS Finals loss, you've undoubtedly heard the stories. And for a team that's pretty much gone wire to wire as the nation's #1 team, it's hard not to feel like it's now or never.
So the ultimatum facing the top ranked Gators is as follows. Come up big in big situations, as holding a #1 ranking for the majority of the last five months indicated you're quite adept at, and at long last, you'll be the national champion.