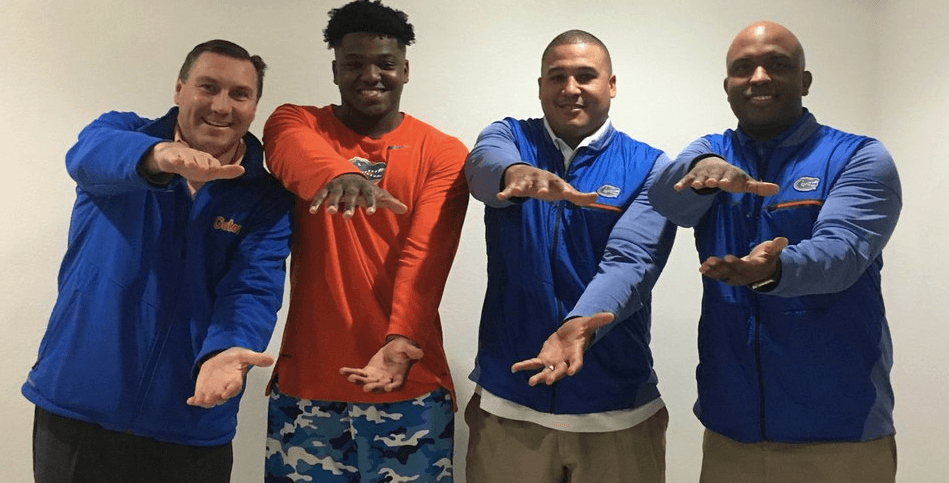 Florida just gained a major piece for Dan Mullen's first recruiting class.
Versatile defensive end/linebacker Andrew Chatfield has put pen to paper and become a Florida Gator. He also held offers from FSU, LSU, Miami, Oklahoma and Ohio State, and ultimately came down to Florida and Miami.
But perhaps it was the way he made his decision that garners the most excitement.
WATCH: Andrew Chatfield picks #Gators by placing Florida hat on Chucky doll! pic.twitter.com/BB7H3Hy27E

— InAllKindsOfWeather.com (@AllKindsWeather) February 7, 2018
Chatfield developed a tight relationship with defensive coordinator Todd Grantham during his official visit to Gainesville last month. Although he was long thought to be a Miami Hurricane lean, Grantham was able to sway his mind. Chatfield continues the Heritage pipeline by former Heritage teammates Marco Wilson, TJ Slaton and James Houston in orange and blue.
To boot, Chatfield is an extremely athletic beast that could potentially see playing time at both defensive end and linebacker depending on how the cards fall. A sure tackler with great quickness and speed, Chatfield could make an impact very quickly.