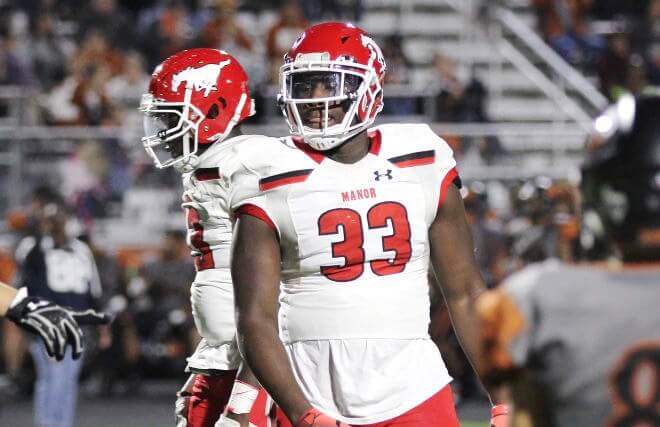 Losing Avantae Williams to Miami in a recruiting battle upset was a rough moment for Dan Mullen and Florida on Signing Day today, but they more than made up for it by winning a recruiting battle upset over a pair of suitors from the Lone Star state.
Princely Umanmielen, a consensus four star defensive end from Manor, TX, has committed to- and signed with- Florida despite in state schools Baylor and Texas being rumored to be the favorites. He also had offers from Oklahoma, Auburn, Oregon, Mississippi and Texas A&M. You can watch his highlights here.
As you can see from those highlights, he's got the skills to make an immediate impact at the collegiate level. He's big (6'4, 250 lbs) and fast (5.07 40 yard dash) with the kind of natural athleticism that is likely going to make it difficult to keep him off the field for too long. He's nasty against the run, has more than adequate pass rush moves and is very rangy, meaning he's got the motor to track running backs down from sideline to sideline if need be.
The addition of Umanmielen provides the cork in the bottle for an overall great, though not quite elite, recruiting class. ESPN, Rivals and 247 all agree that this is a top ten class. Losing on Avantae Williams earlier today was highly irritating, but defensive line was a bigger need in this class after losing Jonathan Greenard and Jabari Zuniga, so if Florida had to only land one of the two, it's difficult to say you wouldn't have wanted Umanmielen. So all things considered, this class has to be considered a success.
Now, let's see what Nick Savage and Dan Mullen can do with these guys.