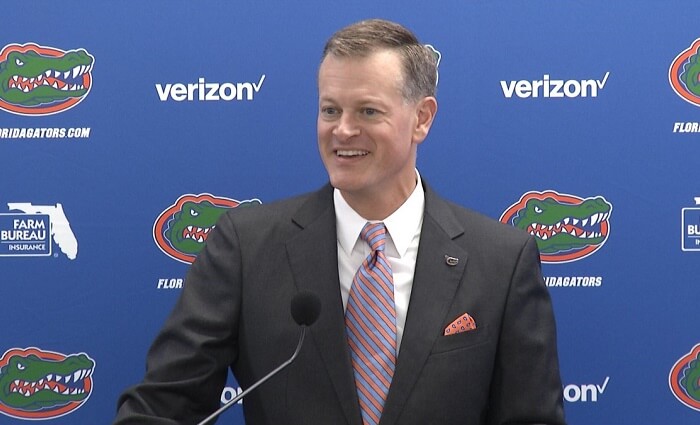 In the wake of the decommitment of prized wide receiver JaMarr Chase, a common concern among Florida fans has been the state of the Gators' recruiting. And on the surface, it makes sense to be concerned about it: recruiting is the avenue through which Florida, as well as every other school, must travel through in order to develop its next line of stars.
But Florida has a bigger problem right now: it doesn't have a head coach. And that needs to be the first issue that gets solved for the healing to begin.
Whether or not they will admit to it, there exist scores of athletic directors across the country who will rush to make a hire like the one Scott Stricklin finds himself having to make right now. The idea is to ink the next head coach as quickly as possible so that the coach can get to work on the recruiting trail and do all he can to salvage the class. And with the introduction of the early signing period in this recruiting cycle, it's a safe bet that this idea will be heightened this year.
Yes, of course the optimal answer is to have a new head coach in place at least a month before the early signing period from December 20-22, which would mean the week before Thanksgiving, in order to give recruits plenty of time to not only learn about the new head coach, but get to know him and become familiar with him before they put pen to paper. Name the new head coach as late in the process as Florida did with its last two hires (Will Muschamp on December 11, 2010 and Jim McElwain on December 4, 2014) and you risk not giving the coach ample time to reassure the recruits and their families of the direction of the program, and thus leave the door open for them to jump ship due to uncertainty.
But this year, such a window may be all there is to work with. Unless Scott Stricklin hires somebody who is not currently coaching, such as Bob Stoops or Chip Kelly, he's going to have to wait until after Thanksgiving weekend before he can even begin to have serious discussions with his potential hire. Guys like Scott Frost, Dan Mullen, Justin Fuente, Matt Campbell and Willie Taggart would all have three weeks at absolute most to save the class- and probably not that much- if hired as Jim McElwain's replacement.
And yet, that cannot be a factor for Stricklin.
I would obviously rather Florida keep JaMarr Chase, Iverson Clement, Amari Burney, Jacob Copeland, etc. than lose any of them, but should the decision be this binary, I would rather Florida hit the jackpot with its next head coach and lose all of them- because with the right head coach, the Gators would not only match but far exceed the raw star power of this class and the two before it.
Think about it. If a guy like Chip Kelly, Bob Stoops or even Dan Mullen got to walk into living rooms across the Sunshine State in a blue or orange polo with that famed Gator logo or that slanted F adorning the chest, the level of success Florida would have on the recruiting trail would instantly spike due to that one factor alone. That's not even accounting for the fact that with the right head coach, Florida would win games- and that too is a deadly weapon to wield on the recruiting trail.
Scott Stricklin knows all this. Or at least I think he does. And regardless of who the next coach ends up being, or when he's hired, I expect at least two, maybe more currently committed players to flip. When this happens, I implore everybody to relax, and focus on the big picture.
Because if the cards are played right, five years from now, most people won't even remember those kids' names.