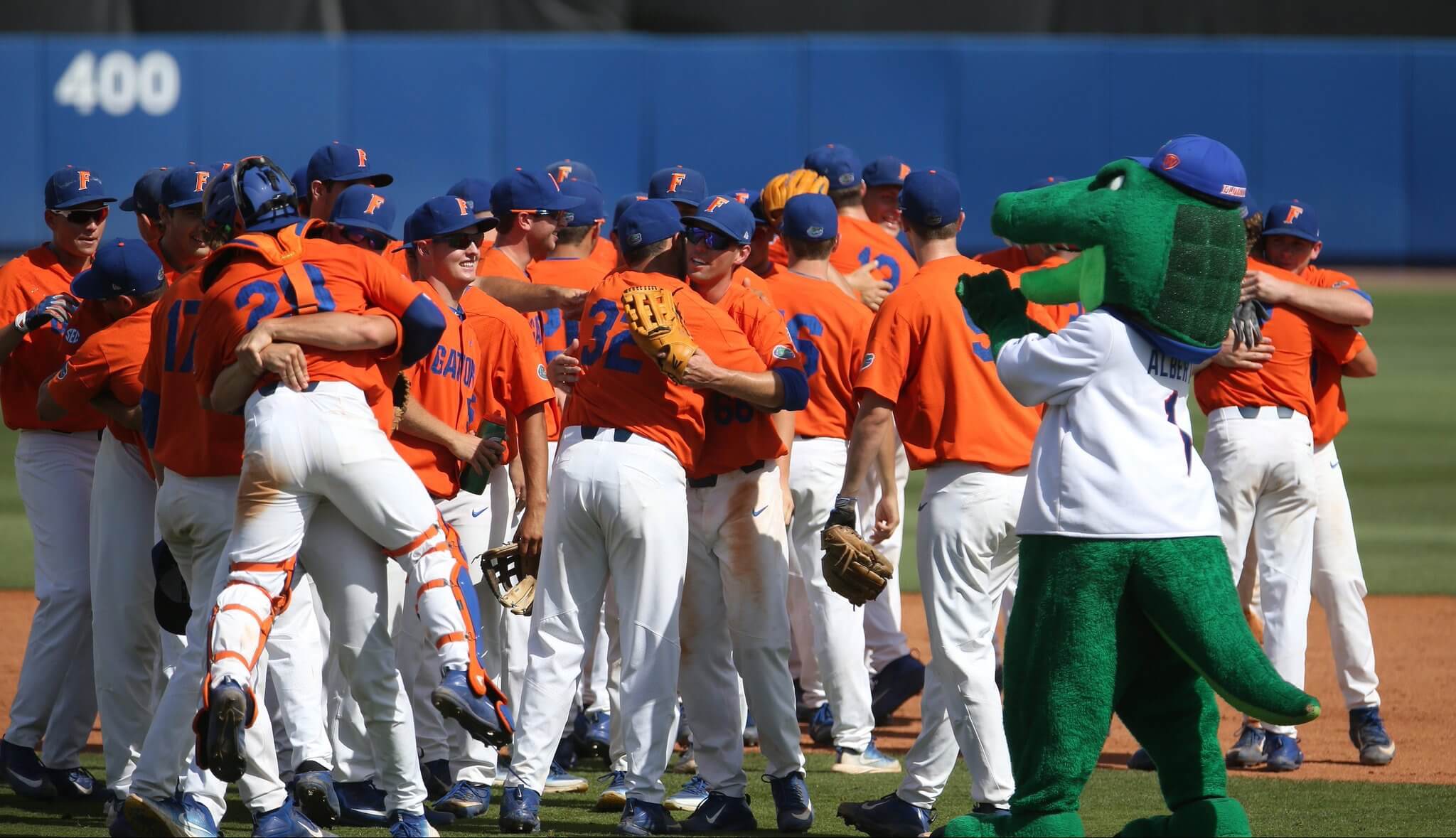 Florida's first ever national championship in baseball came 105 years after the school first fielded a team. It came after countless collapses in the postseason. It came after the program had built up a reputation of Omaha ineptitude, and it came after some of the best, most talented and best equipped teams to win a national championship failed to do so.
But now that the Gators finally do have that first elusive baseball trophy, the University of Florida has ascended into the rarefied air atop the world of college athletics with a wide variety of badges.
First and foremost, the University of Florida has now won a national championship in baseball, basketball and football- by far the three most popular sports at the collegiate level. That puts them on a list with UCLA, Ohio State and Michigan as the only four schools to have done so. Stanford and California have arguably each done so, too, but Stanford's football titles in 1926 and 1940, as well as California's five titles between 1920 and 1937 were all either split or handed out by questionable selectors that no longer exist. None of those football  titles were won unanimously like each of Florida's three titles were, so they don't count.
Speaking of which, neither does UCLA's. The Bruins' 1954 national championship in football was split with Ohio State. The Rose Bowl had a rule at the time that prevented a team from the previous year from competing in the game again the next year; thus, UCLA was ineligible despite winning the PCC (forerunner of the Pac-12), so Ohio State defeated PCC runner up USC and claimed the AP Title. The USA Today Poll voted UCLA as national champions despite the Bruins' lack of participation in a bowl game, so both teams claimed a share of the title.
And yes: of course that rule barring a team from playing in the Rose Bowl in consecutive years is dumb. Doesn't matter. UCLA didn't win that title unanimously. And Florida's 1996, 2006 and 2008 football, 2006 and 2007 basketball, and 2017 baseball title all were. There's not another school in the country who can any of claim those titles, and if you share the distinction of being the best team in the country without being able to settle the dispute, you're not really the best, are you?
Further stamping its legacy as the #EverythingSchool, Florida won these titles within ten academic school years… and more importantly, within the last half century, neither of which any of those other three schools can say. And of those three aforementioned schools' titles, at least one of their sports' most recent titles came in or before 1962. Not exactly recent. But Florida's basketball title in April of 2007, football title in January of 2009 and baseball title in the final days of June 2017 were won within the span of a decade.
So Florida becomes the first school to win those three titles not just within a ten year span, but within the last 50 years. And if nothing else, that speaks volumes about the way the Florida Gators' athletic program is able to simultaneously build and then maintain powerhouses in the three most prominent sports.
National titles are probably the best way to determine a program's dominance, but there's also something to be said for a program that can consistently compete for championships, too.
Ready for another awesome accomplishment Florida's baseball title now grants us the ability to boast about? The University of Florida is now the first school to reach ten Alliance/BCS/NY6 Bowl games, five Final Fours, and ten College World Series with at least one national championship in each. The Bowl Alliance was the forerunner to the BCS, which was the forerunner to the CFP and the New Year's Six Bowls, but they all consisted of the same four major bowl games: the Rose, Sugar, Fiesta and Orange. I used Alliance/BCS/NY6 as a label because it sounds better than just saying "major" bowl games, but although the Bowl Alliance was formed in the early 90's, the statement is also factual if "Alliance/BCS/NY6" were replaced with "major" and one were to include matchups from those bowl games from as far back in time as one would like. To rephrase that statement in blander terms, no school has ever reached ten Rose/Sugar/Fiesta/Orange Bowls, five Final Fours and ten College World Series with at least one national title in each.
But it isn't just the men that are dominating. Florida has also claimed national championships in women's soccer (1998) and softball (2014 and 2015). Now add those on to the checklist. The only other school that can say they have won a national championship in football, men's basketball, baseball, softball and soccer (either men's or women's) is UCLA; Michigan won a softball title in 2005 but does not have a soccer title, and Ohio State has neither.
Now, let's put everything so far together, and cap the list of short lists the Gators' baseball title added them to with one final list. And that final list the Gators have joined is a list of one: with their baseball title, the University of Florida becomes the first school to win unanimous, non-shared national championships in football, men's basketball, baseball, softball, and soccer.
Most schools have at least one title in at one of those sports. Some have a title in two of them. A select few can claim to have titles in three of them. And UCLA solely owns titles in four of them.
But only the #EverythingSchool has a title in every one of them.