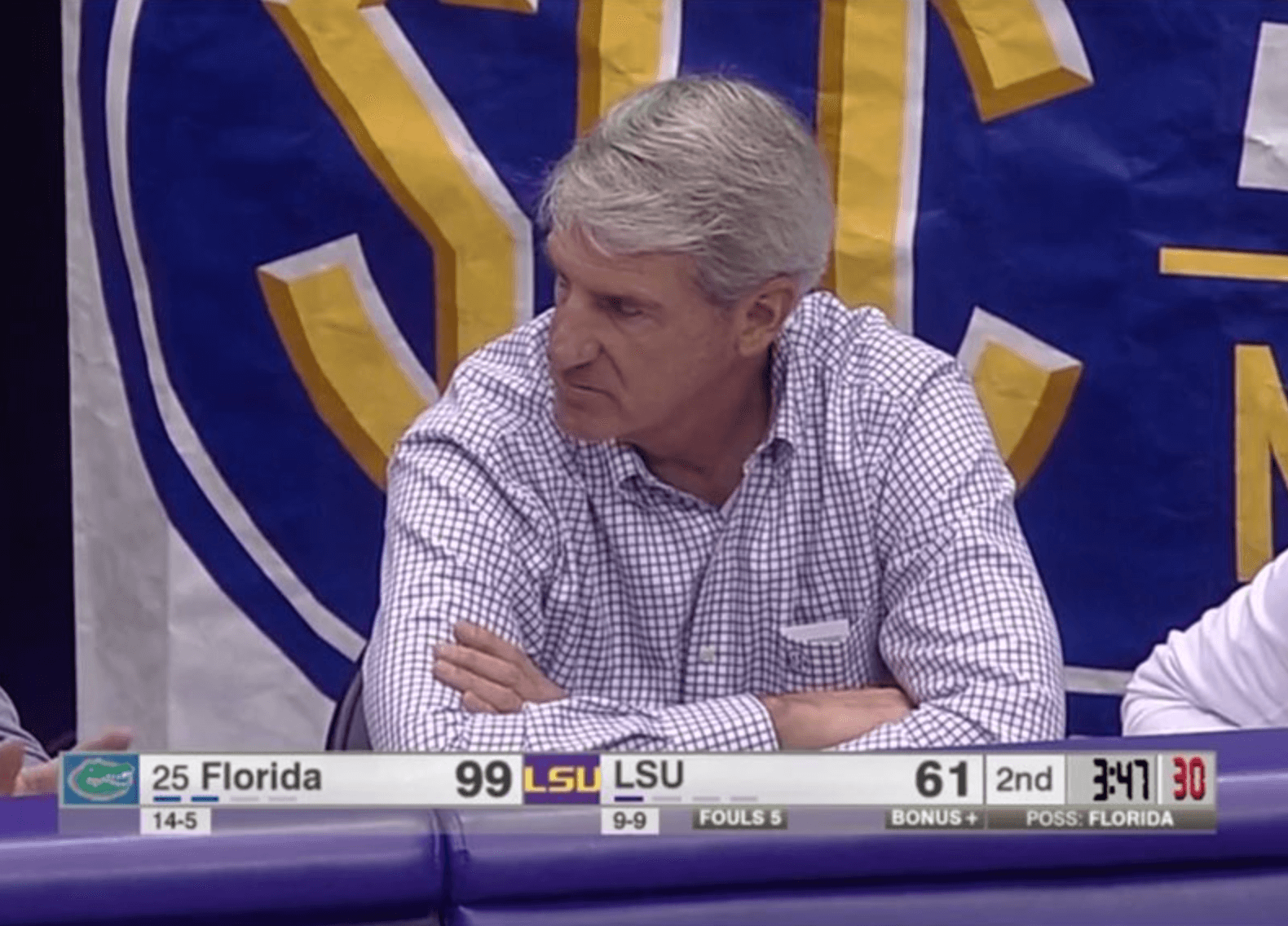 As we all know by now, last week, LSU finally figured out that it needed a better athletic director than Joe Alleva, and poached Texas A&M AD Scott Woodard to replace him. Also as we all know by now, Alleva drew the ire of Florida fans and administration back in 2016 for his ill-fated attempt to strong-arm the Gators to play what was supposed to be a home game in Baton Rouge after Hurricane Matthew swept through the Sunshine State.
Here's what you may not know: when Alleva won his case to make Florida play at Tiger Stadium (because the Gators had no choice; it was either that or forfeit SEC Championship Game eligibility), he kicked off a domino effect that reverberated throughout the rivalry and turned the Tigers into daily Gator bait.
Bookmark the day of October 13, 2016. That was the day that the news became official, that Alleva really was that selfish and foolish, and that Florida had reluctantly agreed to go play the game in Baton Rouge. And that was the day an unbelievable wave of Gator dominance was set into motion.
It started innocently enough the next night, when Florida's volleyball team swept LSU. Which, OK, cool, but the Gators have had the far better volleyball program so that really isn't anything to celebrate. This is also why nobody batted an eye when the Gators swept LSU on the volleyball court again two weeks.
But then, the week before Thanksgiving, Florida's 23rd ranked football team paid their much anticipated visit to Death Valley to face an LSU team ranked 16 and favored by 13.5 points. Or, should I say, what was left of Florida's football team after being decimated by the injury bug. It was a decent season regardless, but I don't think anybody outside the Gators' locker room realistically expected Florida to win that game.
And then Austin Appleby hit Tyrie Cleveland for a 98 yard touchdown pass, Florida's defense devoured LSU running back Derrius Guice at the goal line and the Gators won their biggest home game of the year on the road, 16-10. So, the consensus among Gator fans was, "suck it Joe Alleva, that's what you deserve," and that win touched off a wild celebration for fans and players alike, but as it turned out, Florida's athletic program was only getting started with its payback on Alleva.
In case Alleva still thought his home venues meant something, two months later the Gators' basketball team went into Baton Rouge and didn't just beat the inferior Tigers, they embarrassed them in a 106-71 evisceration. Along the way, Mike White's squad set a school record with an incredible nineteen made three pointers, and we were all blessed with the wonderful screenshot that I made the featured image for this post.
Fast forward two months after the basketball carnage, and it's March 2017. The Gators took two out of three from LSU on the baseball diamond, and in truth should've gotten a sweep; after taking the first two games, the Gators jumped out to a 5-0 lead in the finale before losing focus and allowing the Tigers to salvage one game. Damnit, it really would've been nice to beat LSU three times in one year in baseball. Let's put a pin in that and come back to it.
Now fast forward two more months and change, into early June; Women's College World Series time. By this point the Gators' men's and women's tennis teams had also posted convincing wins over LSU, but Florida and LSU did not meet on the softball field in 2017 in the regular season because the SEC schedule didn't work out that way. So the ladies' bat-and-ball team made sure to join in on the fun in their one chance to do so, obliterating the Tigers 7-0 in the 1-0 game of the WCWS pool stage; LSU would promptly get bounced from the tournament by Oregon in the next game.
Pause for a second to say: hmm, it almost feels like there's some kind of divine force out at work here. Florida is beating LSU in everything.
Smack dab in a nightmarish all-sports losing streak to Florida, the Tigers earned themselves the chance to override a good part of it by reaching the College World Series championship series against Florida. A head-to-head national championship over the Gators in one of the so-called "Big 3 sports" would just about right the ship after the abuse that had taken place since October 14. Instead the Tigers were decapitated and left out to dry in a two game sweep by the Gators, who picked up their first ever national championship in baseball and became the first school in the last half a century to claim national titles in each of those big three sports- football, basketball and baseball.
The dominance tapered off a little bit in the 2017-18 academic year. Florida's 4-7 train wreck of a team lost to LSU in the makeup home game, although the silver lining was that loss helped end the Jim McElwain era and start the Dan Mullen era that much quicker. So that loss was of negligible consequence. The Gator baseball also split a pair of matchups with LSU in the SEC Tournament, so no real definitive winner there. And there wasn't any single matchup with higher stakes than usual.
But there was no mistake as to who dominated the head-to-head aggregate that year. Florida again swept men's and women's tennis, volleyball, and men's basketball events from LSU, and took two out of three from the Tigers on the softball diamond.
And though it slowed down a little more, Florida kept its ownage of LSU alive and well in the 2018-19 academic year. The Gators ceded the softball series to the Tigers, but swapped that for another football game, this time a 27-19 win in the Swamp that saw LSU quarterback Joe Burrow throw his first interception of the year, which Brad Stewart returned for a touchdown with two minutes left to make the score what it would end up as, and then throw his second pick of the year moments later to seal the deal.
Then, it was the basketball team's turn to pull an upset in Baton Rouge. LSU was objectively the better basketball team this past season, and it wasn't really close, but that didn't stop the Gators from stealing a win right out from under the Tigers' noses, by an 82-77 margin in overtime. LSU would return the favor by winning in Gainesville the next month, and then the teams met a third time in the SEC Tournament. Which of course Florida won, as that's clearly the theme here, thanks to a buzzer beater from freshman guard Andrew Nembhard.
Meanwhile, the Gators continued to dominate in the lesser followed sports, again sweeping men's and women's tennis and volleyball meetings with the Tigers. To boot, the Gators added a soccer win over LSU in their first head to head matchup since that fateful day of October 13, 2016.
Then, just before the baseball series got underway, the news broke that Alleva was leaving his post. Perhaps the gods of karma watching over this rivalry were appeased, and the Tigers managed to come back from a game one loss to take the next two games of the series.
But anyway, from the interval of time between October 13, 2016 and April 17 (Alleva's last day as the LSU AD), Florida enjoyed the following success over LSU: a 4-0 record in men's tennis (winning twice in 2016-17), a 4-0 record in women's tennis (winning twice in 2017-18), a 5-0 record in volleyball (winning twice in both 2016 and 2018), a 4-3 record in softball with a win at the WCWS emphatically shattering that tie, a 5-2 record in baseball including a 2-0 sweep in the CWS Finals, a 4-1 record in basketball despite three of those five games being played in a year where LSU was unequivocally the better team and a 2-1 record in football on the heels of a four game LSU winning streak, with the one loss serving a legitimate purpose in hindsight.
Just remember that the next time you want to dismiss the legitimacy of karma, kids. As for you, Joe Alleva, I don't think particularly highly of you as either a human being or an athletic director, but I do thank you for pushing the dispatch button on this tsunami of Gator dominance over LSU, and I'm sad to see you go and bring that karmic tidal wave to an end. And while that sentence is only said about 50% sincerity, I'm not joking in the least bit when I say that your bush league stunt and the Gator athletic program's collective retaliation for it will be what I, and most Gator fans, will always remember you for.
Which I suppose is a slightly less ugly legacy to leave than the one you left with your own fans, so you can at least take solace in that.