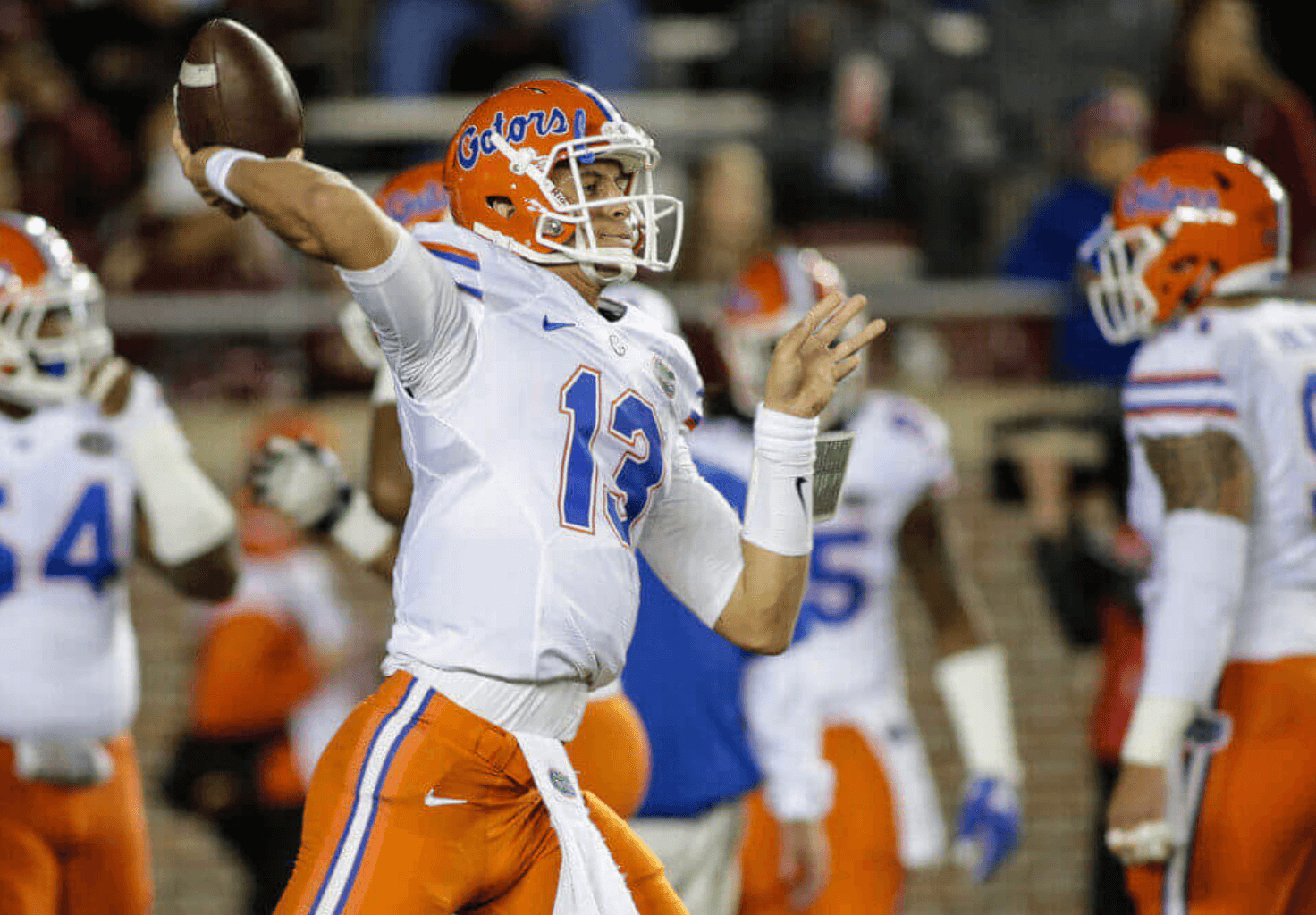 A new year means new opportunities for everybody who wishes to chase them. And for Feleipe Franks, a potentially bright one awaits.
Any writer who goes in depth about Franks would not be doing his or her due diligence without mentioning the sum of Franks' on field performance so far, so let's start off with that. I cannot in good conscience write 500 words of recyclable lines about how promising Franks has been so far, because that simply isn't true.
To date, Franks has demonstrated a laundry list of issues, including not going through his progressions, locking onto his first or second receiver, heaving squawking ducks into triple coverage, not feeling pressure and holding the ball too long. And those issues have cost Florida dearly. What he did in high school was high school; what he's demonstrated to this point at Florida is not consistent with the standards we as a fan base have determined is acceptable for a quarterback wearing the orange and blue. I will make no effort to persuade you otherwise.
But here's where it's imperative to remember that this is a new year, and that nothing he did last year matters. It still happened, and can't be forgotten about, but this is a new year for him, with a new coaching staff, in a new offense, with new explosive wide receiver targets. So while last year was a bad year made worse by the fact that he redshirted in 2016 to better prepare him for the starting QB role and 2017 was the result of that redshirt year, his career is not yet over.
No, I don't buy into the practice reports or even live scrimmages that speak highly of him, I want to see it in game action. However, writing him off before he even takes a snap in 2018 is off the opposite end of the spectrum of of fairness. Just because his play so far does not provide us with much confidence about what he will do moving forward does not automatically mean he's destined for failure, and any true fan owes him the opportunity to prove us all wrong instead of harping on him before he even has a chance to silence the criticism.
Of course, Franks throwing for four hundred yards and five touchdowns against Charleston Southern does not necessarily mean we've got a Heisman candidate on our hands, but it does mean that he deserves another opportunity to go out and prove himself again next week against Kentucky. I say this because I know I'm going to see it: if Franks puts up those aforementioned stats, there are going to be fans who say, "Yeah, that was against Charleston Southern, he won't do it against Kentucky, so we should start Kyle Trask against the Wildcats." But no, that's not how this works; if Franks demonstrates enough positives against the Buccaneers tomorrow, he will get the start against Kentucky. If he then struggles against the Wildcats, then, sure, a change may be warranted.
But now let's take a second to remember who our head coach is, and what we've all been saying about him since he was hired- and for some of us, since when we first wanted him to be hired. Gator fans have been hyping each other up about his resume of developing quarterbacks since he was hired in order to provide the kind of hopeful optimism that's desperately needed after going 4-7 last year. That resume doesn't go away just because Mullen opted to start Franks over Trask and Emory Jones. Rather, the move to start Franks makes it even more critical to remember that resume now, so that we can have realistic faith in both Mullen for his decision making with his QB's and Franks to be able to take coaching and become the star that Jim McElwain was never able to mold him into.
I honestly don't know what we're going to get out of Franks tomorrow, and anybody pretending to risks getting laughed at on social media. A full color wheel of possibilities are on the table. Maybe he gets Deer In Headlights Disease, forgets all that he did this offseason and keeps Charleston Southern in the game with mistakes. Maybe he has a record breaking performance that puts him on SportsCenter. Maybe he plays fine but makes a couple of unsightly mistakes that raise more concern than his positives elicit praise. But whatever happens tomorrow, I believe that he will truly deserve whatever happens to him next, for better or worse.
I'm rooting for you, Feleipe. I really am. Go out there and prove everything negative that anybody has ever said about you wrong.