Feleipe Franks exits the spring, and figures to enter the summer, as the favorite for the Florida Gators' quarterback job. Of course, for a fan base that has seen approximately five full quarters of championship caliber QB play since Tim Tebow's departure following the 2010 Sugar Bowl,A the promise Franks has shown has elicited more excitement for the position than anybody since Tebow. Even Will Grier.
So let's go to the film and see if it's justified.
Now, everybody misses throws, the same way that everybody makes throws, so I'm only interested in the patterns that the sum of his film displays, for better and worse. Thus, I'll be breaking down what I felt were monumental plays of his, both for better and worse. And in order to truly see the arc of his development, they'll be placed in chronological order.
Because there's a lot I want to go over, I've divided it all into a four part series, this being Part One. The ensuing three parts will be published over the course of the next week.
To begin, let's break down a few plays that incapsulates the player he was when he first took the starting job. Any abstract of Franks' 2017 season cannot be both objective and overly kind to him, to put it mildly. His first year as the Gators' starter yielded possibly the most dreadful QB play Florida has had in a decade defined by it, but it's crucial to revisit it all because any and all improvement he has since shown or will show in the future is relative to that performance. And on top of that, the more vivid the bad memories of him are, the more we'll be able to enjoy the good memories that he has created and will create in the future.
So, here we go.
Jim McElwain signed Feleipe Franks in his Class of 2016 as the heir apparent to his team's quarterback role, but the coaching staff deemed Franks too green to take meaningful snaps as a true freshman. That was the first red flag Franks raised, at least in hindsight. Perhaps somewhat predictably, the first red flag he raised on the field was even more elementary than anything regarding the specifics of the quarterback position: ball security.
Flash back to his first ever game, the Advocare Kickoff Classic in Arlington against Michigan in 2017. Early in the second half, Florida is down 23-17. But don't be fooled by those 40 points on the board; 21 of them came on a complete bust by Florida's Shawn Davis and a pair of pick sixes from DBU. So points are definitely at a premium in this game. Anyway: on a third and four, Franks sees the protection breaking down, so he finds a crease and takes off. Michigan's Josh Metellus pursues him and meets him about two yards short of the first down. So, OK, Franks turns about an eight yard loss into a two yards gain. In a defensive struggle, with Johnny Townsend as your punter, that ten yard swing could be huge. Unfortunately, we never get to find out- because Franks carelessly lets go of the ball and the Wolverines pounce on it.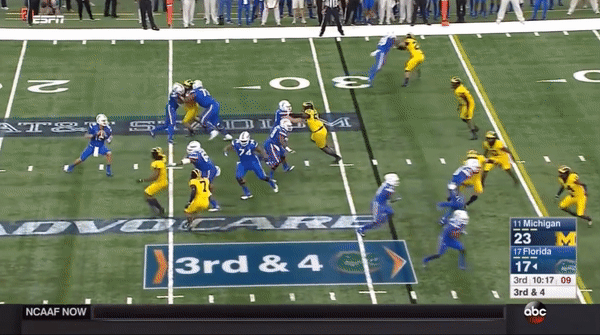 Can't do that. That's the "rookiest" of rookie mistakes. Now Michigan has the ball deep in Gator territory simply because he didn't do what kids are taught in pee wee ball: protect the football.
And that was a mere preview of what was to come. For perspective, the six combined years that running backs LaMical Perine and Jordan Scarlett have provided the Gators have seen those two put the ball on the ground a grand total of six times; Franks has fumbled more than twice that many times in his two years (13 times). So at the very least, ball security is something to keep in mind about Franks as we move forward.
Then come the issues that directly relate to throwing the football- by which I'm not talking about a lack of physical tools, obviously, but the mental aspect of the quarterback position.
The first such issue Franks displayed was that he would lock onto his first or second read and fail to go through his progressions. That alone causes a whole host of problems, not the least of which is that it invites defenders to jump in front of the ball for an easy interception. It also eliminates the possibility of seeing open teammates coming out of their break, or better yet, exploiting a bust, just because you refuse to look for them.
Worse yet, Franks frequently compounded that by not just throwing it to his first read, but 110 miles an hour and often inaccurately. To boot, Franks threw every ball that way, rarely displaying any variation of velocity or flight path. Quarterbacks need to know when to lob the ball, when to fire it and when to release a ball anywhere that sits from 1%-99% in between those two ends of the spectrum. Now, not every throw is so grossly inaccurate that it's right to a waiting defender, but what tends to happen is that these passes get deflected by either the receiver or a nearby defender. Defenses go through what's called the "tip drill" in practice every day, and defenders are taught get both hands up and poke the ball skyward. The idea is that the defensive players are naturally facing forward more than the offensive players are, and there are more of them beyond the line of scrimmage than there are offensive players, so the defense has the decided advantage to catch a ball that's changed trajectories and is now floating harmlessly back down to earth.
And in his very first home game as the starting QB, Franks nearly lost Florida the game by doing all those no-nos at once.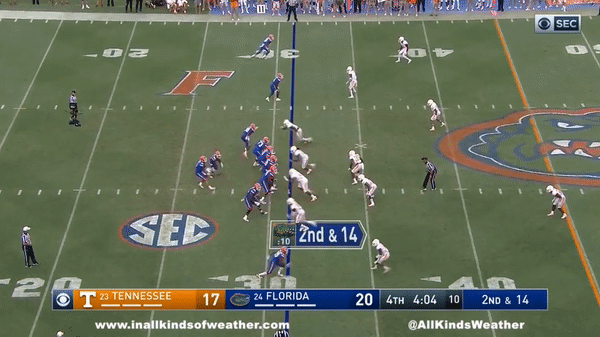 But Franks didn't lose the game, partly because his defense bailed him out by locking down at the goal line, and partly because he redeemed himself (and then some) by doing this: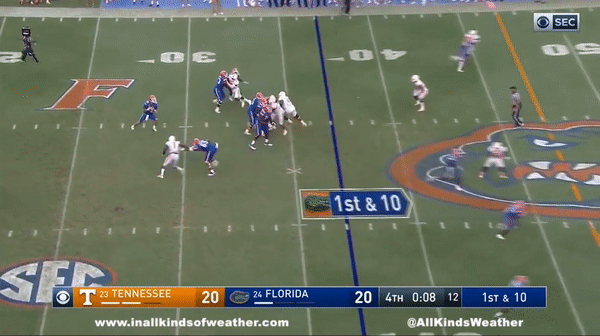 So there, with that bomb to Tyrie Cleveland, Franks showed two positives. One, obviously, is the arm. He threw that football 70 yards down the field with perfect accuracy. He placed it into Cleveland's hands like he was dropping a pin. And two, Franks demonstrated situational awareness that some other people definitely did not on the preceding few plays, but we won't go into that again.
Instead, let's flash forward a few games. It's three weeks later, and Franks has struggled mightily in that interval of time. He'd gotten himself benched the following week against Kentucky, and after Luke Del Rio rallied Florida to victory in that game, he'd appeared to have lost his job. But Del Rio's season would end due to injury the next week against Vanderbilt, and Franks would re-enter the offense and play game manager in a 38-24 win. But now a real test: LSU. Late in a game in which Franks never really got going (10/16 for 108 yards), he faced a critical fourth and three.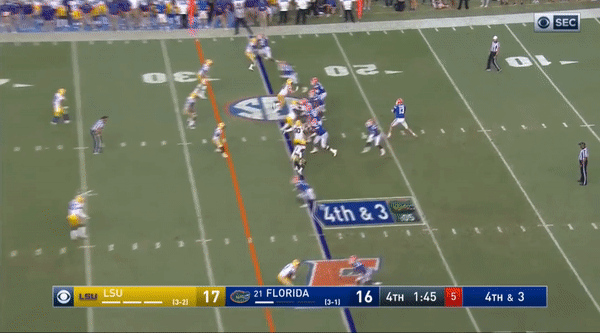 It looks like he's going for Brandon Powell (#4) out of the slot on a crossing pattern, but here's another instance of, among other things, Franks locking onto a receiver and then firing a ball that should have had some touch on it. Watch how his head just doesn't move from snap acceptance to release. With just the slightest hint of an arc on this ball, Franks could have potentially met Powell at the big block "4" that symbolizes the 40 yard line. It wouldn't have been an easy throw, but he could have made it. None of that, though, is an adequate reason to not hit the check down option, Mark Thompson (#24) just above the on-field CBS graphic indicating the down and distance. If Franks just lofts it over the defensive lineman's head, Thomspon gets the first down with ease, and possibly much more to keep the game alive. He is, after all, a running back, and it's his downfield vision that made Florida want him in the first place. But instead, the game is over because Franks made a bad decision in crunch time.
And the very next week, Franks does it again: his head is locked in one direction, he throws the ball as hard as he can and the result is the same…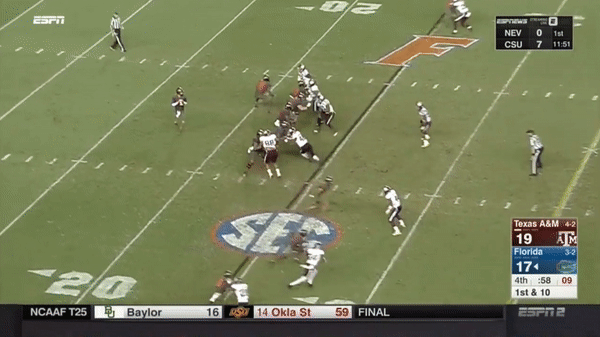 …only this one was even worse, because it was on first down as opposed to fourth down, and there were no Gators in the area that threw the ball into. Just Tyrel Dodson, who tips and picks Franks' missile to secure the Texas A&M victory.
I know, reliving this all is miserable. Just two more plays, and we're done with 2017.
Perhaps it was fitting for Franks to finish a bad 2017 season with his worst performance of all against archrival FSU. Oftentimes, quarterbacks demonstrate real growth between their first and final games of the season, but Franks did the inverse; there seemed to be clear and appreciable regression throughout the year and it all came to a head against the Seminoles.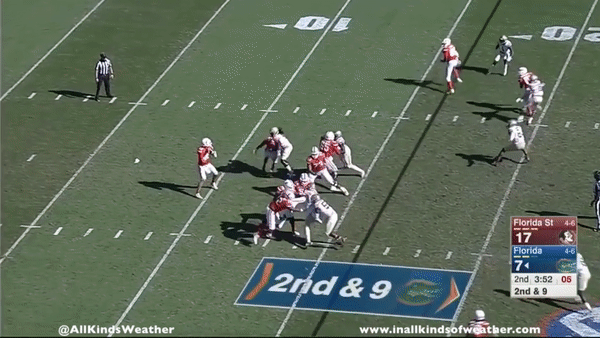 I mean, everything is wrong with this throw: Franks again locks onto his receiver (#10, Josh Hammond), pays no mind to the nearby DB (#1, Levonta Taylor), tries to fit the ball into a window that's more of a silver platter for Taylor than a window and he flings it with all his might. Of course, Taylor casually hops the route and takes it in for the score- the second of three that Franks directly handed to the Noles that day.
And here was the third one: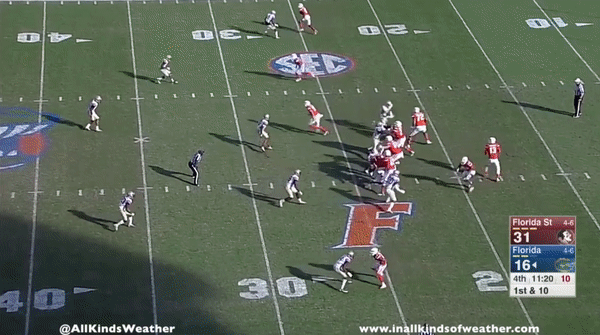 The only difference is that on this play, the recipient of Franks' interception (linebacker Matthew Thomas) is so amazingly brainless that he forgets to finish off his runback and just kind of drunkenly falls down at the goal line, so the record books say he was down at the Florida 1. But that's not relevant for our purposes here. What kills Franks here is the same stuff that did him in on the previous plays I've highlighted: latching onto his first read, throwing a bullet to DeAndre Goolsby as opposed to leading him on a sort of comeback route, and throwing an inaccurate bullet at that.
For an added bonus, watch Franks just stand there and watch Thomas (and lackadaisically jog after Taylor on the previous play) with as much enthusiasm as someone who's just been told he's won a free backpack for the upcoming school year. It's funny to look back at now because that epitomizes a totally different attitude than the one Franks has exhibited more recently. But that tells me that Franks just wanted the game and the season to be over, a complete display of indifference that put the cork in the bottle for 2017. And to a larger extent, that can be said about each of those seven plays that I highlighted as representation of his redshirt freshman season, as it can for the countless other portions of his 2017 film that leave Gator fans with bad memories.
But as we move onto his 2018 film, which I will begin tomorrow, it's important to remember just how low the place where Franks started his career was.
Put simply- and I say this with memories of Treon Harris and Skylar Mornhinweg still very vivid in my mind- Franks in 2017 might have been the absolute worst quarterback play Florida has had since Tebow. Because at least when Harris threw the ball four feet over his teammates' outstretched hands or when Mornhinweg shot-putted the ball into traffic, they weren't directly leading to their teams' demise on a weekly basis. They sure weren't helping, and they were certainly orchestrating their team's suicide by a thousand paper cuts, but they weren't repeatedly gashing the Gators' metaphorical throats open like this.
Again, none of this is meant to callously bash Franks. Instead, I've brought out this film with the purpose of you as the reader taking another moment to put a pin in these images. Remind yourself, "OK, that's how bad Franks was in 2017. That was his starting point. The film I see from 2018 is relative to that quarterback I just saw."
And you'll begin to see that film, and some clear steps in the right direction, tomorrow.
AWill Grier in the fourth quarter vs. Tennessee, Will Grier from start to finish vs. Mississippi in 2015.