Yesterday kicked off a four piece series detailing the career of Gators' QB Feleipe Franks with Part One. Because his first year featured a near monotony of struggles, I condensed his entire 2017 season down to seven plays. That really isn't enough to adequately depict just how badly he struggled as a redshirt freshman, but it was just that breaking down any more plays would seem redundant, and I feel as though most Gator fans agree on the level of the product in 2017. Besides, he's since put together a second year of film, which is obviously far more relevant.
Speaking of that second year, it showed a far larger variety of results. There were a lot of ugly moments for Feleipe as a sophomore, but for the first time in his three years in Gainesville, he began to show some growth in between some of those ugly moments. Because of this complete color wheel of results, 2018 requires three parts to fully break down.
So, off we go into Year 2 of Franks' journey as a quarterback. Dan Mullen took over for Jim McElwain as the Gators' head coach, and more importantly for our purposes here, as Feleipe Franks' quarterback tutor. As we all saw yesterday (and remember pretty lucidly anyways), he had his work cut out for him with the QB position. What's important to remember is that Mullen took over and gave everybody at every position a clean slate. Incumbent starters were not guaranteed to retain their starting roles just because they occupied them under the previous regime. So Feleipe Franks had to come back and beat out Kyle Trask all over again, as well as hold off true freshman Emory Jones. Which he did.
Throw out Charleston Southern. FCS opponents do not count. Let's go straight to game two, against Kentucky. Florida is trailing 7-0 late in the first quarter, and Franks faces a third and four. In 2017, this was the perfect recipe for Franks to panic, lock onto his first read and dispatch a lightning bolt somewhere within ten yards of that receiver. But he doesn't do that here.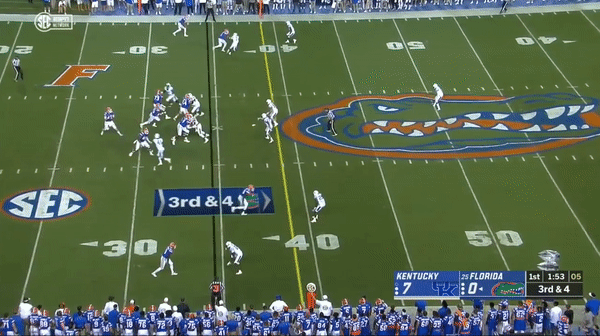 First, he looks up top for Van Jefferson (#12) on the slant route, which is open for a first down. Ideally, this is one of those times where he does throw the ball to the first place he looks, because it's right there. Instead, he waits a second more, sees running back Jordan Scarlett taking off on a delayed go route, and gets him the ball- which is actually a brilliant idea. As I said yesterday with Franks' failure to dump the ball off to Mark Thompson on 4th and 3 against LSU: your running back is the best ball carrier and has the best vision on your entire roster. So, give it to him. This is basically a running play that bypasses the line of scrimmage and gives Scarlett a free pass into the secondary. The result is an almost gratuitous 31 yard gain and an easy way to pick up some confidence.
However, this is a double edged sword. At one end of the spectrum, there's locking onto your first read and throwing it there regardless of whether it's open or not. At the other end of that spectrum, there's being wholly indecisive and your figurative trigger finger freezing, waiting too long and something bad happening because of that. You want to obviously be in the middle, and Franks navigated that spectrum nicely on that play; there would be subsequent times where he wouldn't, but at least you can see clear signs of learning going on. Had Scarlett not been open (and Franks could not have known that before forgoing the slant to Jefferson) Franks would have been in big trouble on that play. Put a pin in that idea and we'll come back to it shortly.
Meanwhile, the Gators are in the midst of laying a historic egg against the Wildcats. It's not all Franks' fault, to be clear; the Gators were already missing starters Cece Jefferson and Davis Reese, and then lost Marco Wilson midway through the game on top of that. As a result, the defense couldn't contain, or tackle, or really do anything right. But Franks definitely wasn't helping matters. He was missing guys in every direction, and wound up completing a shade under 45% of his passes on the night (44.73%), though he didn't make a critical mistake- until this.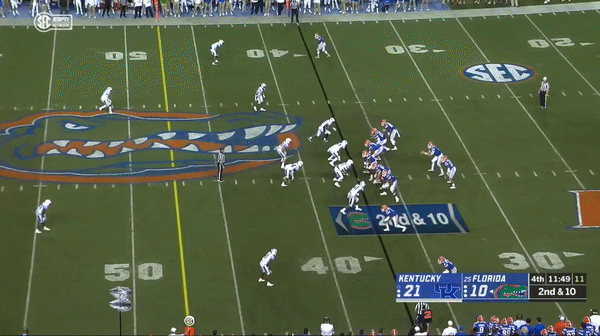 Here we go again: Franks' head is locked on one receiver (Josh Hammond, #10), he overthrows that receiver by so much that Hammond just looks around the field wondering who else it could have possibly been directed at, and it's picked off. This could have been fatal. With the way Florida's defense struggled to stop Benny Snell and Kentucky QB Terry Wilson, placing them 42 yards away from a three possession lead probably should've been game over.
It wasn't, though, at least not yet. To its credit, Florida got the stop it needed. And to his credit, Franks engineered a 99 yard touchdown drive. The catch is that Kentucky was playing an inexplicably soft zone, almost prevent defense that gave Franks plenty of time to look around and his receivers space. But in theory, Franks could have missed his open receivers, and he did not. So Florida scores on a dig route to Freddie Swain to slice the lead down to 21-16. Down five after a touchdown, the natural next move is to go for two.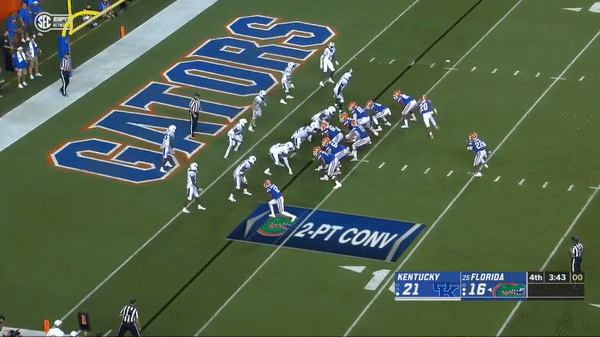 What… are… you… doing? Even before he turns around and just stands there waving his arms, Malik Davis (#20) is wide open on the right side of the end zone on the exact same dig route you just threw a touchdown pass to Swain on, and you are both looking and rolling right toward him. If you see an open receiver in the end zone, you have to throw him the ball, regardless of what the play call was. The unfortunate irony is that Feleipe was done in as a freshman by not going through his progressions, and now he's done in by forcing himself to go through his progressions when he should not have. No, C'yontai Lewis did not catch that ball inbounds, and now Florida is down five when it should only be down three.
Which might have made the difference. The Gators got the ball back with :29 to go on their own six; had they been down three instead of five, they would have only needed to go about 54 yards (to reach the outer range of Evan McPherson's kicking range) rather than 94 in those 29 seconds, which would have rendered the play-calling less desperate and the last-ditch drive a slightly more realistic comeback effort. End result: Franks gets strip sacked and Kentucky takes it in for a touchdown on the last play of the game to end a 31 game losing streak.
So now Franks is in a very precarious position. He's shown to be able to take coaching, as at least now he isn't firing misguided lasers at his primary target on 90% of his plays. That, no joke, is an improvement. The problem is that overcorrecting that tendency in clutch situations by being indecisive and overthinking things can lead to that same undesirable end result: a loss stemming from mistakes at the QB position. He does rebound the following week against Colorado State, albeit in a carefully managed role, throwing a pick and completing just over half his passes in a game he simply had to not give away. Which he did not.
Then comes a big test: on the road against Tennessee. Or what should have been a big test, anyway. It turned out that the Vols had an unbelievable allergy to the pigskin, turning it over six times on the evening and basically handing Florida a 47-21 victory. But there were two plays from this game that Feleipe made that stood out.
It's 16-3 Florida. Franks has already floated a touchdown pass to fullback RJ Raymond leaking out into the flat, a nice ball that required some touch, and got it. And he's also scored with his legs, a one yard touchdown plunge a few minutes later to demonstrate a toughness and willingness to do whatever it took to help his team, which we have to appreciate as Gator fans. Now it's time to capitalize on great field position following a safety and put the game away.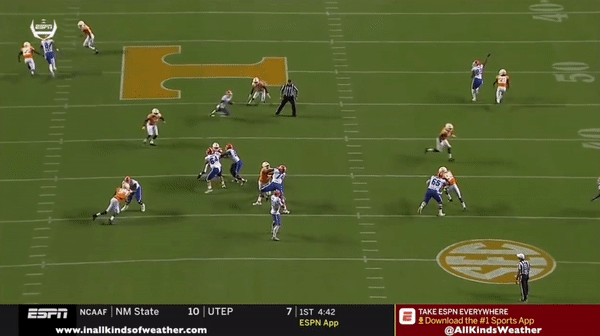 Franks is looking up top for Trevon Grimes on the go route, but it's drawn double coverage. As soon as he realizes that, the pocket breaks down and he has to roll out. Freddie Swain, who's covered well on his assigned crossing pattern, realizes his QB is in trouble and has to break off his route in order to create some space. Franks detects the improvisation by his receiver, manages to partially square his shoulders and deliver the ball perfectly on the run. If he fires it too hard, he risks losing accuracy and either forcing Swain to slow down to catch the ball or miss him entirely- or worse, not elevating it enough and getting picked off by the leaping Trevon Flowers (#25). Instead, he gives it an arc, which allows Swain to continue running in stride, while also not leading him too far and out of bounds.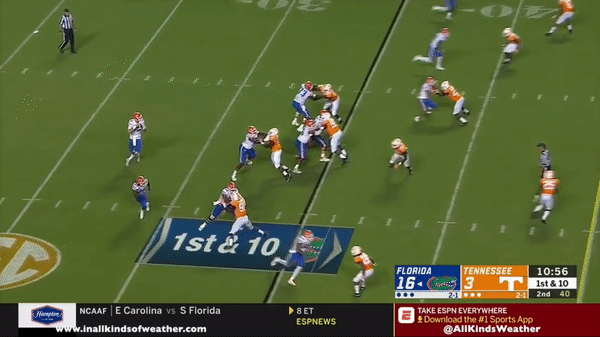 Which allows Swain to put his foot in the ground and make something special happen. Franks gets an A+ on this throw.
Then there was this one, a reprise of "Heave to Cleve" the previous year against the Vols in Gainesville.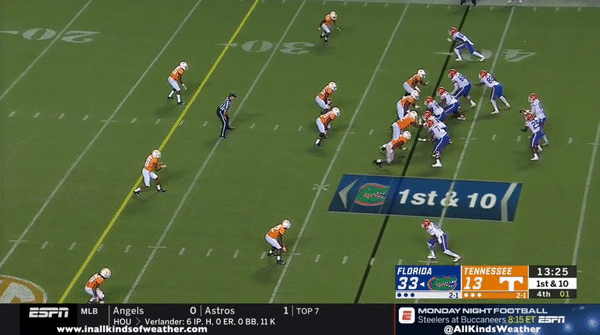 Truth be told, I don't love this throw, but it worked out. You can see that Franks is definitely scanning the field for a second or two, but then he locks onto Tyrie Cleveland- who, by the way, isn't open– and his mind is made up, that's where he's going. He gives a little gesture with his non throwing hand as if to tell Cleveland to get open, and then flings a laser at him. More often than not, this sequence of decisions will not result positively; a good DB will be facing the ball and jumping up for it at the same time as the receiver, which with inside leverage will result in a pick. In this particular instance, it turned out to be a touchdown because cornerback Theo Jackson (#26) has played this ball horribly and is all turned around, and so Cleveland's ball skills take over. But Franks couldn't know that the DB was going to misplay the ball in the air so horribly, and so he got away with one there.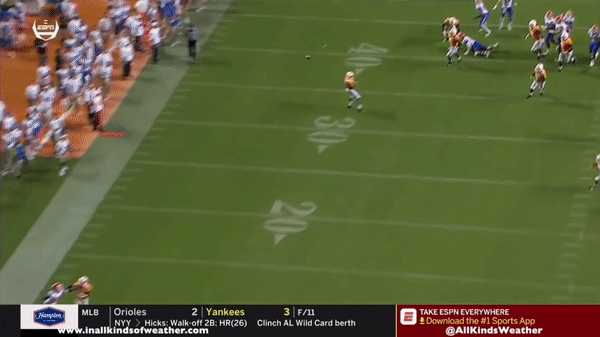 Really, that's about as badly as you can play a ball in the air. Here's betting Franks got dinged for that throw in the next film session by QB coach Brian Johnson.
(Aside: I previously broke down these last two plays back in October, so for frame-by-frame analysis and alternate angles, click here.)
Last up in Part 2: the Mississippi State game. Mullen called a run-heavy game, and kept Franks hidden about as much as he could, limiting him to throwing mostly slants and flares. For the most part, dinking and dunking worked, as Franks dinked and dunked his way to 219 yards through the air. However, he did make one familiar mistake.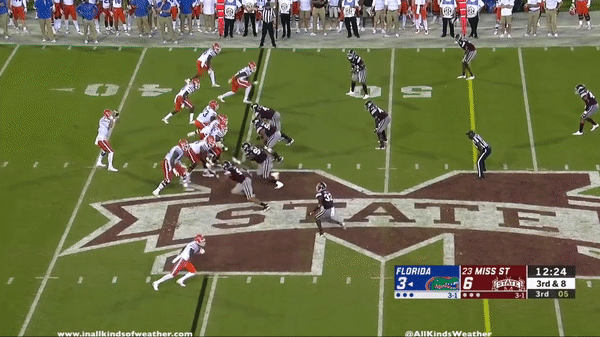 Trailing in the second half of an ugly game, he panics and reverts back to his 2017 self: he does appear to go through one read, but then latches onto his second read and, feeling the pressure, his muscle memory takes over and he releases a fireball in the vicinity of Tyrie Cleveland. Naturally, nobody can cleanly catch it, so it's redirected skyward, and thus turns into a popup for the waiting Cam Dantzler. That gives MSU the ball at midfield in a game where the points were naturally going to be limited, and on the very next play, Nick Fitzgerald throws what should have been a touchdown pass to Osirus Mitchell. But Mitchell drops the football, the Bulldogs can't score, and Florida survives the error.
Again, though: Franks cannot count on Mitchell dropping a touchdown pass. He has nothing to do with that. You know the old saying, control the controllables? Well, in the part of the game Franks could control, he nearly gave the game away; in the part of the game he couldn't control, Mississippi State refused to take advantage. So for the second time in a season and a third as the starter (the first time being against Tennessee the year before), Franks got away with what could have been a catastrophic blunder had the opponent taken advantage of it, and came out of that game as the winning QB thanks to a double pass touchdown from Kadarius Toney to Moral Stephens and a defensive performance for the ages. Franks may not be so lucky in the future, though, and if he's going to be the kind of quarterback fans are hyping him up to be, that right there is the thing he absolutely cannot do.
So now we've gone through slightly more than the first third of his second season as the starter. He's unquestionably demonstrated some positive signs, as now he's clearly learned that his first read is not always his best read. Of course, in some panic situations, he's still forgetting that in the heat of the moment and regressing back to 2017, and in other panic situations he's overcompensating by not throwing it to his wide open first read, but at least now we can see the gears turning in his mind. He's thinking now, which sets the stage for the second third of his sophomore year, and Part 3 of this series.
Come back Monday to see the next step his development takes.