Our four part series of film review sessions of Feleipe Franks rolls on today with part three, which will detail the middle segment of his 2018 season.
To bring new readers up to speed: Part One details the many struggles Franks suffered through in 2017, while Part Two recounts the slight uptick Franks displayed in the first five games of the 2018 season. In order to fully appreciate this piece, it's critical to fully understand exactly how low of a starting point Franks was coming from, so I do encourage you to read those pieces first.
Anyway: we left off following the Mississippi State win at the end of Part Two, a game that Feleipe Franks really did not impress too much in. Dan Mullen ordered a heavy dose of the ground game and one dagger of a trick play to complement his stifling defense in a 13-6 victory. Franks' stats were fine, albeit misleading that night; 22-31 for 219 yards, though most of those yards came on slants and flares to routes that were well blocked for, and he also threw a near-fatal pick at midfield. So as the calendar flipped to October, Franks was showing definite and considerable improvements from his disaster of his 2017 season, but it was painfully obvious that he needed to continue his growth if Florida was to continue winning with him as the QB.
Which brings us to the highest-stakes game Florida participated in since Will Grier dominated Mississippi: a showdown with 5th ranked LSU in the Swamp. Let's skip to late in the first half. Franks has done nothing to this point, when all of a sudden, out of the blue, he lobs a perfect ball to Josh Hammond.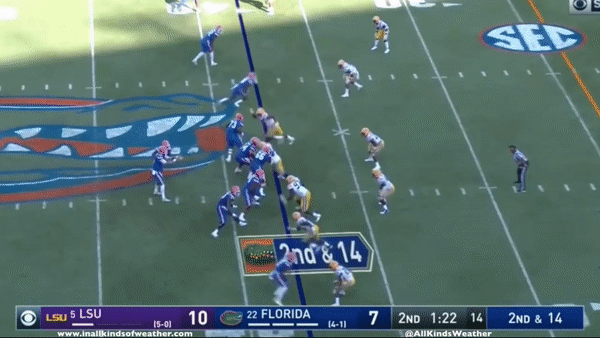 I can't even nitpick a single thing about this throw, which by the way led to a touchdown pass to a wide open Moral Stephens on the ensuing play. He goes through at least one read before looking for Hammond on the corner route, puts the absolutely ideal amount of touch on this pass, leads Hammond so he catches it in stride and inbounds- it's literally the perfect throw.
And so was this throw, on the first play of the second half.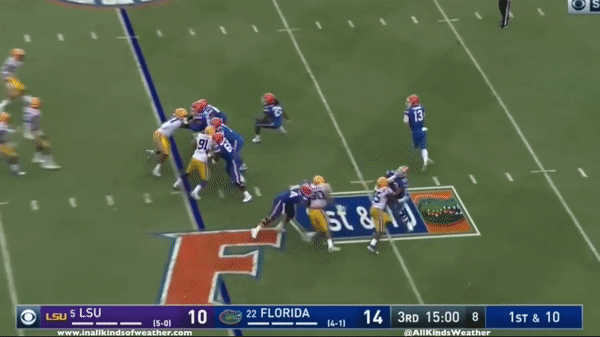 Now, this play is not wholly dissimilar to Franks' bomb to Cleveland against Tennessee on Rocky Top (in Part Two) in that there's a fairly high degree of risk involved if the defender (Kary Vincent, #5) simply turns his head around, but there's one key difference. Hammond has a step on his defender diagonally toward the sideline and beyond him, and Franks puts a significant amount of air on this throw, to place it- again- literally perfectly. Also, putting touch on the ball instead of firing it allows Hammond time to get into position to play safety and bat the ball away if his calculation was off by a few inches and Vincent wound up with better position. So while a bit of an "ehhhhhh" decision because it took a perfect throw and bad defending to complete it, Franks made that perfect throw and got that bad defending on top of it so it worked out.
Then there's the opposite end of that success meter- on the very next play.
Really? We're back to this again? If Franks floats the ball over Devin White (#40), he has his tight end open on a post route and it's his second touchdown of the day to Stephens right across the "Gators" font in the end zone. Instead, with pressure in his face, he panics and throws a bullet right in the same zip code as Stephens but not close enough within that zip code for him to have a chance at it and thus it's picked by Grant Delpit. The ball wasn't actually that far away from where Stephens was a half second earlier, but by the time Franks puts it there Stephens is already past that point in his route with his momentum going in the inverse direction. Some people seem to think Franks got mixed up on the route, but that's just as bad for obvious reasons. And this is made all the more head-scratching because Franks had Jordan Scarlett casually leaking out of the backfield on a flare route; place that flare throw well enough and it could be a touchdown.
So on back to back plays, we have Feleipe Franks making an incredible throw and then an incredibly bad throw. That's what makes this case study so frustrating; he frequently vacillated between being an A level quarterback and an F level quarterback on consecutive plays.
But nevertheless, despite the fact that Franks again completed less than half of his passes on the day (12/27), Florida managed to survive yet again thanks to a brilliant performance by the defense and a running game. And I would be remiss if I didn't credit Franks for the leadership he displayed by catching a throwback pass from Lucas Krull, as well as running 6 times for 42 yards, because those things count. The point is, though he's definitely stepped up as a leader of the team and has mixed in some really good signs along with the bad stuff, he's still not a quarterback that Florida can rely on to win games.
And he validated that right away the following week against Vanderbilt on a slant route aimed at Van Jefferson.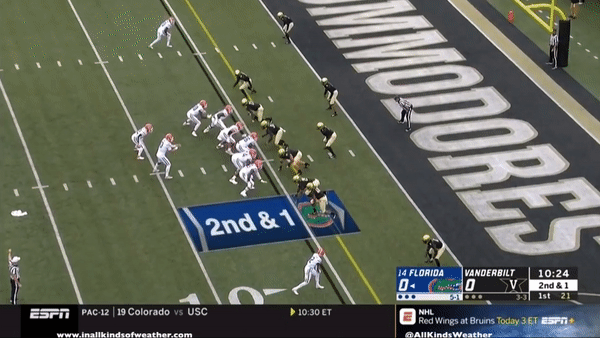 Yes, there's pressure bearing down on him thanks to a complete lack of blitz pickup, so he doesn't exactly have time to go through his progressions, but still: here's another example of him regarding option one as the only option (whereas maybe option two should have been to tuck the ball, push forward and live to see a third and short at worst), throwing it inaccurately and 95 mph and getting it tipped high in the air and intercepted by JoeJuan Williams at the shadow of the goal line. That's a direct loss of three and possibly seven points because of that.
And later in the game, he did it yet again- only this time without the excuse of pressure in his face.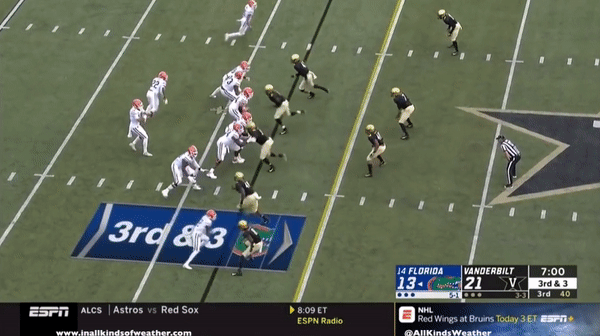 Time to bring out the old checklist. Failing to go through more than one read? Check. Throwing it with all his might? Check. Throwing it inaccurately? Check. The ball gets popped a mile into the air because of those last two things? Check. Luckily, in this case it didn't get picked off, but that is due solely to the microphysics involved here. If LaMical Perine's hand comes up a millisecond later, or from just a degree or two more from underneath, or he just gets a different part of his hand on the ball, the ball's trajectory could have easily been redirected toward one of the four Vandy defenders in the area. Which, again, is something Franks cannot count on. He threw a ball he should not have, and was frankly lucky that the deflection did not land right in the hands of a Commodore. Here we are in game six of his second year, and he's still making the exact same mistake that led to his unraveling in 2017.
But Vanderbilt was also the game in which Franks really began to master the timing of the slant route. He was completing them before this day, but he does a little more than just complete this one.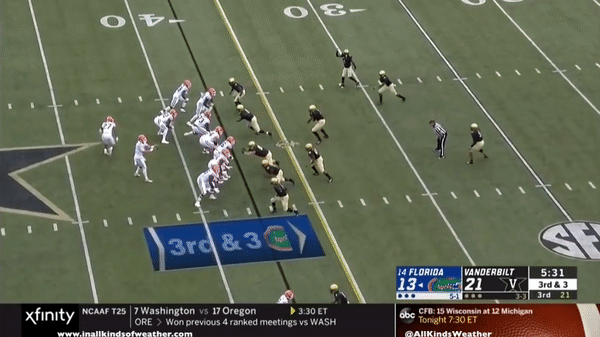 Now this is a winning SEC quarterback play right here. Yes, it's a slant, which is generally regarded as one of the easier and safer throws most of the time, and yes, it's against Vanderbilt, which is generally regarded as one of the weaker teams in the SEC and certainly was last year, but it's not executed adequately; it's executed perfectly. Franks goes through his progressions, albeit too quickly to let his receivers' routes take their course, but at least he's made the defense think by looking at places other than at Van Jefferson's slant route. He then turns to look at Jefferson, and right as he's coming out of his break, puts it on him. This one is a bullet, but it has to be in order to ensure that it gets to him. But he throws this ball at just the right millisecond, not leading him into the safety's buzz saw and giving Jefferson a chance to cut upfield and score on it. Which he does. A second earlier, and it might be picked off before Jefferson can cut, and a second later and he might get Jefferson decapitated. Well done by Franks there.
And on the larger scale, well done by Franks to guide Florida back from a 21-3 deficit. He didn't do anything remarkable that requires a GIF breakdown in this series (though he did lose a fumble that I'm just going to skim past) but he managed the game after that ugly start, made the safe throws he had to make and quarterbacked the Gators back into and then on top of a game they probably should not have won.
Then came the Georgia game. Somehow, the world was such that Florida had lost to Kentucky for the first time in over three decades' worth of annual matchups and the Gators controlled their own destiny to a national championship on Halloween weekend. It was, without a doubt, the biggest stage Feleipe Franks had ever played on, which may explain why he aimed for the stars on his first throw of the game- and missed a surefire touchdown.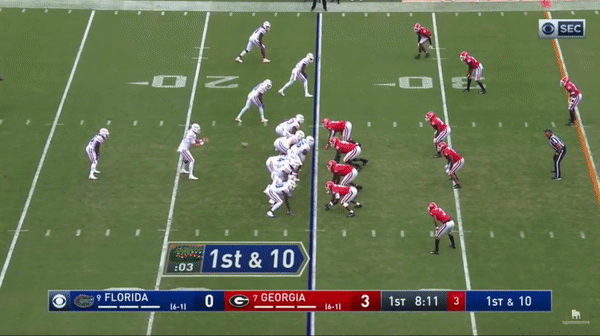 Nobody would debate that Franks has not demonstrated significant improvement in the interval of time since the 2017 FSU game this game, but since the whole purpose of this series is to talk about Franks in the context of being a national championship caliber quarterback… well, this just isn't it. Players only get so many chances to make game-changing plays. Here was one for Franks and he flat out blew it. You can say he was overexcited, nervous, or whatever, but the bottom line is that was a touchdown pass and he simply missed it. Florida wouldn't score on that drive, so there are seven points Franks directly cost his team with the overthrow. Even a mediocre throw, that forced Jefferson to slow up, or lay out for in order to catch, would have resulted in at least a forty yard gain; a championship caliber quarterback manages his emotions well enough to at least complete that throw every single time, and thus at this point last year, Franks… well, we know.
Later in the first quarter, with Florida driving, he makes another critical mistake: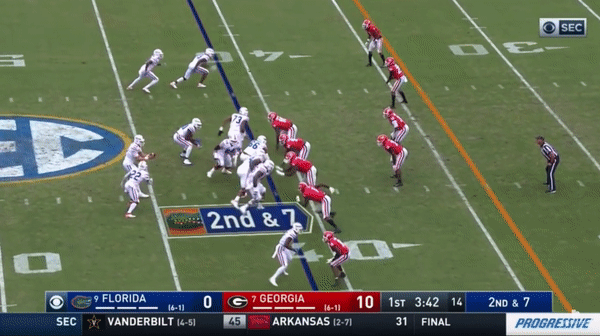 Immediately after pulling the ball from Perine's belly, Franks looks in one direction, one direction only, throws the ball in that direction, and because the ball is woefully under thrown, the result is predictable; it's intercepted by Tyrique McGhee. Georgia would cash that mistake in for a field goal and a 13-0 lead. Again, you just can't do that.
Franks would shake off that gruesome start against the Classic City Canines to bring Florida back into the game, and actually take the lead at one point early in the second half.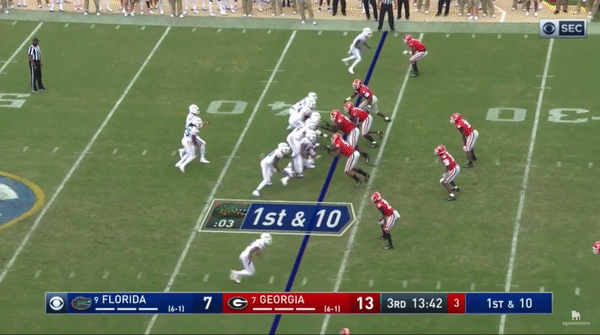 This is an iffy decision for most quarterbacks, but ultimately looked to be a solid one because of Franks' arm talent. Franks looks straight down the middle of the field from the moment he takes the snap and then unloads a frozen rope in the direction of Freddie Swain- and this one is on the money. My only complaint about this throw would be that I sincerely doubt he even noticed the roaming safety Richard LeCount (#2, at about the 19 yard line) flying over from the left hand side. See a pair of replay angles below.
In this first replay angle, notice how LeCounte is just sort of standing there, anticipating where Franks is going and is jumping the route even before he even throws the ball…
…and in the second replay angle, notice just how close LeCounte came to picking it off. So this is a throw where Brian Johnson and Mullen probably told him, "nice bullet, but you throw that ball with one degree of an arc more, one millisecond slower, later or to the left and it very well might be picked off." It's a throw that I would objectively give him a favorable grade for, but ensure that he is aware of the nonexistent margin for error of.
But then later in that quarter, he makes the biggest mistake of all.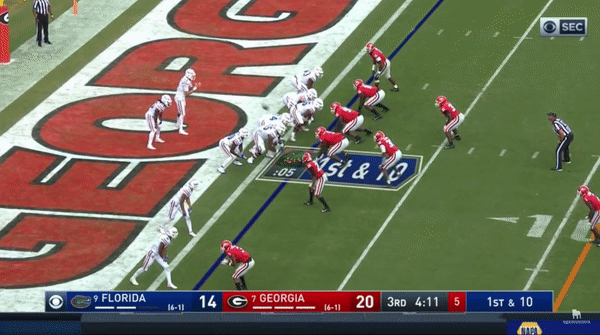 And that ball security issue I labeled in Part One– the first play I highlighted, before pointing out that it would become an issue later on in the film room series- rears its ugly head at the worst possible moment. Feleipe Franks can't count on some kind of hero-movie ending, six play goal line stand from his defense to bail him out here, so for his purposes, this is an absolutely devastating mistake. You have to protect the football. Worse yet, here we are a full season and a half after that fumble against Michigan, and he's still putting the ball on the ground in a situation where that is definitively the worst thing he could do. So now there's no shield of a "rookie mistake" here, and because I don't feel it's beneficial to anyone to hammer him in any further depth for it than I already have, allow me to synopsize it with three final words before moving on: that's a problem. And it's one he'll have to address by demonstrating far better protection of the football than this for a long, long time before he can be trusted to be that championship-caliber quarterback.
Anyway, Florida lost that game 36-17, and now we'll conclude Part Three with two quick breakdowns of plays from Missouri, an even uglier game that Florida lost by an even uglier score. I promise, it'll be quick because I don't think anybody really wants to revisit that game in too much detail.
Now, I'll preface this by saying that nobody on the Gators, from the offensive line to the defense, really demonstrated much of an interest in competing that day. So you cannot solely blame Franks for this loss, because Feleipe didn't surrender 38 points or miss blocks left and right. But "nobody on the Gators" is a statement that very much includes him, as he definitely didn't help matters. And while it's admittedly asking a lot of him to rise above his teammates' sleepwalking, pick up the slack and carry them all to victory, that's what the championship caliber quarterbacks do.
So, to adhere to my promise of making this quick: this is an example of him panicking with impending pressure, reverting back to his primitive instincts of throwing the ball as hard as he can, and missing a wide open receiver for a touchdown. With just a faint amount of touch on this ball, it's an easy six points for Moral Stephens.
And with this one: though theoretically possible for Franks to have bought some time with his feet or actually hit this throw to Van Jefferson on the other side of the field, Jordan Scarlett is wide open in the flat with his head turn back toward Franks a quarter of a second after the ball is released. He's not going to go 94 yards for a touchdown, but it's a pretty easy, short touch ball that can get several yards to set up a manageable third down if not actually pick up the first down outright. Just another instance of Franks refusing to consider throwing anywhere other than to the first receiver he looked at, and throwing it badly off target to boot.
At this point in time, Franks is trending the wrong direction and Florida fans are fearing the program to be spiraling downward into an abyss on a two game losing streak- both by blowout. That means the next few games can either salvage something from the season, or serve as the catalysts for a continuation of that journey into the abyss. And as for Franks, he was so ineffective against Missouri that Mullen benched him in favor of Kyle Trask, who promptly won fans' adoration by directing a touchdown drive. So things looked just as bleak for Franks at the conclusion of this game as they did for Florida as a whole.
The following week, the Gators would play host to South Carolina, and things would not look good. How would Franks, in the midst of a multi-game course of regression, respond? And the larger questions: could he save his job, and if so, could he save the Gators' season?
You know the answer: come back tomorrow for Part Four and see how it went down.