It's the fourth quarter of our film session on Feleipe Franks; before you go any further, catch yourself up with the first three quarters.
Part 1: 2017 season | Part 2: games 1-5 of 2018 season | Part 3: games 6-9 of 2018 season
Part Four of the Feleipe Franks film session picks up where Part Three left off, obviously, and so here's where we left off: Franks had just come off of back to back subpar games against Georgia and Missouri, which to many meant that all the progress he had demonstrated from 2017 looked null and void. Not only were the Gators' national championship hopes finished, but so was the SEC East race- and it appeared as though Florida's hopes for a New Year's Six Bowl were as well. And as for Franks, he'd gotten benched against Missouri in favor of Kyle Trask; no sooner had Dan Mullen made that move than Trask directed a quick touchdown drive. So for both Florida as a program and Franks individually, things looked significantly less than good.
But then, just as it looks like we have a legitimate quarterback battle on our hands the next week in practice, Trask breaks his foot. With Emory Jones locked into a redshirt, Feleipe Franks it was for South Carolina.
And for awhile, the game against the Gamecocks very closely resembled the preceding week against Mizzou. Franks is missing throws in every direction, Florida's defense is taking a nap and South Carolina blazes out to a 14-0 lead just like that. Somehow, the Gators would recover, drawing even when Franks showed some of that toughness that I admittedly have not crowed about as much as it deserves to be crowed about yet.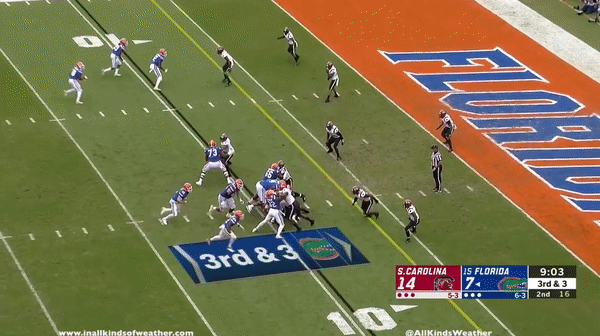 I mean, that's big time. That run has nothing to do with the mindset or the mechanics needed to be a big time QB, that's just pure heart, which is a major ingredient that a Florida QB has to display in order to be that championship-caliber QB. I love that. I don't even mind the shushing motion he gave his haters after he got up (I thought it was funny, honestly). It's just a window inside that heart.
But if you're going to tell a large percentage of the 80K+ people in the stadium to shut up, you better not do things like this.
Really? One hopping a screen pass? You're in the middle of a tight game against a feisty opponent, you've brought your team back after it looked to be headed for its third straight blowout loss, you just got done dramatically telling your boo birds to shut their mouths and now you've giving Kadarius Toney infield practice? That throw, by the way, is the easiest one you'll ever get in terms of simply completing it. Plus, it's well blocked for, and, well, it's Toney- the guy fans have been imploring Florida coaches to get the ball to. Making matters worse, freshman kicker Evan McPherson, who had never actually done this before in his Gator career, missed a field goal on this drive, so this may have cost Florida a touchdown.
Things only got worse from there, too. The Gamecocks would increase their lead to 31-14, and then Franks went rogue.
Hello again, 2017. Franks has locked onto Trevon Grimes on the slant. He refuses to even look anywhere else. Grimes is not open yet Franks throws it to him anyway. Franks throws it with all his might. The ball is inaccurate and nearly picked off by Rashad Fenton (#16). And cue the lamentation of Franks doing something that very nearly clinched the ballgame for an opponent; if South Carolina takes over at the Florida 41, I'm willing to bet the Gamecocks go into clock killing mode against a Florida defense that showed no ability to prevent this and end the ballgame by taking a 38-14 lead early in the fourth quarter.
Luckily, that didn't happen, and on the very next play, Franks did this.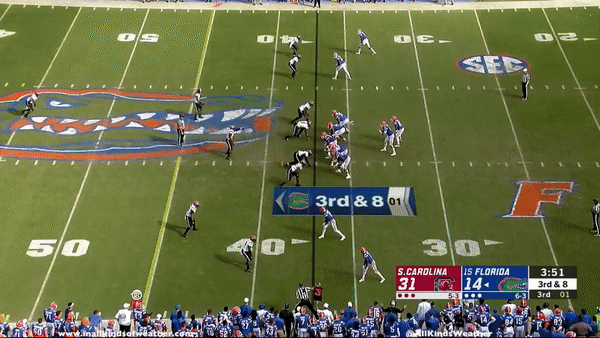 The irony here is that the closer this game is, the worse of a decision this becomes. If you crop out the scoreboard graphic at the bottom right and remove all context, this is another terrible throw from Franks. Nice job of recovering the hideous snap, but throwing a ball across your body five seconds after the snap on the run toward the middle of the field where there's already a cluster of players is a decision that contains four no-no's in it. But given the scenario, it was a necessity. Florida was down 31-14, as you can see, and on the fringe of getting embarrassed at home by an objectively inferior opponent for the second straight week. And this was on third and eight, meaning failure to get the first down gives Cocky the ball back and likely ends the game. Franks had to do something here, and it worked out.
That throw is not one that's fair to criticize him for, but it's not going to wind up on his highlight reel either. So, why am I showing it? Well, I'll put it this way: count up all the plays I break down from this point forward and tell me how many portray Franks in a positive way vs. how many portray him in a negative way.
Fast forward to the fourth quarter. Unlike against Missouri, this time Franks and Florida are fighting back. Franks had already capped the previous drive by avenging his earlier grounder to Toney by completing a screen to him and then watching him jitterbug his way into the end zone. Inspired, the Gator defense makes a stop. Franks then gets the ball back and leads another touchdown drive, highlighted by this: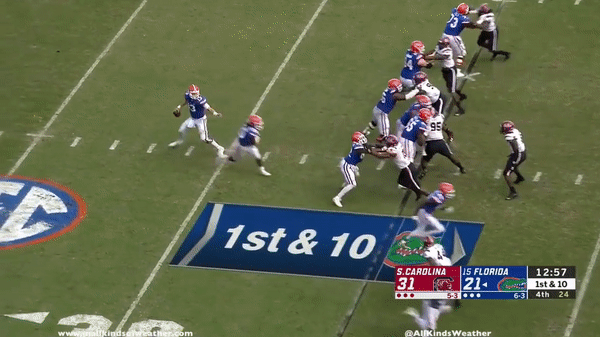 Needle: threaded. And after Franks took advantage of his protection and went through his reads, mind you. C'yontai Lewis has a bit of separation on his out route, but this is a tiny window when you factor in the sideline, thus, Franks has to make this a bullet, as a touch throw leads Lewis out of bounds. Which he did. The Gators would score on this drive, too, and all of a sudden it's a 31-28 game.
One stop later, and Florida suddenly has the ball back with a chance to tie or take the lead in the game's waning moments. Leaning on his legs and the legs of his teammates, Franks again drives Florida down to the goal line. But three straight stands by Will Muschamp's defense and it's fourth and goal from the one.
I'm certainly not calling Franks Tim Tebow. Because he's not. And he's not close. But on this very play, he played the role of Tebow as well as anybody conceivably could. Everybody knew that fourth and one late in a tight game was Tebow time, because it was virtually impossible to stop a human battering ram from advancing three feet forward with his offensive line helping him out. And since we're talking championship-caliber QB play: this is it. He protects that football, lowers his head in a display that says, "My team comes before my well-being" and dives over the goal line for what turned out to be the winning touchdown. For all I and everyone else has ever said about Franks' shortcomings, let's come together and admit our respect for him on this.
So anyway, Florida wins 35-31 to deal Muschamp yet another loss in the Swamp, and then they blow Idaho away 63-10. That sets up a Sunshine Showdown with FSU that features two teams of starry different mindsets. At this point, FSU is a person who, while technically not dead yet, has been beaten within an inch of his or her life and is left begging for someone to cut his or her head off and end the suffering. Meanwhile, Florida is thinking about snapping FSU's five game winning streak in the series, 36 year streak of reaching a bowl game and 41 year streak of finishing above .500… while also playing for a New Year's Six Bowl berth. But for Franks, it's more than that. This, in a way, is his Super Bowl. The Seminoles embarrassed him the last time he faced them in what will likely (and hopefully) remain his worst game ever as a Gator, and it's time for some revenge.
The game is ugly for awhile as both teams settle in, and on the final play of the first quarter, McPherson kicks a field goal to make it 3-0 Florida. Soon after that, LaMical Perine suddenly busts off a 74 yard run to make it 10-0, and that's where we stand midway through the second quarter when Franks introduces himself- and Trevon Grimes- to the game.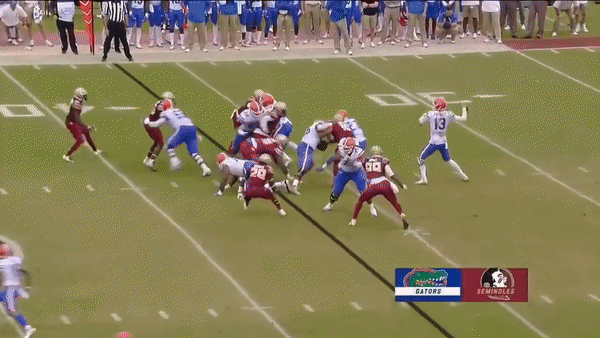 We've seen individual plays where Franks navigates the "do I go through my progressions here or not" spectrum well, but this play seemed to be the moment that Franks really got it. Meaning, this is where it clicked for him that he could do this on a regular basis. Air yards do more to make the QB look good, but that's a 55 yard pass from Franks to Grimes nonetheless; no need to hurl one that lands in the end zone. And no need to go through your progressions when option A is available. He saw Grimes open on his shallow post route and didn't think twice.
But even though Franks is playing well through one half of the game, Florida is having trouble pulling away. It's 13-7 early in the second half when FSU's Stanford Samuels demonstrates why he plays for FSU and throws a punch at Florida's Josh Hammond. That sets up first and goal, and sets the stage for Franks to prove what he's learned.
And it's the easiest throw in the world, but in a rivalry game with pressure higher than ever, Franks made it. That's a direct A-B improvement from the failed two point conversion against Kentucky, overexcitement against Georgia, and miscellaneous missed open receivers from as recently as South Carolina. Didn't fling it 100 mph, didn't miss an open man, didn't clam up and pull the ball down and force himself to look elsewhere just because there have been many previous plays where he should have done that, he saw an open man and hit him. Championship-caliber quarterbacks have to make these throws 100% of the time, and I'm happy to wipe the slate clean with Franks on these types of plays and start a new one with this throw. So, so far so good.
Franks would demonstrate another aspect of a leader, and a championship-caliber QB, on the very next drive: making teams pay for their mistakes immediately. Jachai Polite blasted FSU's Deondre Francois two drives later, and Cece Jefferson fell on it. That set the Gators up at the Seminoles' 22 yard line.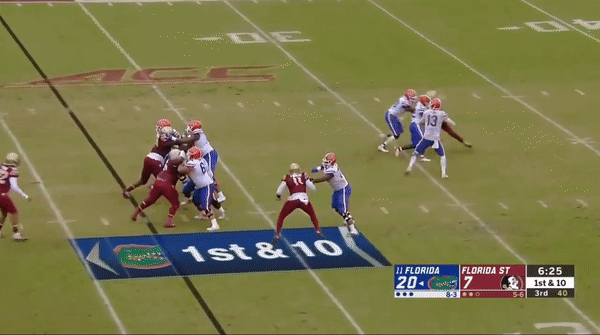 Look at Franks improvise here! That's beautiful! On top of merely escaping the pocket, he throws a bullet on the run that sneaks over the defender's outstretched hands (PS: the defender was running away from the flight of the ball, so it also snuck in a degree behind him) and finds Grimes in the end zone! And it has to be a bullet, or else by the time the ball gets to Grimes one of the three defenders in his area probably swats it away if not pick it off.
By this point, Franks is on fire. He's hitting pretty much everything. Including this ball to Toney that required him to fit the football through a window the size of a football.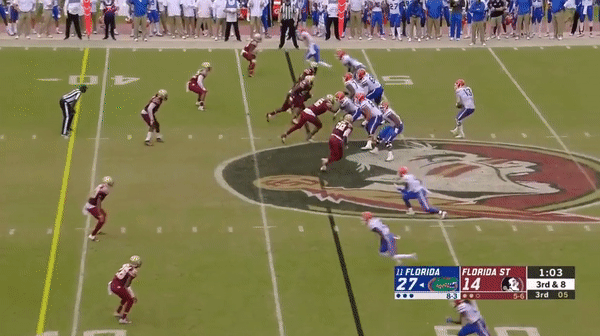 As a reward for hitting such a difficult throw, FSU's secondary will now part like the Red Sea (Happy Passover!) and give Franks the chance to hit the easiest deep ball of his life.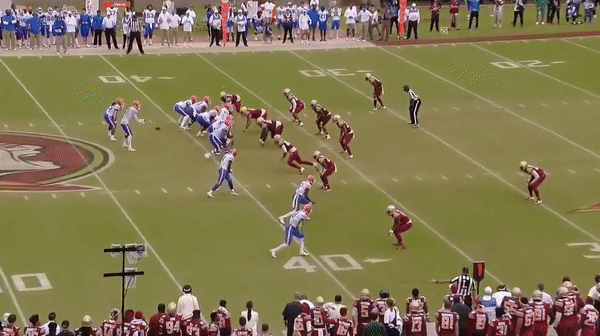 Which he does. Again, he doesn't get overexcited or nervous with a teammate so obscenely uncovered and miss him like against Georgia, he doesn't hesitate like against Kentucky, he sees an open man in the end zone and pulls the trigger. A few drives later, Jordan Scarlett puts the icing on the cake to set up the palindromic final score of 41-14, and an offseason's worth of bragging rights.
And Chauncey Gardner Johnson is more than happy to grant FSU's aforementioned final wish of cutting off their head.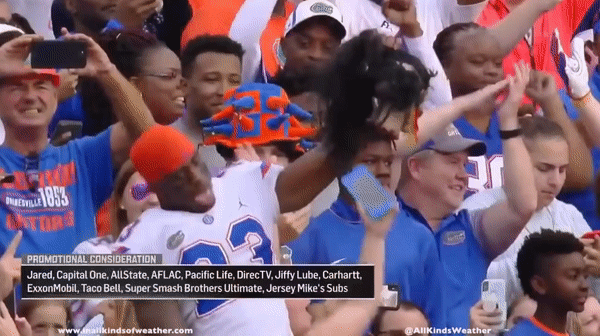 That wraps up the regular season nicely, and sure enough, Florida is in a New Year's Six Bowl game- the Peach Bowl against Michigan. Because apparently the NCAA has some kind of weird fetish for seeing Florida and Michigan play as much as humanly possible. But for Franks, this isn't something to complain about: this is the perfect opportunity to administer one final dose of revenge to a team that he did not look very good against in 2017, and counteract one final bad memory with a good one.
But Franks does not start the game in an ideal fashion.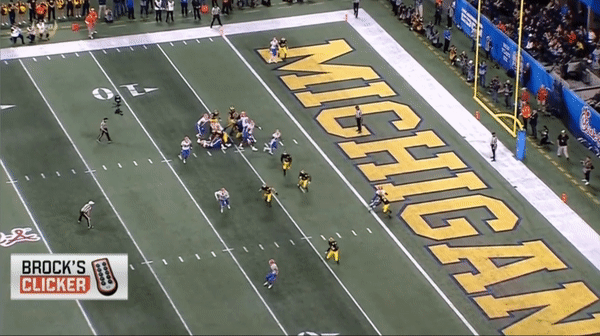 Oh, no. This again? Kadarius Toney is wide open on the Michigan wordmark in the end zone. Throw it to him! I could at least understand Franks failing to pull the trigger to Malik Davis on the two point conversion against Kentucky because it shows that he's thinking about going through his progressions, which at that time was a big step up from 2017. But that grace period expired well before this game. That's a bad miss by Franks, and it costs Florida four points.
Later in the quarter, he made another suboptimal decision: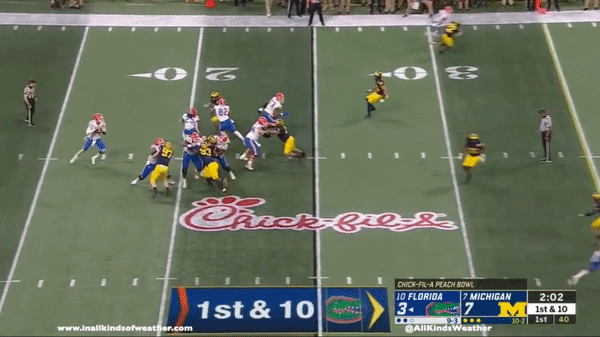 It doesn't cost him or the Gators, but as a general rule: lobbing a ball down the middle of the field into traffic will help the opponent's defense more often than it help the offense. Granted, the pocket is collapsing, and that has a lot to do with why this ball is a rainbow, but that's also something Franks has to be cognizant of. He got lucky here, and he knows it. So this really is not the first quarter he was hoping for. Luckily, Florida's defense has taken this game more seriously than they took the South Carolina game, so it's a low scoring game late in the first half.
And then came the most impressive play of Franks' career to date.
What the hell is this? Did Feleipe Franks just notice something he didn't like and audible into a QB draw with five wide set? And did he then sell it perfectly with just the hint of a drop back, and then beat linebacker Josh Metellus- who if you remember from part one of this series, was the guy who pursued Franks and caused him to fumble in Dallas in 2017- to the goal line for a complete and utter 180 degree reversal of fortune down to the last microdetail? Granted, it's one play, but if we're talking about that hyphenated measuring stick that you're probably getting sick of reading- championship-caliber QB play- that's it. A championship-caliber QB has to know when to go against his coach's play-call because the defense appears to be prepared for it, and that's what Franks did. Michigan's alignment was far more suited to stop a pass than a run, so Franks fooled them by running out of this five wide set, and taking it straight down the jetway for what will probably be his easiest 20+ yard touchdown run ever.
You'll be hard pressed to find anybody who doesn't believe this was a critical turning point of the game, but the reality was that Florida probably wins this game even if Franks doesn't score on this play. Of the 41 points Florida scored, seven came on a pick six by Gardner-Johnson and seven more came on LaMical Perine somehow getting loose for a long touchdown run on a third and 20 play call that was meant to give Tommy Townsend a chance to really pin the Wolverines deep. Because of this, Franks didn't have to really do a whole lot. But he did have to do more than zero, and when the times came for him to do so, he came through.
Like on his second touchdown of the game.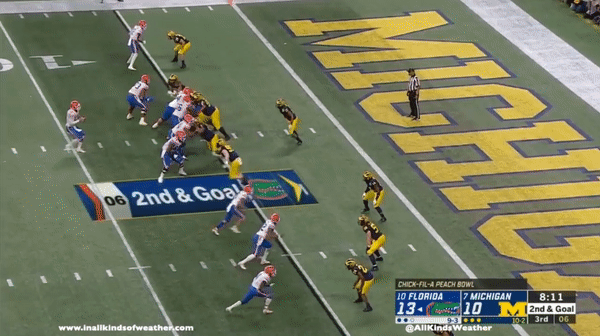 Again, the team's direct reliance on him is limited, but he's already made a huge impact on the game with that audible. All he has to do from this point forward is just make the simple plays, and he will have done his part. He could have gotten excited at the prospect of seeing his teammate so wide open and thrown it ten feet off target, he could have hesitated and looked elsewhere, etc. as he had done at previous points in his career. But nope. In this Peach Bowl, Franks has found his stride. And he makes that pass to Perine on the tunnel screen for six, and an early dagger.
But there was still a quarter and a half to go; Franks was still needed. And again, he delivered.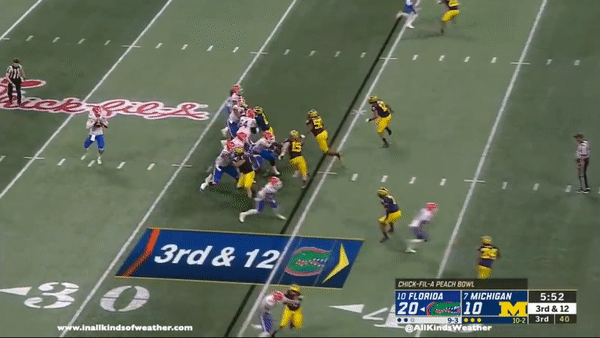 Just look at that. The perfect amount of velocity and arc on this ball, which is completed into a minuscule window. On a third and 12, Franks decides to stick it to Metellus once again by beating him on this seam route to Josh Hammond. A jet sweep to Kadarius Toney and a pitch to Jordan Scarlett later, and it's 27-10, and this game is over. Well, realistically, anyway. Florida saw a chance to chip into the delta score between the two schools after 41-7 and 33-17 losses in 2015 and 2017, respectively, and used the duration of the game clock to chip into that deficit. Final score: Florida 41, Michigan 15.
Frank' stats from this game weren't even that impressive: 13-23, 173 yards and one TD on the screen pass to Perine. which was pretty much right in the middle of his correlation chart for 2018, but those are the numbers of a vastly different quarterback than the one that put those stats up even a month earlier. There are a few more things that need to be said to wrap up this film session series, and I'll make that a separate post tomorrow or Thursday, but if forced to condense everything I wrote this last week into one paragraph:
Feleipe Franks very well might have been the worst quarterback Florida had since Tim Tebow on a list of some downright unplayable ones in 2017, and he was probably the second best in that stretch (behind Will Grier) that Florida has ever trotted onto the field in 2018. That's amazing. As in, the kind of "how is that possible?" amazement a kid displays when he sees a magician pull a rabbit out of a hat. The thing is, he must take another similar leap forward in 2019 if he's going to be that championship-level QB by displaying rock solid consistency with his positive moments and totally shed his negative moments. But if he took such a monumental leap forward once, it's certainly possible for him to do it again.