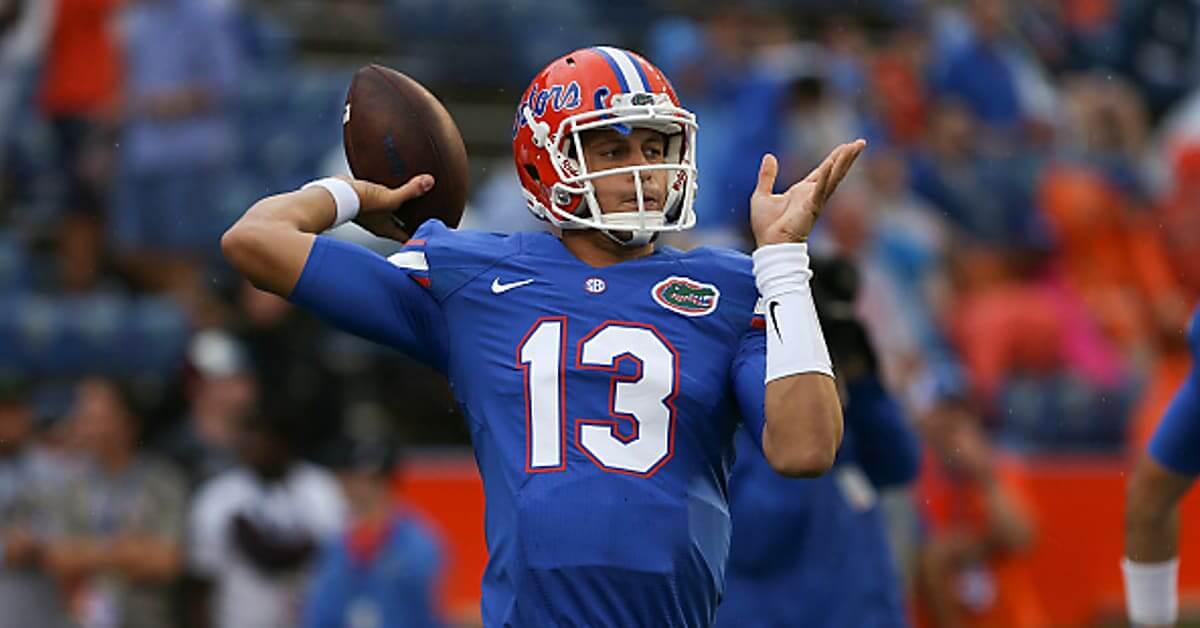 Now that the euphoria of Florida's miraculous 26-20 victory over Tennessee has begun to wore off, the attention shifts from the team the Gators just began a new winning streak against to the team that they currently own the longest winning streak in the country over.
But before we move forward, let's take one last look back so we're all on the same page regarding what we're dealing with. Here are my five biggest takeaways from Saturday:
The defense is good, but green
Tennessee finished with 442 yards of offense, 236 of which came from John Kelly alone. Even more concerning, the Florida defense was at its worst in the fourth quarter, allowing touchdown drives of 75 and 80 yards on two and five plays, respectively. It's a young defense, and I get that, but if it's going to be the bend-but-don't-break defense the first two weeks have suggested it's going to be, it absolutely cannot break twice in the final ten minutes of the game.
To its credit, it did stand tall at the goal line when it needed to most, keeping the Vols out of the end zone in the final minute. Nevertheless, the Gators are going to face teams with far better offenses than Tennessee's, and they have a lot of growing up to do before they do. They can start by not giving up big plays in bunches.
Feleipe Franks was fine overall, but almost lost Florida the game
Ten years from now, nobody is going to remember the near fatal error Franks made in crunch time: throwing an inaccurate bullet to C'yontai Lewis, who was way too close to catch such a fast-moving projectile. But that play happened, and it resulted in a turnover that placed Tennessee 39 yards away from the game winning touchdown with under four minutes to go. Throwing picks is one thing- even Tom Brady does- but Franks will have to learn not to throw those picks.
Aside from that? He did OK. But that could have so easily been a game-losing mistake that it's not possible to just put it aside and look at the rest of his performance. Besides, with the defense taking the step back that losing all of its leaders from 2016 implied it would, he needs to be better than OK. He needs to be great. And that final play was a good start- but we're going to need to see much smaller peaks and troughs and a much smoother level of consistency.
Doug Nussmeier is officially on notice
Nussmeier basically did just enough to keep me from boarding the #FireNuss train. He introduced Kedarius Toney to the offense (whose shiftiness I considered making one of my five takeaways, but he didn't get enough touches to warrant his own takeaway), and he did make use of Tyrie Cleveland's long kickoff return by directing a seven play, 44 yard touchdown drive. So that's good.
But the sum of his play-calling efforts Saturday gets a C at best, and that's against a Tennessee defense that was much, much worse than Michigan's. He was way too conservative for much of the game, most notably when he appeared content to play for overtime by running the ball and then letting the clock wind down under ten seconds, with Franks' bomb to Cleveland sparing him from having to do so. If he really believes Florida can win games 3-0 the way his game management suggests he does, somebody may want to remind him that he no longer has the elite defense he had last year to bail him out.
Tennessee is horrible, and that's being generous
There's no other way to say it. Butch Jones is such a god awful coach that I honestly feel bad for one of the most obnoxious fan bases in the country that they're still stuck with him. I was suspicious of the Vols all offseason, and going down 28-14 to Georgia Tech only heightened those suspicions. That's really the only comparative measure we have at this early stage in the season, so we have to go with it- and Georgia Tech's triple option attack put up 655 yards of offense on the Vols despite them having eight months to prepare for it. Keep an eye on this Tennessee team throughout the year. I'm betting they get absolutely hammered multiple times, and don't finish any better than 7-5.
They certainly looked like a 7-5 team against Florida. Tennessee wasted a golden first and goal from the one opportunity, throwing a pick to Duke Dawson at the goal line after penalizing themselves away from the shadow of the end zone, and then got stopped again inside the Gator ten yard line in the final minutes. Most notably, no halfway decent team gets beat on a deep ball on the final play of the game. Above all else, Tennessee was so badly out of position to defend against the one thing that could possibly lead to their defeat, and against the Gators' best offensive player at that, that you seriously have to worry about Butch Jones' safety given the widespread lunacy that resides in that fan base. You can be sure that Georgia and FSU won't make the same mistake if it gets to that point.
Florida may become good, but they aren't right now
I've always strived to write things exactly the way I truly felt them to be, so here goes: Florida is not a good football team. Sorry. Don't get me wrong; by no means am I throwing in the towel on the 2017 campaign as a whole. There's a long season ahead of us, and I still feel very confident that they could become a good team as the year goes on, but as of this juncture they simply are not.
Good teams don't go seven quarters without an offensive touchdown. Good teams don't have each of their top two running backs fumble at the end of 28 and 74 yard runs. Good teams don't suddenly forget how to tackle and stop the opposing team's best player in the fourth quarter. Put simply, good teams don't let bad teams like the Tennessee team we saw on Saturday hang around for as long as they did. Again, the jury is still out on this team and not coming back for awhile, but the early indications aren't good.
Final word
Florida beat Tennessee more because of what Tennessee did wrong than Florida did right. There were flashes of promise sprinkled in, but the overall feeling the sum of these 60 minutes left me with is not a good one. This team needs to get better if it plans to defend its consecutive SEC East crowns- and fast.