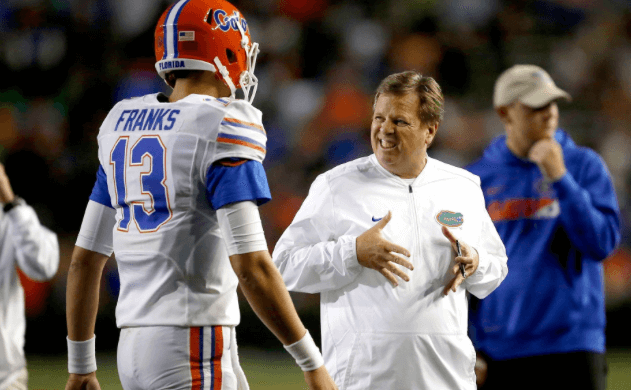 Florida's 2017 season is semi-officially underway.
The Gators' annual Orange and Blue spring game saw a slight increase in attendance from the 2016 edition. A big part of that may have been the fans' anxiety to see the growth and development of Feleipe Franks in person. And they got to, along with some other things…
1) Franks' development
By no means was Feleipe Franks perfect on Friday night. But he was pretty good, and more importantly, he was consistently pretty good. A perfectly placed deep ball to Josh Hammond and a touchdown pass to Antonio Callaway highlighted an 8-14, 119 yard evening in which he appeared poised, cool, calm and collected. He was accurate, he made good decisions, and he played smart. Expect Jake Allen to make a legitimate push for the starting job when he arrives this summer, but this is Franks' offense and his job to lose right now.
2) Thompson's ball security
As a pure fan of the game of football, I love the rare blend of power and speed that running back Mark Thompson brings to the table. But for the love of God, he's got to learn to hold onto the football, as failure to do so essentially negates the other dangers he presents to an opponent. He fumbled once during the game, and put it on the ground again milliseconds after his knee went down at the end of a long run- which means he was milliseconds away from a costly turnover if the game was real. Protecting the ball has been an issue for Thompson ever since he arrived last spring, and it's at the point now where it's fair to wonder if he ever will.
3) Defensive stars aplenty
No longer can you credit Will Muschamp for leaving the cupboard loaded on defense. Now, Jim McElwain has stocked his own cupboard, and he's done as good a job as anybody could have hoped for at it. Cece Jefferson, Luke Ancrum, Vosean Joseph, Jabari Zuniga and David Reese all recorded multiple QB hurries, and Joseph alertly grabbed a deflected ball for a pick. And the secondary made a few nice pass breakups as well, including Chauncey Gardner's recovery after initially getting beat to bat away a pass. Maybe the Gators did lose Caleb Brantley, Jalen Tabor, Jarrad Davis, Marcus Maye and more, but this defense should be fine from a talent standpoint.
4) Pineiro's still got it
Damn the right upright. That's what separated Eddy Pineiro from a perfect 2-2 night on field goals. But here's the interesting part: Pineiro's 49 yard attempt banged off the top of the upright. That means he easily has the distance to make one from 65 yards out, and that we no longer have to rely on YouTube videos to prove just how powerful his leg is. Gator fans have been grumbling about the kicker position for years, but just because we finally have a kicker doesn't mean we should just forget about those years. Let's appreciate him while we still have him.
5) McElwain's color wheel of emotion
A year ago, Jim McElwain became somewhat famous for coolly bringing Feleipe Franks aside after a pick six and calming him down. Now that he expects more out of him, though, he's become more animated with him, twice barking at him in frustration after plays he didn't like. It's become a sport in itself to watch how Mac interacts with his quarterbacks at different stages of their development, and it serves as an indication that he really is a master at pushing the right buttons at different times.