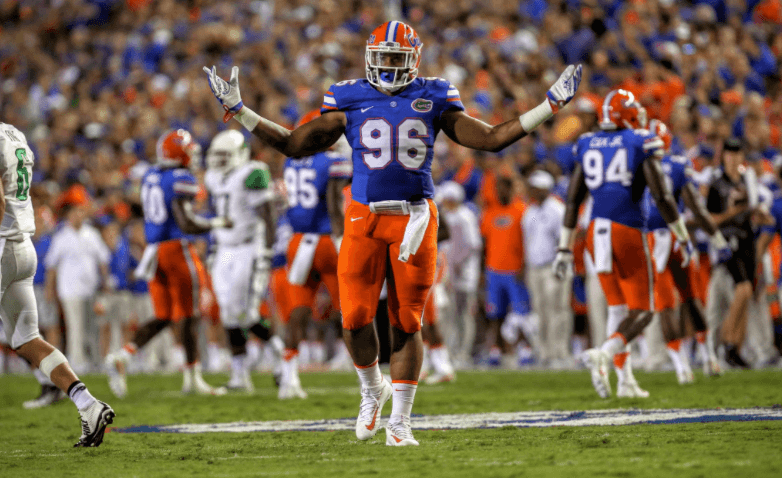 It seems like just yesterday that Florida was putting a beating on Iowa in the Outback Bowl, but alas, we have reached the first major milestone of the offseason: the beginning of spring practice. It's been going on for a couple of days now, but with five more weeks of spring ball left, there's plenty to keep an eye out for.
Here are the five biggest things I'm looking for:
1: The QB battle
Florida has been cursed at the QB position since Tim Tebow left, and that's remained the synopsis of this position for the last few years. The Gators didn't get terrible QB play last year- Luke Del Rio and Austin Appleby were noticeably more effective than Treon Harris- but it was still far short of the level of play that's needed to get Florida back to the top. Feleipe Franks, Jake Allen and Kyle Trask will battle for the job, and Trask and Franks get first crack at it this spring. Franks has the way too early lead right now; he's got all the tools to be a star, but also needs to cut down on his mistakes. Let's see how he progresses.
2: DBU reloading
Florida loses its top three defensive backs from a year ago in Jalen Tabor, Quincy Wilson and Marcus Maye. But the cupboard is still stockpiled with talent back there; let's see what new DB coach Corey Bell can do with it. Duke Dawson and Marcell Harris will undoubtedly step out of the shadows Wilson and Tabor hid them in and into leadership roles, and Chauncey Gardner really came on at the end of last year, but behind them, there's very little experience. For the secondary to continue to thrive, somebody else is going to have to step up. Who that will be (and my guess is veteran safety Nick Washington) will be interesting to see.
3: Young and thin wide receiver corps
Florida will have a lot more wide receivers available to practice in the summer than they do right now, which basically translates to "let's see who can step up in their absence." Dre Massey is still recovering from ACL surgery, Freddie Swain is out for the spring with a shoulder injury and DaQuon Green and James Robinson won't get to campus until the summer. So, who announces himself as a playmaker in the meantime? It could be Brandon Powell, the shifty slot receiver who's never actually participated in spring ball, or it could be Joshua Hammond. Antonio Callaway and Tyrie Cleveland figure to get the most attention both this spring and next fall, but it'd be nice to find at least one more receiver to depend on. And the sooner, the better.
4: A whole new linebacker corps
Hopefully, the recruiting rankings and stars were even more wildly off base than usual with Florida's young linebackers, because now the position is in the hands of a plethora of three stars. Jarrad Davis, Daniel McMillian and Alex Anzalone are all gone, leaving the position completely up to sophomores and inexperienced juniors. David Reese had an exceptional freshman season, and Vosean Joseph really came on late. But more than two guys are needed to have a functional middle level of your defense, and so Florida will have to find them quick.
5: Mac's message
What's the mantra going to be this offseason? Florida has come one game short of an SEC Championship the last two years, only to have the door emphatically slammed in their face by a much better team. I'm interested to see how Jim McElwain handles the motivation for his team, and how hard he drills into them that simply reaching Atlanta isn't good enough anymore.