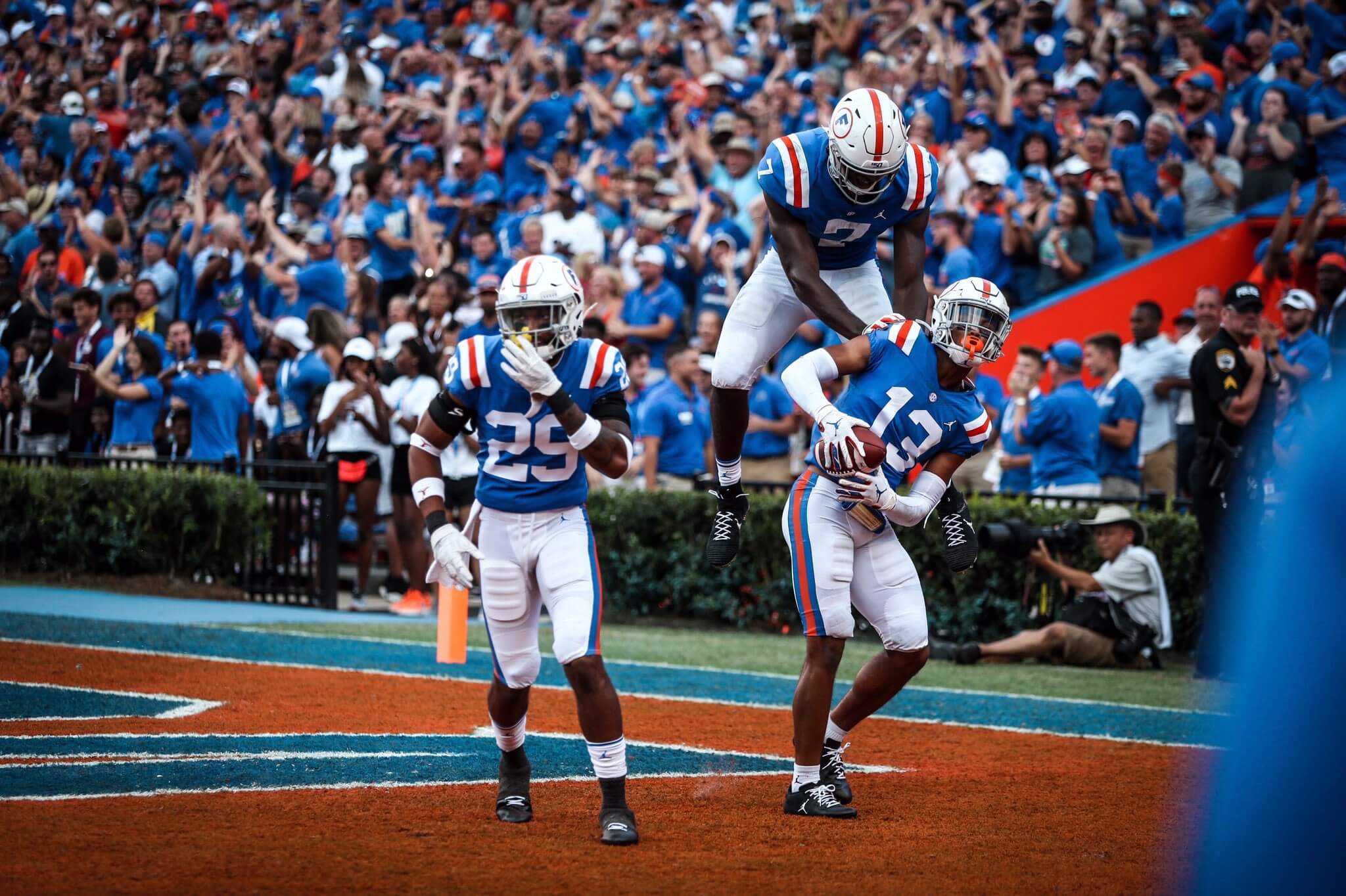 We have a LOT of helmet stickers to hand out today after the Gators' 24-13 win over Auburn. So without further ado, let's get right to them.
-Jonathan Greenard, for blowing up Bo Nix on the first play of the game. This didn't really have a humongous impact in terms of the game flow itself, but it just felt like a tone setter, a la Brandon Spikes burying Knowshon Moreno in 2008 or Louchiez Purifoy popping the ball out from Connor Shaw's hands in 2012. So give Greenard one for setting that tone.
-Kyle Trask, Freddie Swain and Van Jefferson for their 64 yard touchdown pass on Florida's second offensive play from scrimmage. Trask gets a sticker because he found Swain, and Swain gets one for his speed, but why does Jefferson get one, you might ask? Well, how about for his nasty downfield block to clear the runway for Swain to take off down? It's rare that three players get a sticker for one play, but this trio more than earned it.
-Donavan Stiner, for his sack of Bo Nix on the ensuing drive. Auburn has seemingly just grabbed the momentum right back by strip sacking Trask and falling on the ball inside Florida's 40, but couldn't get a first down and thus couldn't capitalize. Part of why they couldn't get a first down was the second down play, in which Stiner diagnosed the QB run to the outside from his safety spot, flew into the backfield and dropped him for a one yard loss. And that yard turned out to be huge when Nix found Eli Stove for a ten yard gain on a third and eleven screen play.
-Shawn Davis, for his leaping one handed interception and subsequent 41 yard return early the second quarter. Holy momentum change. After Florida wasted a first and goal from the two opportunity by scooping up a muffed punt with a fumble, and Auburn's Derrick Brown wasted a room service touchdown opportunity on his return of said fumble by falling down at Florida's 33, Davis reset things with possibly the defensive play of the year so far for the Gators. Streaming toward a woefully underthrown ball, Davis climbed the ladder, reached up with his right hand, deadened the ball's flight path so it fell straight down into his hands, and then took off for a long run deep into Auburn territory, displaying all the vision and patience of a punt returner to pick up some blocks and put the Gators on the doorstep of the goal line once again. And this time, Florida capitalized- with a touchdown from Kyle Trask to Josh Hammond. 
-Emory Jones, not necessary for a specific "wow" play, but more because he came in cold off the bench when Kyle Trask was injured- and the offense didn't miss a beat. Upon entering the game, Jones promptly guided Florida right down the field for a field goal by completing three of four passes for 32 yards, including a 20 yard hookup with Swain, and ran once for six yards. A solid relief effort that isn't really worthy of getting the game ball, but definitely worthy of recognition- so he gets a helmet sticker for this drive.
-LaMical Perine, for his game-breaking 88 yard touchdown run midway through the fourth quarter. What a sweet moment this was for Perine, who was denied an offer from Auburn for being too slow. The senior had struggled up to this point, entering this drive with just 230 rushing yards on the season. But he added nearly half of that onto his total, breaking a tackle to begin an electrifying 88 yard touchdown run (in which he displayed more than enough speed) to provide the Gators with their biggest lead of the game. Of course, this was the play of the game, but on a personal level: good for him.
-James Houston IV, for his sack of Bo Nix on Auburn's ensuing drive. Big players make big plays in big moments, right? Florida had just gone up by double digits for the first time all day, but Houston IV made sure Auburn never even thought about a comeback. On second and five, he hesitated just a split second, and then charged through the B-gap and brought down Nix for a seven yard loss and throw the Tigers well behind schedule. Two plays later, Nix was tackled well short on a desperation scramble and that pretty much Auburn's last gasp.
-Marco Wilson, for his game ending interception. If Houston's sack buried Auburn, Wilson's pick was the final nail in the Tigers' coffin. Wilson narrowly missed a pick a few plays earlier, but he didn't miss this one, sliding down with the ball to erase any doubts that remained. True: the degree of difficulty on this pick was fairly low, but Wilson gets a helmet sticker because it's a symbolic way to boastfully announce his return after missing most of 2018 with an ACL tear. Meaning, him locking down receivers all game requires more skill than he showed on this pick, but now he has a tangible, concrete and glamorous statistic to go with it.
And the game ball goes to… Todd Grantham, for calling the defensive game of his life. How ready was his defense, exactly? Auburn entered the game averaging 38 points a game and 454.4 yards a game; Florida held them to 13 points and 269 yards. Whenever Grantham looks to move on to a head coaching job, he should definitely bold this game on his resume.