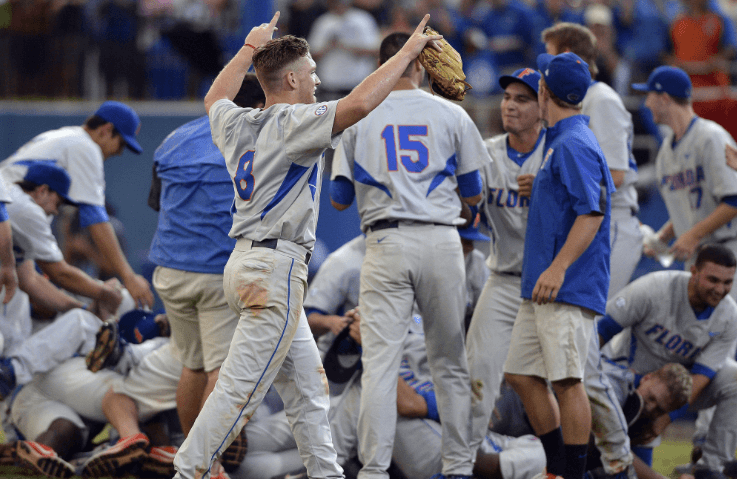 It's no stretch to say that the Florida Gators baseball program is among the nation's best. UF boasts thirteen SEC Championships, seven SEC Tournament Championships, thirty-one appearances in the NCAA Tournament, nine trips to the College World Series and two in the CWS Championship Series.
But one thing is missing: a national championship. And so the task falls on what may be the program's most talented team yet to get one.
This current cast of Gators may be young in age, but they're as loaded with talent as they come. Florida returns seven of nine starters from its 2015 lineup, several key reserves, and all three primary (meaning weekend) starting pitchers, and now they've added the nation's top recruiting class to boot. It's no wonder why the Gators were a nearly unanimous preseason #1 in the polls; combine a ridiculous amount of natural talent with the experience many of them gained from reaching the finals of their pool in last year's College World Series, and, well, that's the epitome of a preseason #1 team.
But this is becoming a familiar song and dance for Gator fans. There's been similar hype surrounding the Gators program almost annually since Kevin O'Sullivan first guided Florida to the World Series in 2010. As the previous years' teams all tried to do, the 2016 Gators will look to finally match their lofty preseason expectations as opposed to coming close.
So, the question must be asked: why is this team different?
For starters, Florida's got great starters. As in pitchers who can consistently shut opponents down for six innings. Ace Logan Shore (11-6 last year with a 2.72 ERA) returns for his junior season, and will reclaim his spot as the Friday night starter. He'll be followed by fellow junior AJ Puk (9-4, 3.81) on Saturdays, and the weekends will be closed out by sophomore Alex Faedo (6-1, 3.23). Simply put, this is the best three man weekend rotation you'll find in college baseball.
Each brings his own specialty. Shore has phenomenal control of his location and does a great job mixing up his pitches, the fastest of which are in the mid 90's. Puk brings the natural ability to throw hitters off as a lefty, either with his 92-93 mph fastball or his nasty slider. Faedo boasts a blazing 96 mph fastball, and has developed a decent slider. And while we're at it, let's go ahead and answer the experience question, too. All three won at least one game as a starter in last year's NCAA Tournament, and Shore won three.
On the topic of great starting pitchers, there's also Dane Dunning, with his 95 mph fastball and serviceable slider. This is a guy who would easily be a weekend starter on just about any other team in the country. But since there's no room for him in Florida's weekend rotation, he'll likely be the midweek guy. Not a bad option to face FSU or play an elimination game in the NCAA Tournament with.
The Gators' bullpen is also loaded. Part of the reason why Florida finished with the top recruiting class was because of the pair of prized pitchers they brought in. Brady Singer, the Toronto Blue Jays' second round pick out of high school, figures to grab the closer job, and Jackson Kowar is likely to get some work in the middle innings or serve as the setup man in the 8th inning. Florida also returns veteran relievers Kirby Snead and Frank Rubio, and will finally get Scott Moss back from Tommy John surgery. Though maybe not quite as overpowering as the starting lineup, this bullpen still compares favorably to the rest of the country's.
Florida figures to be similarly dominant offensively. Gone are Josh Tobias, Harrison Bader, and Richie Martin; literally everybody else who contributed to the offense in 2015 returns. This a long list of players that's highlighted by sophomore DH JJ Schwarz (18 home runs, .332 average, 73 RBI last year), and now they're all a year older, smarter, stronger, and, well, better. In short, it's a lineup without any weak spots.
It starts with Dalton Guthrie, who moves over from second base to fill Martin's position at shortstop. He's a very good hitter, but he's an even better fielder, going the entire fall without a single error. His small size, great speed, patience at the plate and ability to spray the ball makes him the ideal leadoff hitter. The Gators also added prized infielder Deacon Liput, and he'll take Tobias's third base spot and likely bat second. Liput has some power, but, like Guthrie, he's more of a contact hitter and get-on-base-however-possible kind of guy.
And now we get to discussing the really big bats.
The backflipping and forever upbeat Buddy Reed returns to anchor the outfield and bat third. He hit "only" four homers last year, but drove in 47 RBI and hit for a .305 average. Reed has power, but last year he learned how to hit to the opposite field, which makes him even more difficult to pitch to since he no longer tries to pull everything. He'll be followed by Schwarz, who feels like using a cheat code in Backyard Baseball. His attitude towards hitting is simple, and for opponents, deadly: he's willing to take a "pitcher's pitch" or two, and then protect the plate with two strikes if he has to, but when the pitcher makes a mistake and leaves one in his wheelhouse, he'll make them pay by crushing one into the gap if not into the street. Essentially, what that means is that pitchers are forced to make three great pitches to get Schwarz out, and in college, this is very hard to do.
Behind Schwarz is first baseman Peter Alonso, who would bat cleanup for most other teams in the country. He missed about half the season last year with a foot injury, but still hit five homers and drove in 32 RBI. And while perhaps not quite as dangerous an overall threat at the plate as Schwarz, pitch to him at your own risk; his towering 432 foot blast in last year's College World Series is the longest homer ever hit in TD AmeriTrade Park. That's Florida's number five hitter, remember. And their six hitter, catcher Mike Rivera, is equally dangerous. Of the returners, only Schwarz drove in more runs than the 48 Rivera brought home last year. Rivera was the one who broke the 1-1 deadlock with top ranked LSU in the SEC semifinals with a monster home run and gave the Gators the 2-1 win, and yet he may be better behind the plate than he is hitting from it. This preview is filled with superlatives, so you'll have to pardon me, but here's another one: between his arm and hockey goalie-esque blocking skills, Rivera could be the country's best overall defensive catcher.
Rounding out the lineup are veterans Jeremy Vasquez and Ryan Larson and freshman Jonathan India. One of the nation's most highly touted infielders, India will probably take Guthrie's old spot at second base, and provides additional pop to the already loaded lineup. The two upperclassmen will step into full time roles in the outfield, and bring still more power. I know, this is getting repetitive to read at this point, but that's how stacked this roster is… and just imagine how other teams feel having to face it.
Now that you've come to the end of the thousand words or so I've used to break down this dream team… well, to answer the aforementioned "why is this team different?" That's why. All of that is why.
There may have been talented teams in the past, but I'm not sure any Gator team in history was this stockpiled with talent across the board. Yet to say that the pieces are there for this Florida team isn't wholly accurate. Rather, the pieces on this Florida team have been there. This was a Gator team that came so close to winning it all a year ago, and now the overwhelming majority of the players from that team are back, and a year better. They've got the pitching, they've got the defense, they've got the offense, they've got everything from a natural talent standpoint that you could ask for.
But more important than any of that, this team has the experience- most of which is good, and some of which is not. They've experienced enough success to know what it takes to achieve similar success in the future, and they've also experienced enough failure to fuel them throughout the season.
And so the hope that this team will be the one to break through and bring home a national championship is more than just a hope. It's becoming a belief. Now it's up to the players to turn it into reality.