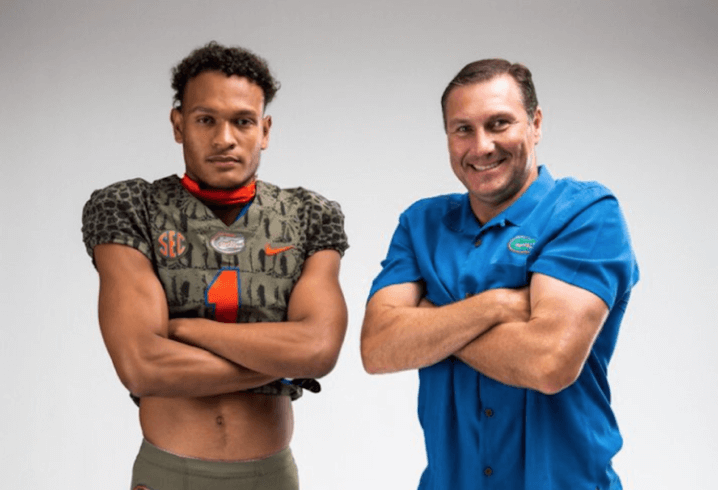 UPDATE: according to Zach Abolverdi of the Gainesville Sun, Steele is leaving Florida because he was uncomfortable rooming with Jalon Jones, who was accused of sexual battery by multiple women, and Florida failed to take his request to switch dorms seriously.
Steele met with Mullen yesterday to tell him the news.
I have confirmed through my own sources that Steele was horrified by Jones' behavior and made a formal room switch request to get as far away from him as possible. As Abolverdi reported, Steele became doubly frustrated when UF's staff refused to accommodate his request until the end of the semester. When Steele and his parents learned that Florida had no plans to assist him in distancing him from Jones until the summer, he decided to leave the program altogether.
Jones has not been formally charged due to the women not wanting to press charges. However, he has entered the transfer portal as well and will not be returning. It is unclear if Jones' departure could potentially persuade Steele to change his mind and stay. It is also unclear if the people in charge of the players' rooming situations knew about the accusations against Jones when Steele requested his room switch.
More updates will be published as they become available.
*Original story below*
Florida could be about to lose a second member of its 2019 recruiting class.
Freshman defensive back Chris Steele, considered by many to be the top signee of last cycle, has entered his name into the NCAA transfer portal and is looking for different places to play. He enrolled early at Florida this past spring and got lots of first team reps at corner, and now becomes the second freshman to enter the portal since the spring game after Jalon Jones.
Remember, entering the NCAA transfer portal is not itself a guarantee that a player's career is over at the school he is currently at. The portal is non-binding, so players who put their name into it can pull it back out and stay. The chance Steele does this depends on the precise scenario regarding why he entered it into the portal to begin with.
Multiple sources have confirmed to me that the reason for Steele entering the portal was due to an off-field reason. Contrary to rumors circulating throughout the internet, Steele has not been charged with a crime of any sort.
What I will say is that the situation surrounding Steele's name being placed into the portal is a complicated one, with tons of sub stories flying around that often conflict with each other. It's the kind of story that is better told at a later date, when the entirety of the situation becomes known as opposed to just pieces of it, and there are concrete pieces of information that are much safer to plug into the holes in the story than guesses and rumors. All there is to do now is take what we know- that he's entered the portal- and be patient.
This article will be updated with new information as it becomes available.