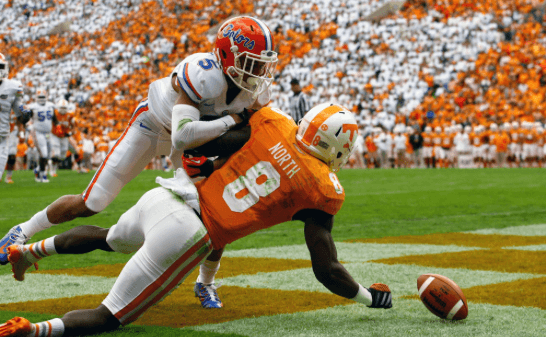 It's been awhile since my last game preview, and for that, I apologize. The Gator baseball team's run through the NCAA Tournament became more newsworthy and article-worthy, if you will. But now that it's all over (sadly), let the game by game preview pieces of Florida's 2016 season resume…
Previously previewing:
Game One, Massachusetts Minutemen
Game Two, Kentucky Wildcats
Game Three, North Texas Mean Green
GAME 4: TENNESSEE VOLUNTEERS (2015: 9-4, 5-3)
Head Coach
Returning starters
2015 offense
2015 defense
Butch Jones
9 offense, 8 defense
422 YPG/35.2 PPG
370 YPG/21.2 PPG
21-17, 4th year
85%, 73% of stat production
52nd/29th in FBS
46th/25th in FBS
Series history: Florida 26, Tennessee 19
Last meeting: Florida 28, Tennessee 27 (2015), also known as He's Going to Score
Synopsis: The Gators have not only won eleven in a row over the Vols, they've turned beating them into an art form. But Florida moved its army across the Rubicon with a daring twilight robbery in the Swamp last year, featuring one of the most incredible plays in college football history. Tennessee has reason to believe that this is finally their year to break the streak, though, with Josh Dobbs and many of his playmakers returning. Oh, and in case you haven't already been convinced of this game's importance, players on both sides have exchanged their fair share of trash talking tweets (and my vote for the winner goes to Jalen Tabor). That all sets up a nice episode of mano-y-mano combat at Neyland Stadium late next September, a game that will either see the Gators win in Knoxville for a record sixth straight time, or see the Vols break the most frustrating streak they've ever been on the losing end of.
The skinny: Tennessee may not be the national championship caliber team their fans want you to think they are, but there's still reason to be wary of them, if for no reason other than they're desperate. Butch Jones does have a very good team back in 2016, but he's also feeling the heat now in Knoxville; 21-17 in three seasons begs for dramatic improvement. The Vols need to win the SEC East, or at least come very, very close for him to realistically keep his job, and the first step to doing that is beating Florida…. who, conversely, knows that beating Tennessee is the first step they'll have to take if they want to win the SEC East.
Offensive breakdown: Tennessee could have a great offense in 2016 if they can get some consistency, and it all starts with Josh Dobbs at quarterback. Dobbs gives the Vols a legitimate running threat at the controls, and the Gators got a taste of that a year ago. Dobbs is a smart, skilled leader who his teammates love to play for, and that can't be overlooked. But he also has the tendency to deteriorate late in games, most notably completing just three of his final eleven passes in last year's loss to Arkansas. How he fares through the air will go a long way toward dictating how successful this offense will be.
The Vols do have a tremendous running game to help him out. Jalen Hurd and Alvin Kamara totaled 1,986 yards on the ground a year ago, and both are back this year. Making things even easier, the Vols finally have a stout, veteran offensive line with which to run behind. Four starters from the line that blocked for Hurd and Kamara a year ago return, including All-SEC guard Dylan Weisman and tackle Brett Kendrick. If Tennessee gets what they want, they'll run the ball at least 40 times for the game.
Rounding out the offense is a large group of veteran receivers. Tennessee does lose leading receiver Von Pearson, but the next five- Josh Malone, Josh Smith, Ethan Wolfe, Preston Williams and Jauan Jennings- are all back, and the Vols picked up a nice addition in JUCO receiver Jeff George. There's no doubting the talent in any of them, but to repeat, they've got to showcase it more than occasionally; Malone "led" the Vols with 405 receiving yards a year ago. Part of that is Dobbs, too, but each of these receivers struggled to get open at times, and in the understatement of the year, that really doesn't help.
Offensive overview: If we're strictly talking potential, this is as good an offensive unit as Florida will face all year. But it was no accident that Tennessee ranked 92nd in pass offense a year ago, and unless the flashes of promise Dobbs has shown as a passer become more prominent, the Vols' offense will always be susceptible to imploding. Grade: B-
Defensive breakdown: New defensive coordinator Bob Shoop brings along a reputation for overseeing physical, aggressive play. That's exactly what Tennessee needs in 2016, and luckily for them, they have the personnel to do it, particularly up front. Derek Barnett returns to anchor the defensive line, and Kahlil McKenzie appears ready to assume a starting role next to him at the DT position. Barnett registered ten sacks in each of the last two seasons, and was selected to the All-SEC team a year ago. The other two lineman, Kendal Vickers and LaTroy Lewis, also return.
The middle level of the defense is also in good hands, as all three linebackers from a year ago are back. The key is Jalen Reeves-Maybin at the weak side linebacker spot. Reeves-Maybin has great range, is a hard hitter and is a simultaneous threat to stop the run and rush the passer with his quick play recognition and instincts. Darrin Kirkland Jr. and Kenny Bynum serve as his henchmen, and both bring the raw physicality Shoop is looking for.
If there's a weakness on this defense, it's the secondary. It's still a good unit, with three year starter Cam Sutton returning, but elsewhere in the defensive backfield, there are questions. The Vols were 11th in the SEC with 217 yards allowed through the air a year ago, and now both safeties need to be replaced. Right now, Evan Berry and Todd Kelly appear to be in line to take over at free and strong safety, respectively. Maybe they can help strengthen the pass defense.
Defensive overview: It's a good, not great defense that Shoop is inheriting. It helps that he runs the same 4-3 defense the players are used to, and if he can put a stop to the hilarious defensive lapses like the one on 4th and 14 a year ago, he can take this defense to the next level. Grade: B+
Key matchup: special teams. Special teams have played a huge role in The Streak, so dismiss its importance at your own peril. In terms of overall talent, these two teams are just about even. But Florida has won the matchup typically listed third in the hierarchy of "offense, defense and special teams" every year since The Streak began in 2005. Most notably: Austin Hardin picked this game to nail a clutch 50 yard field goal in 2014, Omarius Hines' fake punt woke up the Gators in Knoxville in 2010, and everything that could conceivably have gone wrong for Tennessee's special teams in 2005… went wrong. And most Vols fans still shudder at the mere mention of Brandon James. What will it be this year?
The good news: Josh Dobbs has never quite proven himself to be a steady passer. If Florida's defense can win the early downs, stop the run, and force Tennessee into obvious passing situations, their aggressive style of play could lead to some turnovers.
The bad news: From a personnel standpoint, Tennessee appears well equipped to again gash the Gators in the running game. Combine Tennessee's strong offensive line and talented tandem of runners with Florida's thin linebackers corps, and Florida could be in trouble late in a tight game.
Tennessee wins if… Dobbs has a big game through the air. Upon searching his stats, I came across a curious fact: Dobbs produced 292 yards through the air against Oklahoma, Florida and Missouri combined last year. And the Vols lost two of those games. He doesn't have to throw for 600 yards to win this game, but he'll need more than 100 in order to keep Florida from stuffing the box.
Florida wins if… they limit Tennessee to field goals in the red zone. The Gators will almost certainly give up some yards between the 20's given Tennessee's strong running game, but when the Vols near the end zone, Florida's got to lock down and force field goals. Remember, it was Tennessee's failure to score touchdowns that ultimately doomed them the last time the Gators traveled to Rocky Top.
Overview: I've gone back and forth about this game for weeks now before finally reaching a verdict. In terms of natural talent, Tennessee's the better team. Not by much, but they are. But think about what happened in this matchup in each of the three years Butch Jones has coached in it. Tennessee had everything go their way that they could have realistically asked for in each game. In 2013, they knocked out Florida's starting QB and spotted themselves a 7-0 lead right out of the gates, and then Florida proceeded to hand them three turnovers. In 2014, the Gators' idiotic excuse of a coach stuck with his ineffective QB far longer than he should have while Tennessee built a 9-0 lead after three quarters. And in 2015, Tennessee not only staked themselves a 27-14 lead midway through the fourth quarter, but appeared to quell the Gators' final surge by forcing Florida into a 4th and 14 desperation play on their final drive.
I'm not saying Tennessee won't ever beat Florida again, because that's ridiculous. It's a mathematical certainty that streaks have to end. But the Gators are in their heads now, and after what I saw last year, here's how I'd put it: in order to beat Florida, Tennessee needs something beyond human comprehension to go their way, like holding the Gators to 20 yards of total offense, forcing 11 turnovers, blocking nine punts, etc. In other words, something has to happen in the game that's so out of this world that if you predicted it before the game with a straight face, you'd be locked away in a mental institution. And again, that's not because I think Florida is the better team, because I don't. I just can't help but feel like Tennessee had their best shot to end the streak a year ago in Gainesville, and couldn't do it.
So here's my prediction. Buoyed by their home crowd, Tennessee jumps out to an early lead, and holds it throughout most of the game. The calm, cool demeanor of Luke Del Rio is on display early and often, though, and he'll cap a breakout performance with a game winning touchdown pass to Antonio Callaway. Tennessee gets one last shot- and Cece Jefferson busts through the line for the game ending sack. It won't quite top 2015 in terms of excitement, but the Gators steal another one from under Tennessee's nose to run their streak to 12.
Projection: Florida 31, Tennessee 24