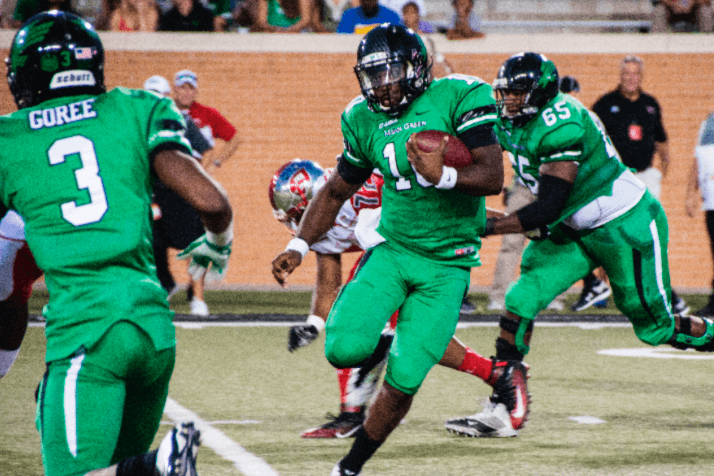 Assuming Florida takes care of business in its first two games of the year against teams they'll be favored to beat by at least 50 points combined, they'll be sitting pretty at 2-0 to begin Jim McElwain's second season. They'll look to make that 3-0 against the second of three scheduled cupcakes.
Previously previewing:
Game One, Massachusetts Minutemen
Game Two, Kentucky Wildcats
GAME 3: NORTH TEXAS MEAN GREEN (2015: 1-11)
Head Coach
Returning starters
2015 offense
2015 defense
Seth Litrell
6 offense, 9 defense
320 YPG/15.2 PPG
503 YPG/41.3 PPG
0-0, 1st year
39%, 77% of stat production
118th/125th in FBS
120th/122nd in FBS
Series history: North Texas 1, Florida 0
Last meeting: North Texas 20, Florida 12 (1947)
Synopsis: A week before taking on Tennessee on Rocky Top, the Gators get one final chance to fine tune some things against North Texas. The Mean Green have all the prestige of a baked potato, and their 2016 team doesn't appear capable of changing that. They do boast a win in their only previous matchup against Florida 70 years ago, but the Gators have big dreams this year. And aren't about to let some Conference USA doormat get in the way of them.
The skinny: North Texas, even by the ridiculously low Conference USA standards, is a bottom feeder. The Mean Green imported Seth Littrell from North Carolina to replace the ineffective Dan McCarney, and Littrell made some waves by hiring former Texas Tech star Graham Harrell to be his offensive coordinator. But that's about where the good news ends for UNT. This is a team that was so bad last year that they lost seven games by 24 points or more, and five games by 34 or more. The icing on the cake? A 66-7 loss to FCS opponent Portland State. Yep. They're that bad. And so the task ahead for Littrell can't possibly be completed to an adequate degree in one year.
Offensive breakdown: The first order of business for Graham Harrell is to install the Air Raid offense, the same system he thrived in at Texas Tech. Too bad Harrell can't suit up and run it, and there's really no proven guy who can. Senior DeMarcus Smith figures to get the first shot, but he completed just 46% of his passes last year. And while he can run, (526 yards on 81 carries) that has negligible value in a pass-first, pass-last offensive scheme.
The running game, if UNT ever uses it, shouldn't be too bad. Leading rusher Jeffrey Wilson is back, and Harrell and Littrell could get creative with him and Smith if they so choose. In addition, Willy Ivory also showed some promise in his limited touches last year. The downside is that the Mean Green will have to replace two of their offensive linemen. It's worth noting for the second time in this paragraph that the UNT coaches really don't like to call too many running plays.
But Littrell and Harrell may have to just deal with it, because their first priority- the passing game- is in dire need of help. In addition to the aforementioned problem at the quarterback position, the Mean Green lose four of their top five pass catchers from a year ago, with Turner Smiley being the only returner who accumulated 120 receiving yards in 2015. UNT will count on Tee Goree and Thaddeous Thompson to step up and help; those two have combined for just 29 career receptions.
Offensive overview: This is what hitting the reset button looks like. Losing almost all your receiving production isn't ideal for any offense, let alone the Air Raid, and the personnel that is intact isn't really either. Grade: F
Defensive breakdown: New defensive coordinator Mike Ekeler was immediately presented with the ultimate "there's good news and there's bad news" when he arrived from Georgia. The good news is that his defense returns nine starters from a year ago. The bad news is that that defense surrendered over 500 yards a game last year against mostly lower level competition.
If this defense has a strength, it's the pass defense. TJ Tauaalo and Jarrian Roberts return to anchor the defensive line, and JUCO transfer Joshua Wheeler will join them. Roberts' 6.5 sacks last year and Wheeler's 16 at the JUCO level provide some hope that UNT will actually have some semblance of a pass rush. The linebacker spot also returns most of its 2015 personnel. Fred Scott (53 tackles) is back along with Cortney Finney, and the two provided the Mean Green with an additional 6.5 sacks a year ago- which further bolsters the notion that UNT might have a functioning pass rush. Throw in the fact that all four defensive backs return, and hey, look at that! North Texas might be able to stop the pass. Sort of.
But to say that UNT was gashed on the ground last year is an understatement. And losing middle linebacker Anthony Wallace doesn't help matters for this year. True, North Texas returns nine starters, but the simple fact of the matter is, the Mean Green were so thoroughly pummeled in the running game in 2015 (240 yards a game) that it's impossible to believe that the same unit could be noticeably better in 2016. And true, there was slight improvement toward the end of 2015, but it's not hard to improve when the mark you set to improve on is 368 yards on the ground to an FCS opponent.
Defensive overview: North Texas's rush defense was the eighth worst in FBS last year, and most of those numbers were put up by Conference USA teams. Even with a new coordinator and nine returning starters, it's just not realistic to expect anything out of this unit. Grade: F
Key matchup: North Texas pass rush vs. Florida's offensive line. The Gators probably won't have to throw the ball much, but when they do, UNT has to get pressure on Luke Del Rio. It's about the one thing the Mean Green do even moderately well, so let's see if they can have any success against the Gators in this department. It will also be interesting to see what Del Rio does if hurried against what we all know is an overall bad opponent, and see if that changes what he does under duress. The answer is probably not, but it's worth watching for.
The good news: North Texas isn't just a cupcake for the Gators. North Texas is a cupcake for their Conference USA opponents, too. So this should be a great chance to work out some kinks and gain some confidence before the big showdown on Rocky Top.
The bad news: Florida is guaranteed to get burned at the stake for this by the Selection Committee if they're even sniffing a CFP berth. North Texas is joined by Massachusetts and Presbyterian as the Gators' non conference sacrificial lambs; those three teams won a grand total of six combined games last year. And Presbyterian won two as an FCS team.
North Texas wins if… the Gators show up drunk. Seriously. There are exactly zero X's and O's/personnel advantages the Mean Green have over the Gators, and none are particularly close. Even if UNT forces a bunch of turnovers, Florida's defense figures to repeatedly drive them backwards and force punts. The only conceivable way I can think of for Florida to lose is if they commit several turnovers that UNT returns for touchdowns. Now ask yourself. How likely is that? Exactly.
Florida wins if… they don't self-destruct worse than they did against Missouri in 2014. They can literally beat themselves to any extent up to and including one that matches that awful Homecoming night two years ago, and the immense talent difference will make up for it. It's basically up to Doug Nussmeier to decide how the points will be scored.
Overview: If by any chance you're curious as to what would happen if a pageant queen were pitted against Mike Tyson in a boxing match, watch this game. I'm not aware of any reason Jim McElwain would have to run the score up in embarrassing fashion, but if he does, this game could be 100-0. Not kidding. North Texas has absolutely no advantage over Florida in any way, shape or form anywhere on the field, nor do they have anything close to resembling one. So what should take place on this September day in the Swamp is the same sort of annihilation that Gator fans have become accustomed to watching against paycheck opponents in the Urban Meyer days.
Projection: Florida 62, North Texas 3