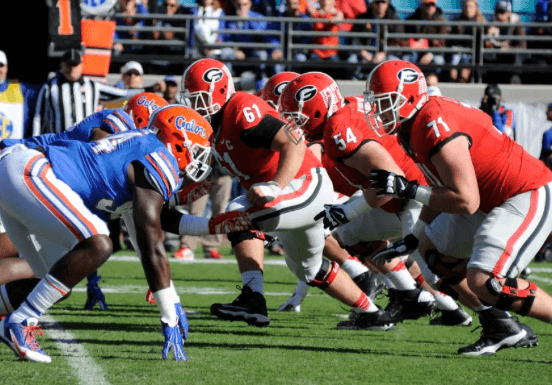 Previously previewing:
Game One, Massachusetts Minutemen
Game Two, Kentucky Wildcats
Game Three, North Texas Mean Green
Game Four, Tennessee Volunteers
Game Five, Vanderbilt Commodores
Game Six, LSU Tigers
Game Seven, Missouri Tigers
GAME 8: GEORGIA BULLDOGS (2015: 10-3, 5-3)
Head Coach
Returning starters
2015 offense
2015 defense
Kirby Smart
7 offense, 6 defense
377 YPG/26.3 PPG
298 YPG/16.9 PPG
0-0, 1st year
76%, 74% of stat production
82nd/85th in FBS
8th/9th in FBS
Series history: Georgia 49, Florida 42, 2 ties
Last meeting: Florida 27, Georgia 3 (2015)
Synopsis: These teams do not like each other. See the extensive rivalry history piece I wrote earlier in the week for further clarification. Mark Richt's choreography of the infamous end zone in 2007 was rewarded with a 49-10 beatdown the ensuing year, but it wasn't until last year that he was handed the ultimate form of payback: the Bulldogs' 27-3 loss to the Gators, which knocked them out of the SEC East race, was ultimately what cost him his job. Kirby Smart takes over, but he inherits a laundry list of question marks at his alma mater. Florida, on the other hand, will be gunning for their third straight win over Georgia, and their 21st in the last 27 matchups. Who will raise the final toast this year?
The skinny: Kirby Smart spent nine years under Nick Saban's wing at Alabama, so there's no doubt that he's got a great defensive mind. But there are also major red flags about his lack of previous head coaching experience, and no way of knowing how successful he would be without Saban overseeing his work. (The name Will Muschamp comes to mind.) Georgia has more or less become the poster boy for mediocrity in the SEC, and Smart is tasked with changing that perception. Even if he eventually succeeds, I'm not sure he can do that in one year.
Offensive breakdown: The first order of business for offensive coordinator Jim Chaney is to select a starting quarterback. Five star freshman Jacob Eason enters Georgia with a tremendous amount of hype, and all indications are that he already has a good grip on the offense. There's also fifth year senior Greyson Lambert, who started last year, and punter Brice Ramsey is also an option in an emergency. For either of them to beat out Eason would mean that one of them makes tremendous strides this spring, so it's hard to imagine a scenario where the Bulldogs don't have at least good quarterback play.
Whoever the quarterback winds up being will have an abundance of talent to utilize at the skill positions. If Nick Chubb can return to his old form after offseason surgery, he and Sony Michel would make quite a fearsome one-two punch at the running back position. Chubb was on pace for nearly 2,000 yards last year before tearing his ACL in the team's sixth game, and Michel eclipsed 1,000 yards despite being Chubb's backup for half the year. The Dawgs also have a pair of explosive wide receivers in Isaiah McKenzie and Terry Godwin, and a dependable tight end in Jed Blazevich. If wideout Reggie Davis can come through with a big year, the Dawgs could have one of the SEC's best offenses.
But the offensive line, a major weakness of last year's team, remains an area of concern. The Bulldogs do return center Brandon Kublanow; however, both tackles, including first team All-SEC selection John Theus, need to be replaced. How quickly and effectively Georgia is able to do so will go a long way in determining how successful this offense is. The Bulldogs may wind up shifting guard Greg Pyke over to tackle in order to ease the rebuilding process, and coaches have applauded his efforts at his new position so far.
Offensive overview: Skill position wise, Georgia appears set. But this offense still has a lot of questions to answer. Sure, Jacob Eason has all the attributes you want in a quarterback, but he's still a freshman who's probably going to go through his fair share of growing pains. And the offensive line needs to take a tremendous step forward this year if they want to keep Eason on his feet. Grade: B-
Defensive breakdown: Smart's first defense at Georgia will probably be the worst he'll ever have. The good news of that statement is that it's only going to get better in future years with his ability to recruit and mold talent. The bad news is that Georgia loses everybody in its front seven, from Sterling Bailey to Jordan Jenkins to Leonard Floyd. The lone returning starter is Tim Kimbrough at outside linebacker; after that, it's going to be all new faces.
Defensive tackle Trenton Thompson will probably be one of them. He came on strong in the middle of last year before eventually fading out of the picture in November. But the flashes he showed were enough for coaches to trust him and all but secure him a starting spot in 2016. Georgia will also be looking for contributions from juniors Lorenzo Carter and Davin Bellamy and sophomores Roquan Smith and Natrez Patrick. There's plenty of talent to go around in this front seven for sure, but a collective lack of experience could hold them back.
Meanwhile, there's no way to really know what this secondary has. Statistically, the Bulldogs were the nation's best pass defense in 2015, and they return all four starters. But that distinction is largely due to the fact that two of Georgia's opponents almost exclusively ran out of the triple-option. And Georgia's secondary was suspiciously carved up by Josh Dobbs for 312 yards, which was by far the most yards he threw for in a single game in 2015. Even Treon Harris had some fun at their expense last year. This unit, led by safeties Dominick Sanders and Quincy Mauger, has the potential to be better with all the experience back there, but they can't take games off.
Defensive overview: What to make of this defense? There's talent, yes, but any defense with this many holes to fill in its front seven- not to mention a secondary that's been shredded by Josh Dobbs and Treon Harris- will always be susceptible to a complete meltdown. Grade: C+
Key matchup: Turnover battle. I know, I used this as my key matchup for the Missouri game, but ignore the importance of turnovers in this game at your own peril. In six of the last ten match ups, the loser of this game turned it over at least four times. Most recently, Georgia handed Florida five turnovers last year, directly paving the way for the Gators' 27-3 rout. The task falls on Jacob Eason and Luke Del Rio to be smart with the football and avoid making mistakes, because this rivalry's history indicates that the other team has a way of making you pay for it.
The good news: Assuming the Gators' offensive line continues to make strides, they could run the ball at will against Georgia for the third straight year. Florida has rushed for an unbelievable 674 yards in the last two games against Georgia, and with so much inexperience in the Dawgs' front seven, plus the promise of Mark Thompson, Jordan Scarlett and Jordan Cronkrite, there's reason to believe it will continue. Additionally, Florida has their usual bye week before this game, giving them plenty of time to toy around with things before unveiling them against the Bulldogs.
The bad news: Florida's going to have a hard time stopping Nick Chubb and Sony Michel late in a close game if it gets to that point. And, you know, if the Bulldogs are able to generate even the slightest semblance of a passing game to keep them from loading the box with seven guys on every play. The Gators' front seven is much better and more experienced than Georgia's, but Florida is still somewhat thin at linebacker and there's reason to worry about them wilting if the Dawgs are able to put together several long drives.
Georgia wins if… they win the turnover battle. As crucial as it is for Florida, it's even more so for Georgia because they have an inexperienced quarterback and offensive line. Not only can Georgia not make mistakes, though, but the Bulldogs' defense is going to have to force the Gators to make some. Jim McElwain's offense appears to have a major advantage here, but that advantage is effectively rendered useless if Georgia can create some turnovers- and the ensuing opportunities that come with them.
Florida wins if… they once again run the ball down Georgia's throat. Not only have the Gators rushed for enough yards to form the perimeter of a new continent over the last two games against the Bulldogs, they also kept Georgia's offense on the sideline for most of the game by doing so. Sure, Georgia's offense is littered with question marks, but it's also littered with dangerous playmakers. The more of this game they watch from the bench, the better.
Overview: After losing 18 times in 21 years to Florida, Georgia appeared to have finally regained momentum in this series by winning three straight. Then the Bulldogs lost the next, and the most recent, two games by lopsided margins. The sentence that you'd expect to come next sends the same message as the first one of this paragraph: Florida has won the last two, and has all momentum in this rivalry.
But strange things have a history of happening in this game when you least expect them to happen. In fact, strange things frequently happen between these teams- the kind of things that X's and O's and logic just can't predict, like Steve Addazio's dreadful offense racking up 450 yards of offense, a Will Muschamp team nearly duplicating the feat, teams committing nine turnovers in a game, and so on. Sure, weird stuff could theoretically happen on any given Saturday, but it's weird stuff has become the norm in the World's Largest Outdoor Cocktail Party. So let me preface the final paragraph of this preview with that.
That said, while both teams have their share of holes to deal with, Georgia's front seven appears to be a two year task. In the meantime, the Gators don't have a single position that's as green as Georgia's defensive line and linebacker corps on either side of the ball. It's hard to imagine Georgia really taking advantage of a Florida weakness, mainly because the Gators don't have many, and also because Florida's lack of depth at linebacker is offset by Georgia's lack of experience on the offensive line. So without a real favorable matchup that exploits them, the Bulldogs are going to have to spend at least one more year tied to their leashes.
Projection: Florida 34, Georgia 16