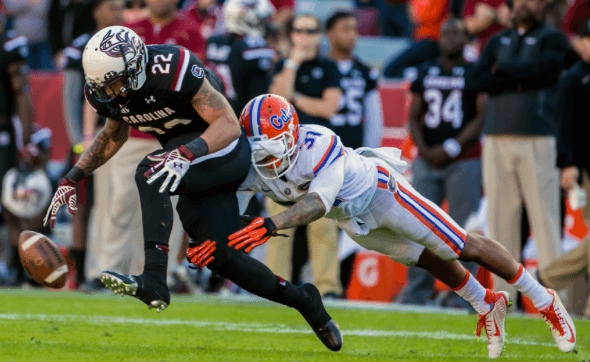 Previously previewing:
Game One, Massachusetts Minutemen
Game Two, Kentucky Wildcats
Game Three, North Texas Mean Green
Game Four, Tennessee Volunteers
Game Five, Vanderbilt Commodores
Game Six, LSU Tigers
Game Seven, Missouri Tigers
Game Eight, Georgia Bulldogs
Game Nine, Arkansas Razorbacks
GAME 10: SOUTH CAROLINA GAMECOCKS (2015: 3-9, 1-7)
Head Coach
Returning starters
2015 offense
2015 defense
Will Muschamp
5 offense, 5 defense
465 YPG/35.9 PPG
430 YPG/27.8 PPG
0-0, 1st year
50%, 39% of stat production
29th/27th in FBS
97th/72nd in FBS
Series history: Florida 25, South Carolina 8, 3 ties
Last meeting: Florida 24, South Carolina 14 (2015)
Synopsis: It's hard to call this series a rivalry when the teams have only been playing since 1992, but there's a new type of hatred between Florida and South Carolina. What little success the Gamecocks have ever had against Florida came under Steve Spurrier, who ditched South Carolina to return to Gainesville as an ambassador. Meanwhile, Will Muschamp takes over the Gamecocks' program after a largely unsuccessful four year tenure at Florida, and he's got more than his fair share of work ahead of him this year. The Gators, on the other hand, will be gunning for their second straight trip to Atlanta, and barring the unforeseen, should at least be in the mix to get there entering the day of their final conference game.
The skinny: South Carolina's second trip through Florida's recycling bin cannot possibly work out as well as their first one did, if only because Muschamp's obvious deficiencies as a head coach are paired with a woefully inadequate roster. The Gamecocks know they're going to go through some tough times in 2016, and even if Muschamp is able to rebuild their defense in a year with the broken Lincoln logs he inherited, the offense is still in need of a similar overhaul. I don't doubt that Muschamp can eventually turn South Carolina into a decent program again, but the one given is that it won't happen in a year. It's going to be ugly.
Offensive breakdown: The quarterback job appeared to be Brandon McIlwain's to lose at one point, but here we are, the day before the Gamecocks' first game, and there's still no decision made on who will start. McIlwain is getting a solid push from Perry Orth, who saw lots of experience last year- some of which was positive, and some of which was not. But one thing appears clear: whoever winds up winning the QB job is going to need a lot of help.
The main problem is that South Carolina's returning rushing leader (David Williams) ran for less than 300 yards last year. Williams does bring a degree of toughness, but it's hard to really dish out the compliments to a guy who really hasn't done that much against opposing competition. So while coaches can praise him all they want for his efforts in practices, it's going to be a wait and see approach before he can be labeled a true threat. There's little depth behind him, which doesn't bode well for Muschamp's ground and pound approach.
The passing "attack" has even less promise. Star wideout Pharoh Cooper left early for the NFL Draft, and the Gamecocks will also have to replace dependable tight end Jerell Adams. That leaves one pass catcher with any proven playmaking capability in Deebo Samuel. With his next best options being seldom used tight ends in Hayden Hurst and Kevin Crosby, offensive coordinator Kurt Roper may have to get creative with some dual tight end sets. But the whole offense hinges on the progress of the offensive line, a unit that returns two starters from a year ago… and a unit that ranged from average to dreadful throughout 2015.
Offensive overview: It's not so much that Muschamp (and to a lesser extent, Roper) is inadequate at running an offense, but more that South Carolina is trying to build an iron tough offense with Legos. It's up to Muschamp to recruit better players in the future, and I won't say that he won't. It just won't help him this year. Grade: D
Defensive breakdown: The good news for South Carolina's defense is that their head coach is basically a glorified defensive coordinator- and as much as Gator fans tend to hate him, he's a damned good one. One of the best defensive minds in the country, as a matter of fact. The problem is that, like with the offense, he has no dependable pieces to work with. What little hope this defense had in 2016 vanished when star linebacker Skai Moore went down with a season ending injury, and that changes their outlook from "there's promise" to "we're completely screwed."
The defensive line could be OK, with time. Marquavius Lewis and Dante Sawyer give the Gamecocks a pair of decent ends, and they'll be assisted by both returning interior linemen in Kelsey Griffin and Taylor Stallworth. For depth, they also have defensive end Darius English at their disposal. South Carolina struggled to get a whole lot of pass rush and really struggled against the run in 2015, but the combined experience Muschamp will get to work with- all four starters from a year ago- has to be considered something to remain hopeful about.
But the middle and back levels of the defense are in complete disarray. Without Moore, there's just one returning starter between the linebackers and secondary. TJ Holloman was said to have a nice spring at linebacker, and without Moore, it's up to him to lead a rather green linebacker unit. Meanwhile, former Gator commit Chris Lammons and Rashad Fenton appear to have locked down the two corner spots, and Jordan Diggs gives the Gamecocks a hard hitting safety. Again, though, not a whole lot of meaningful experience to speak of back there.
Defensive overview: Muschamp and defensive coordinator Travaris Robinson are about to look like idiots, even though in reality they're two of the smartest defensive minds in the game. In truth, it's not really their fault; losing Moore dealt them a larger blow than most coaches can possibly deal with. It's hard to imagine Muschamp ever having a defense this awful again given his recruiting abilities, so to all those who hate him: enjoy it while it lasts. Grade: D+
Key matchup: Florida's offensive line vs. South Carolina's front seven. If there's a chance for South Carolina to win this game, any chance at all, they'll need to force their way into the Gators' backfield and see what happens. The Gators' offensive line should be better than it was in 2015, but the Gamecocks' lone strength is their defensive line. If Florida can neutralize it, there's no foreseeable path for South Carolina to win..
The good news: South Carolina is in rebuilding mode, even by rebuilding mode standards. You can also kind of tell from the way Jim McElwain reacted to Will Muschamp's assertion that he left plenty of talent in Gainesville that he's no fan of him. This dovetails nicely with the sunset of the college football season, a time in which the Gators very well could be fighting for a College Football Playoff berth. There's no better time than the end of the season to drop a ridiculous number of points on an opponent, and make no mistake: Florida is every bit capable of dropping half a hundred on the Gamecocks.
The bad news: Because Geoff Collins runs more or less the same defense Muschamp did at Florida, South Carolina may be able to detect tendencies and game plan around them. We've also seen Muschamp get his teams ready to play on the road in games that don't really matter to them, or at least shouldn't (South Carolina in 2013, Georgia and FSU in 2014) and it's more than likely that the Gamecocks will be out of the running for everything by this point in the season.
South Carolina wins if… they force a bunch of turnovers and/or get touchdowns on special teams. They don't match up very well with Florida anywhere on the field, but turnovers and special teams scores can take talent out of the equation.
Florida wins if… they don't completely self destruct. They should be able to run the ball at will down the Gamecocks' throat, and Luke Del Rio looks poised to have a monster day in the stat book. All they have to do is not waste opportunities and possessions, and give themselves as many plays as possible to turn those "shoulds" into reality.
Overview: I have Florida losing the week before this game to Arkansas in an upset. That should only add more fuel to the fire of playing against their former coach, not to mention playing to book a return trip to Atlanta. The Gators' high levels of motivation are now pitted against a seriously depleted team with no real expectations for the season, and a head coach who sports a 5-17 lifetime record against ranked opponents. Want a prediction? Sure: here comes the most lopsided beating for Will Muschamp in a head coaching career that's been filled with them.
Projection: Florida 34, South Carolina 3