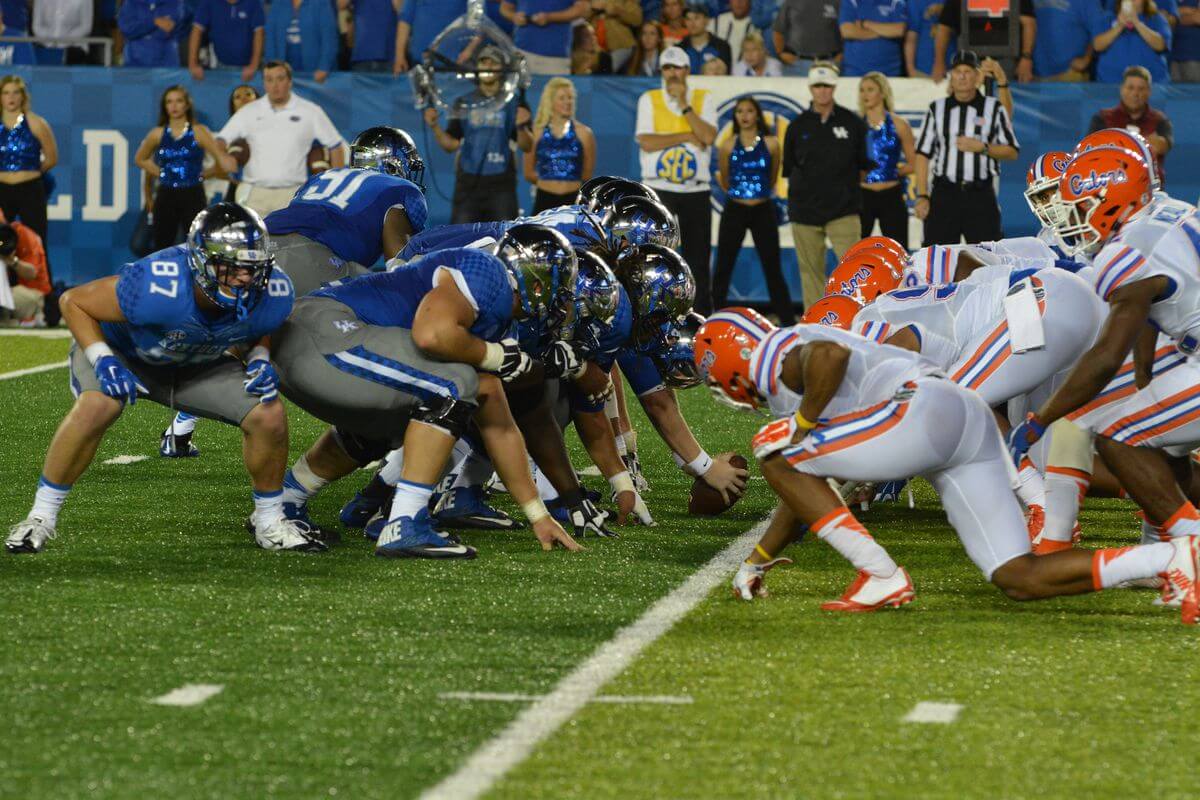 Before I begin this piece in earnest, let's start off by enlightening you with some perspective. As we all know, Florida has won 31 straight games over Kentucky. Not only is that the longest active streak in college football- and by far- but this current streak is up there with the longest running displays of domination in the sport's history.
Take a look.
LONGEST WINNING STREAKS OVER ANOTHER OPPONENT IN FBS HISTORY
Team
Opponent
Streak
Years
Year broken
Notre Dame
Navy
43
1964-2006
2007
Nebraska
Kansas
36
1969-2004
2005
Oklahoma
Kansas State
32
1937-1968
1969
Florida
Kentucky
31
1987-present
???
Penn State
Temple
31
1952-2014
2015
Nebraska
Kansas State
29
1969-1997
1998
Clemson
Virginia
29
1955-1989
1990
Texas
Rice
28
1966-1993
1994
Southern Cal
Oregon State
26
1968-1999
2000
Tennessee
Kentucky
26
1985-2010
2011
There's no other way to put it: that's absolutely unbelievable. It's literally not possible to believe that the Gators have beaten a fellow SEC team the last 31 times they faced them, especially given how abysmal they were the last several years. As we learned two years ago against Tennessee, though, all streaks have to end eventually. But all that tells us is to enjoy this streak while it lasts.
Because it could, in all seriousness, come to an end this Saturday.
Kentucky running back Benny Snell is going to be the key. Snell has rushed for over 1,000 yards each of the last two years despite not playing the first two games of 2016, and provided what would have been the winning run into field goal range last year had a lineman far away from the play not been called for a completely unrelated holding. And Snell saved the Wildcats from utter disaster last week against Central Michigan.
Speaking of which, that was exactly the kind of performance that frightens me. CMU held a 17-7 lead midway through the second quarter and was only down 28-20 after three quarters before going down 35-20. Kentucky coach Mark Stoops was irate after the game and lit into his team for a woefully underwhelming effort against a huge underdog. Meanwhile, Florida cruised 53-6 against a school it paid six figures to come take a beating that made the Gators feel confident. And this week, defensive back Chauncey Gardner-Johnson showed just how confident he felt by guaranteeing a win over Kentucky.
Sound familiar? It should: two years ago, Florida destroyed a hapless North Texas team 32-0 on the same day that Tennessee never really pulled away from Ohio in a tense 28-19 win. After practice a few days later, Gator star cornerback Quincy Wilson guaranteed a win over Tennessee with his now famous "duck pulling a truck" line. The next week, though Wilson picked off a pass, Tennessee erased a 21-0 deficit and beat Florida 38-28 on Rocky Top to snap its eleven game losing streak. The parallel is eerily similar. No, I didn't write that strongly enough. It's absolutely terrifying.
And for an added measure of spook: Florida's eleventh and final win over Tennessee during that streak came by a 28-27 margin. The score of Florida's win over Kentucky last year? Take a wild guess if you don't remember.
But there are two glaring differences between the scenarios. One, Tennessee got the Gators on Rocky Top; Kentucky has to come to the Swamp, which is sure to be packed far closer to capacity than it was against Charleston Southern (approximately 81,500 of 90,950 available spaces filled). And two, Kentucky has a new quarterback far less experienced than Josh Dobbs was as a senior in 2016.
Which brings us back to Kentucky, this year, this week and Benny Snell. The Wildcats did not look very well equipped to end the streak by any objective measure aside from Snell and his backup Asim Rose, coughing it up four times and switching quarterbacks twice mid-game. Terry Wilson, the starter for that game, is listed as the starter again this week, although his backup Gunner Hoak actually outplayed him, throwing the go-ahead touchdown pass late in the first half. The two combined to go 15-27 for a paltry 128 yards… because the Wildcats' success in the running game meant they didn't need to throw.
Snell and Rose combined for 229 yards on 28 touches and four of the team's five touchdowns on the night. Which is why Florida would be wise to load the box on all but obvious passing downs to stuff the Wildcats' running game, and why I hope- and believe- Mullen's assertion that Florida would not do exactly this was pure gamesmanship to screw with Kentucky coaches. First, remember that Todd Grantham possesses an unusual fetish for blitzing. Then remember that Florida's defensive front seven, even without Cece Jefferson and David Reese, is littered with playmakers across the board such as VoSean Joseph, Jachai Polite, Jabari Zuniga and the freshman Zachary Carter, and is more than capable of generating some real push up front. Kentucky's offensive line isn't terrible, but nor is it great, and shouldn't be able to keep Florida's athletic front seven out of the backfield.
And that leads us to to the key to stopping my aforementioned Kentucky key to the game. Whether or not Jefferson and/or Reese play, Florida is going to beat Kentucky, guaranteed, if the front seven plays smart assignment football, shoots the correct gaps and make tackles that the average Division I athlete is expected to make. Sure, that's pretty boilerplate for every game, but there are some opponents that you can more or less get away with not doing those things. For all its faults and shortcomings, Kentucky is not a team that the Gators will be able to get away with that against.
I'll admit that I'm a little more nervous about this game than I probably should be. But with three and a half hours of solid fundamental football, the Gators can do much more than just alleviate those nerves; they can avoid the trap game and stake their claim as a contender for the SEC East.