Welcome to Part II of our Florida-Miami film room session.
The first half saw Florida make a lot of mistakes on both sides of the ball, but fortunately, Miami did too. As it stood midway through the game, the Canes held a 13-7 lead.
So let's get back into it. Second play out of halftime, Miami brings a lot of pressure. LaMical Perine picks it up; this play is dead without the blitz pickup. The Florida WR does not smoke the CB as some UF fans would have you believe. CB ignores the WR as the defensive play call include a corner blitz.
To his credit, Feleipe Franks does a great job here. He has an issue with bailing out of the pocket early, but he trusts his line and Perine to do their job and quickly realizes the route that will be open because of the corner blitz.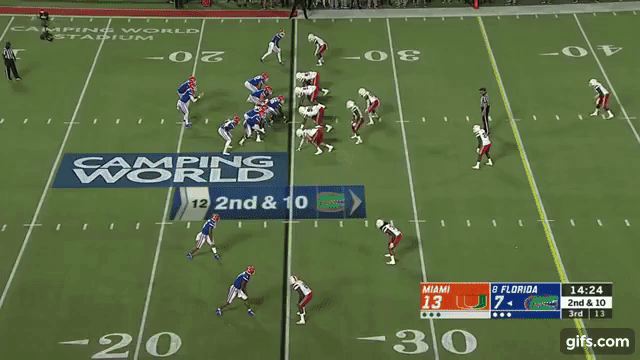 Next play. This is LaMical Perine's best run of the day. The left side of the line blocks this well. First time starter Chris Bleich pulls from RG, Stone Forsythe gives a little rub block on the end and moves up to the LB and boom, there's a hole for Perine to slice through.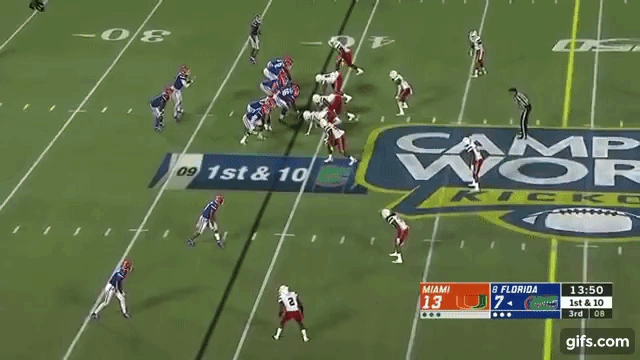 Next play. Dan Mullen really loves calling running plays that involve one or two offensive linemen pulling. Those runs didn't have much success, as the last GIF was probably about it for the day. This was usually the result vs. Miami every single time we pulled any OL vs their front seven. Part of this is because Miami is talented and fast in their front seven, part of this is because I don't believe that Florida linemen have the football IQ to properly run plays that require pulling linemen as much as Dan loves to run it.
Now, we all love Kadarius Toney for his explosive power. "We all" includes me. But this play right here? This is why I strongly feel Toney will only touch the ball four or five times a game. We like to compare Percy and Toney, but they are only alike in terms of their athleticism. Toney has average vision at best, he is not a patient runner at all and while this play wasn't blocked perfectly on the edge, I thought it was blocked well enough that if Toney was patient, we get yards out of it.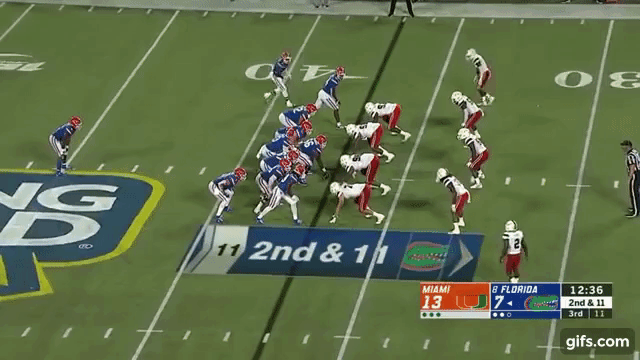 Here we see tight end Lucas Krull with two options for a block, Toney has already bailed on the play and decided to do what he wants.
Krull now has decided to block the most outside defender. If Toney is patient here, who is to say he can't simply outrun #30 for Miami to the edge and pick up positive yards?
I get that this is 3rd down and very long, but Franks oddly settles on the difficult pass over a well setup swing screen. He doesn't immediately look to the right, I think he looks at Amari Carter, who I circled in red, and then immediately jumps to the hitch route. The screen is a better choice, you have 3 WRs for 3 DBs which gives the screen receiver options to make something happen.
So Florida punts it back to Miami. For all he does exceptionally well, CJ Henderson is neither great against the run nor the screen game, but he is deemed by nearly every scout on earth to be one of the best pure cover guys and Grantham spent way too much time in this game allowing these nearly 10-yard cushions on whoever CJ was matched up with.
CJ was the lowest graded defender in this game, per ProFootballFocus, and I agree with them. This play is relatively minor in its importance as it was an incomplete pass, but CJ is beat on the out route and the only reason it was incomplete was because the ball is thrown low and behind the intended target. I'm not quite sure if CJ was concerned about the speed of the Miami WR group, but this isn't the coverage you'd expect from a guy who has been as hyped as CJ has all off-season. I guarantee you that Torrian Gray let him have it for this in the team's own film room session.
Now Florida's got it back. The Gators couldn't really run the ball from under center in this game. Bleich can't turn the DT away from the play and we decide to put Grimes on a DE here who cleans up the play from behind. Never a fan of putting a WR on a defensive linemen when you have more capable tight ends for the job.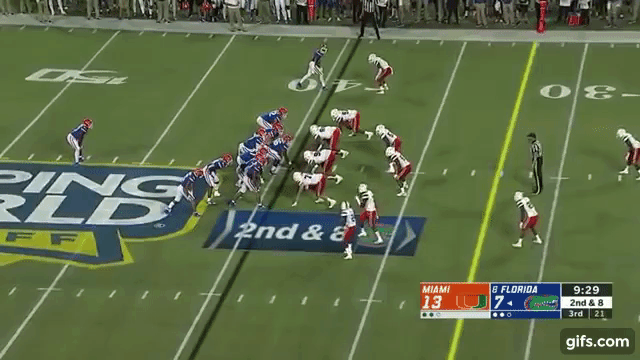 This is supposed to be an RPO, and I'm not sure who got the wrong play. Franks runs the play like it's supposed to be a pure passing play, the WRs all do their job, but it looks like the RT wanted to run block but then remembered something else? Who knows. But the RB takes off as a lead blocker. Whatever happened, this is a broken play and I'm not sure who to pin it on.
Here I diagrammed some of the OL and how weird the blocking scheme was if this was just a basic passing call.
I'm not sure this pocket required Franks to break it and extend the play, but nothing bad comes of it. But there is quite a bit of this on film, a good enough pocket that results in Franks getting happy feet.
I'm a bit surprised this play worked so well, not because of the play call itself, but because Florida has not run the ball well enough for Miami linebackers to bite this hard on the run fake.
Double screen, I don't think this play had much life but Franks didn't help, throws it a little high and behind Perine. He needed to throw this out front and give Perine a chance to catch in stride and get to the edge. One of the many reasons Franks was the worst graded player on offense.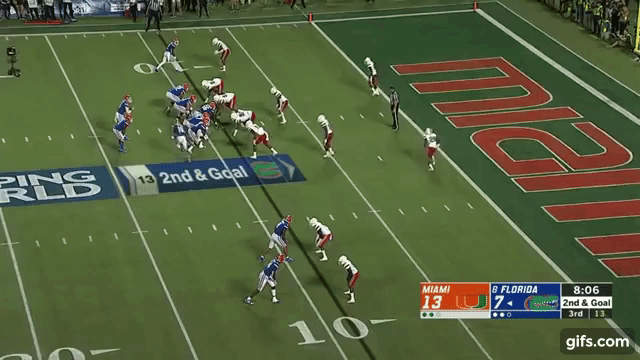 About the only time that I noticed on film that CJ Henderson got his hands dirty in the run game. But this was well done.
I just now realized I should be paying attention to Greenard in the run game, and don't let anyone tell you he is just simply a speed pass rusher. Simply put, he is an all-around stud on the Gators' defensive line.
This play got called back for holding, but it's worrisome nonetheless because of how David Reese plays this. He's a good tackler when he gets to the ball carrier, but his speed here is a concern and the angles he routinely takes vs. the run are a problem. The holding call that brought this back had nothing to do with Cam'Ron Harris being sprung for a big gain, which means that Reese got bailed out here.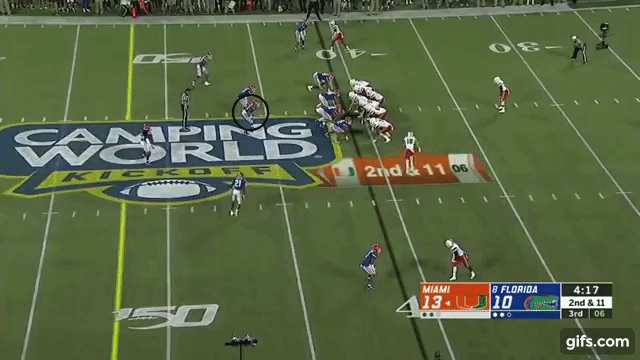 I haven't pointed out Jeremiah Moon yet, but it's time to give him some love. He creates the initial pressure on Jarren Williams, Shawn Davis comes in late on the safety blitz to force the throw away. The problem with breaking down film from this game is I don't know if Miami's OTs are all time bad or if we have that much talent at the edge spot.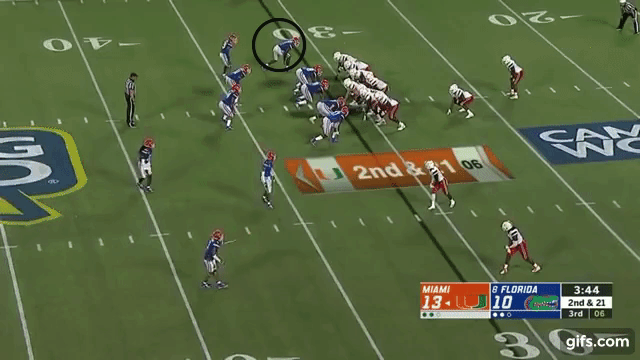 Shoutout to James Houston IV for his perseverance on this play. Florida deploys two stunts here, which is unfair for how bad this Miami OL looks to be, both Carter and Dunlap nearly get a sack, and Houston finishes the job.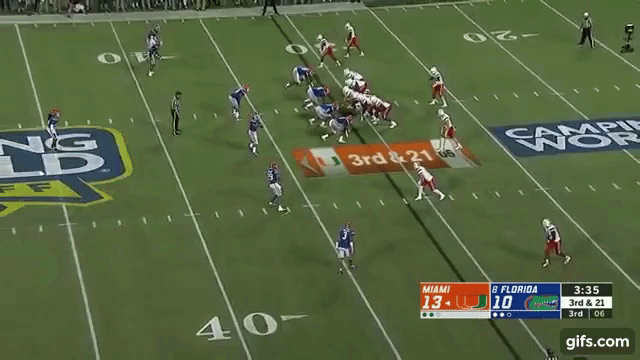 I get criticizing the OL in the run game, but for how young this group is, they really did a good job vs this Miami DL in pass pro. This is a solid pocket for Franks, and a nice throw by him to boot.
Though I do need to point out one thing that stood out- I'm not sure what Jean Delance is doing here. Go back and engage with the defender, don't just stand there. Here comes the obvious disclaimer that it's just game one, and I get that, but Delance at OT might be a big issue later in the year if he doesn't start showing a lot of mental strides. He sticks out quite a bit here, and not in a good way.
The backside collapses a little late, but I don't see a need for Franks to break the pocket this early. Once he does, the play more or less implodes.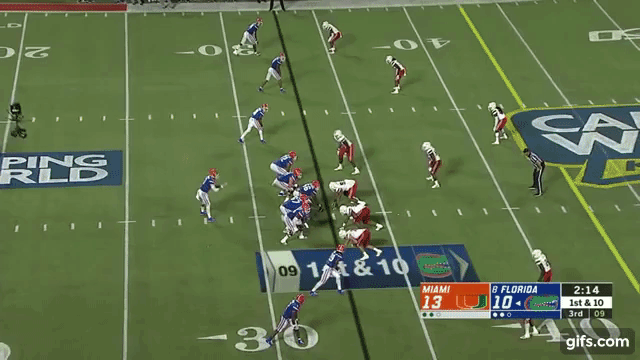 Two things, interesting wrinkle where 4 of the 5 OL never get into stance, secondly, I'm surprised we decided to not audible out of this call. There are three defenders for one blocker and I don't know what Dan Mullen or Brian Johnson was on thinking with that math.
But I'm being nitpicky, as the play result was not a failure.
Here's the Gators' second touchdown of the day, which put them back on top in the dying seconds of the third quarter. Perine does have good hands at RB, and love the angle route out of the backfield. The linebacker was dead in the water the moment he assumed Perine was going to run into the flat, which is the only assumption I have for how the linebacker initially played Perine. Well drawn up, well executed.
But no sooner does Miami get the ball back than the headaches resume. Welcome back, awful tackling. I don't pin this on Grantham, he sees the RB in at QB, probably sees Martell out at WR, there are 10 defenders within 5 yards of the LOS. Ventrell Miller misses, David Reese misses, CJ Henderson misses, Kyree Campbell misses, and once Dallas beats Moon to the sidelines he's gone.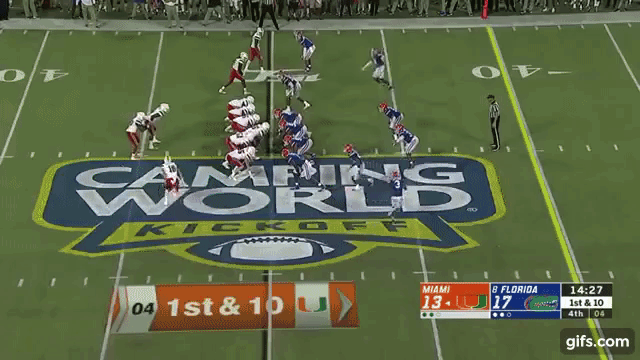 The play should end right here. Ventrell Miller is squared up, make the tackle, play is dead. End of story. He misses badly.
CJ Henderson tries tackling in a way I imagine you aren't taught to tackle, almost on his knees and with his shoulder. Definitely not going to work on a strong RB here.
Marco Wilson almost does the same thing, goes low on his knees, Reese also gets in on the action by missing pretty badly, after this, the RB is gone.
I would love to live in a world where all football fans and analysts stop obsessing over bench press and squat numbers. It was quite a popular talking point in the off-season that CJ Henderson did X number of weight in various workouts, but, well, could've fooled me. This is not matching up with all his offseason hype. Here is another view of how poor he looked vs the run on this play.
Ensuing Florida possession, and here we go with 2017 Feleipe Franks again. I don't know who Franks was targeting here. It's too high and behind Swain, and it's too low and off line for Cleveland. Either way, there is no way to flip this around being on anyone but Franks. Miami stunts, which does create some pressure in Franks' face, but if Florida fans are all going to crow about the strides he's made this offseason, it's got to be accepted that there's an expectation level that comes with that, and Franks fails to meet it with this throw. Worse yet, this is the worst possible time for Franks to make this mistake. Amari Carter picks it off and the Canes are set up just outside the Florida red zone.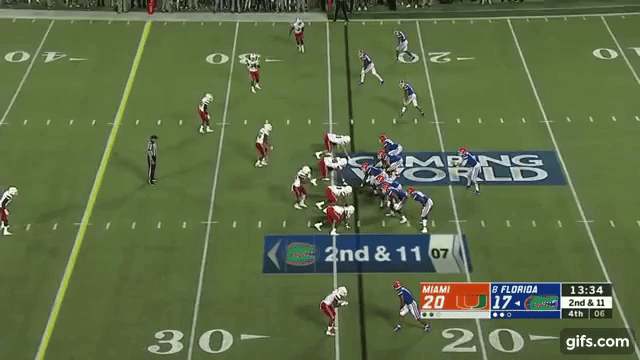 I was hard on David Reese earlier, but I'm also fair. So: hats off to him on this play, where he finally takes on a linemen successfully and makes a tackle behind the line of scrimmage.
I was told that in review, things looked more motivating, it's just mental and technique issues that need to get worked out, specifically on defense. I think this is one of those plays. Jaydon Hill whiffs on a tackle that stuffs this play dead, Greenard plays this well despite getting double teamed and everyone else looks to do their job, Hill just has to make the tackle. Again: it's week zero, and there's a long way to go, but this is where Florida really has to get better.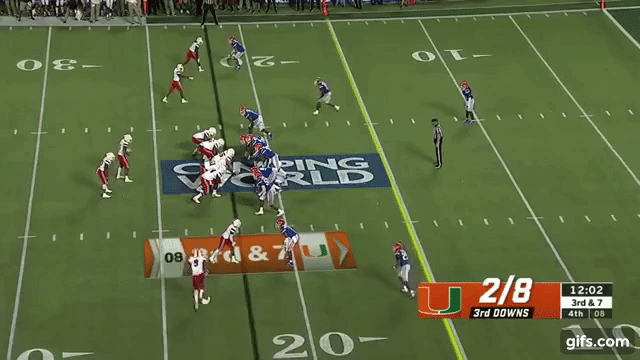 Here's the play that justifies all the hype about Hendo being a first round draft pick. You literally cannot play this any better. I still have to point out that I believe he thrived on this pass coverage snap because he has the end zone behind him, you don't have to respect the deep speed here and it allows him to be in a spot to make a play on the ball. But nonetheless, he's in great position and lets his natural instincts take over. Phenomenal pass breakup to save the day.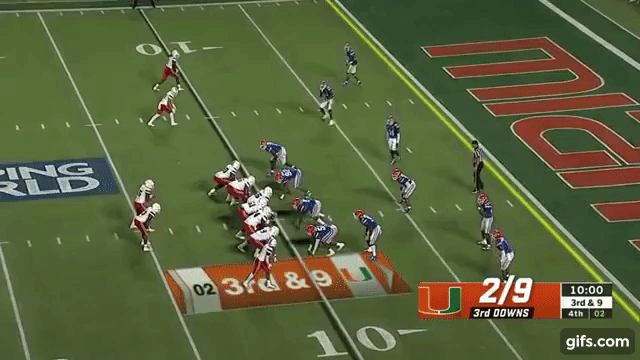 What is this? Feleipe Franks dropping a beautiful- not just a solid, but a beautiful– deep ball into Josh Hammond? This is what drives me absolutely insane, too. We know Franks has the ability to do amazing things like this, and then soon after he goes and negates it with something stupid and costly. So I need to see more of this from Franks. His deep ball showed to be pretty reliable the last month of last season, but this was his first confident throw past 20 yards this game. And I get the sense our WRs are open quite a bit on the deep stuff, as I have pointed out prior.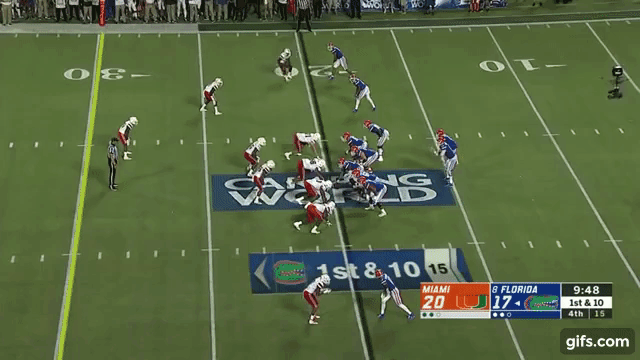 Something we all might have missed: here is Delance, as I pointed out earlier, getting beaten off the snap. And this could be a huge issue this year. Miami's defensive line is good, don't get me wrong, but it's probably the fourth or fifth, or maybe even the sixth best the Gators will face this year. And Delance isn't good enough to handle them right now. I believe he had the worst day on the OL last Saturday, and he's simply got to show improvement these next few weeks before the games start to really heat up.
Here is another view of how clean the rest of the line looks outside of Delance reaching. He does this quite a bit. I'm curious how long his leash is before someone else gets more playing time at RT over him.
Tight end Kyle Pitts (#84) needs to be used more. Plain and simple. Sure, you can probably say this about a lot of guys, but snap count limited total number of times guys could see the ball obviously. Also, I'm not sure what Toney does on his initial block attempt. It's not like Percy Harvin was as good a blocker as the Pouncey twins, but he was at least competent in that department, which is another reason Toney likely won't see the field- and the ball- as much as him.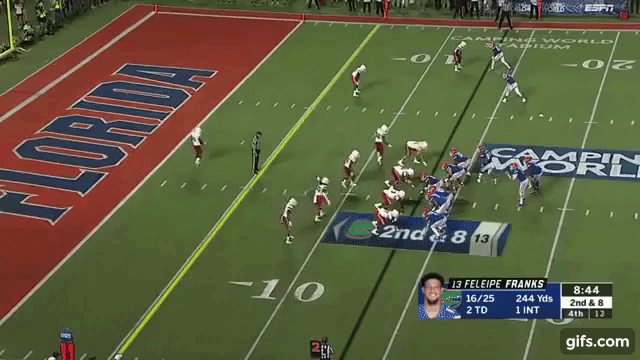 Last touchdown of the day. Franks is pretty reliable in these keeper spots, and while nobody is going to confuse him for Tim Tebow, he's similarly effective in short yardage situations because of his large frame. Especially when the offensive line cleans up.
Skip to a few minutes later, and Miami has the ball deep in Florida territory. I feel strongly that Miller will be a better linebacker than David Reese by year's end, and he may already be the better player. He is faster than Reese, takes better angles and seems to be a better tackler right now, though that may be up for debate.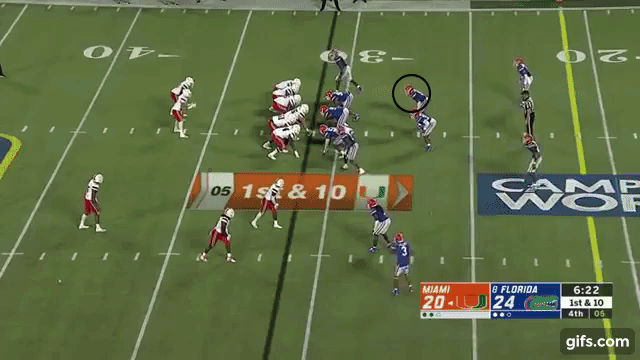 Surprise, Jabari Zuniga and Jonathan Greenard are once again up field quickly. What a game by these two. Williams does a good job stepping up and getting out of the way, but Marlon Dunlap (#91) is pretty athletic from the DT position. He uses a combo of power to move the center out of the way and then that incredible athleticism for a big man with a nice spin move to put him in a spot to get a sack. And in most situations, that should be your ballgame. (Spoiler alert: it's not.)
Here is a better view of that Dunlap pass rush set.
Grab a Xanax for this one. I was led to believe that Franks audibled out of the original play here, if that is wrong and this was a pass the whole time, I don't necessarily have an issue with the play call. Remember, if it works, we're talking about how aggressive Mullen and Johnson are. But regardless, this catastrophic mistake is one hundred and fifty percent on Franks.
He pump fakes to the same side he never looks off, holds onto the ball too long, does a small double clutch, then forces the ball into coverage. If he admits defeat on the play and cuts his losses by simply throwingd this away (and maybe he was trying to?) or just falls down and takes the sack, who knows what happens. It's likely Florida runs the ball on 2nd down, Miami calls a timeout, and who knows on 3rd. Probably the same. But in any case, without this potentially fatal error by Franks, the likely best case scenario for Miami is that they get the ball back deep in their own territory after a booming Tommy Townsend punt with four minutes to go and no timeouts, or two and a half minutes with two timeouts. Whatever you want to say about Florida's tackling in this game, neither is ideal.
But instead, Franks goes rogue, reverts back to 2017 form and nearly gives the game away.
Florida nearly got it back moments later. Nothing fancy, just a simple highlight of Greenard forcing a fumble. Do it all guy right in his Gator debut.
Hello again, Trey Dean III. You sir are an animal on these corner blitzes. Whoever was in at RB at any given time for Miami, had a lot of issues with Dean. Super physical for his size from that corner spot.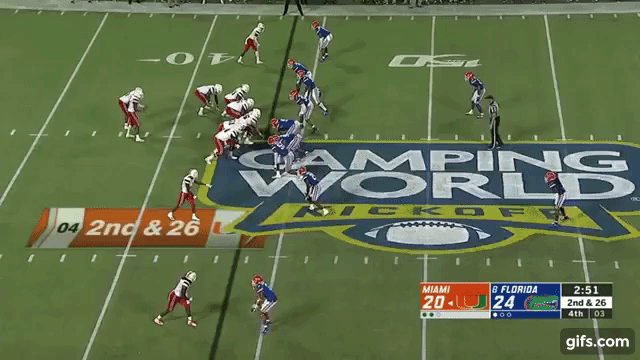 Florida's success off the edge is a combo of how quick Zuniga and Greenard are, and how bad their LT is. In this play, the LT is twisting and reaching for Zuniga, he's done for before any of the WRs are even a yard down field in their route.
Last official sack of the night, I believe it's Kyree Campbell who forces the fumble at the end.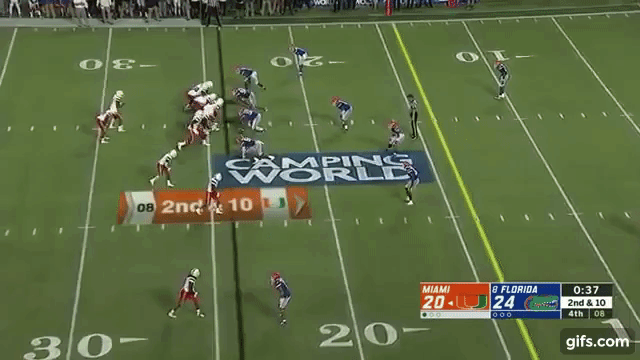 Last play of the review, last play of the game for Florida's defense. You can never fault Grantham for calling zone heavy schemes when an offense is trying to win the game. But Williams can't corral the snap and once Jeremiah Moon beats the left tackle, the game is over.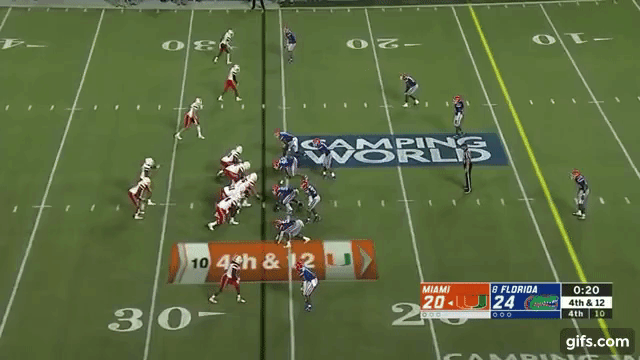 So, there's a lot for Florida to work on. DeLance at right tackle has a lot of improvements to make. Florida's entire defense needs to be put through tackling boot camp these next couple of weeks. And Franks has to stop trying to give games away right after he does the sorts of things that earned him all the offseason hype he garnered to begin with.
It was a Gator win, though, and that's the bottom line. But we may not be able to say the same with subsequent performances like this.