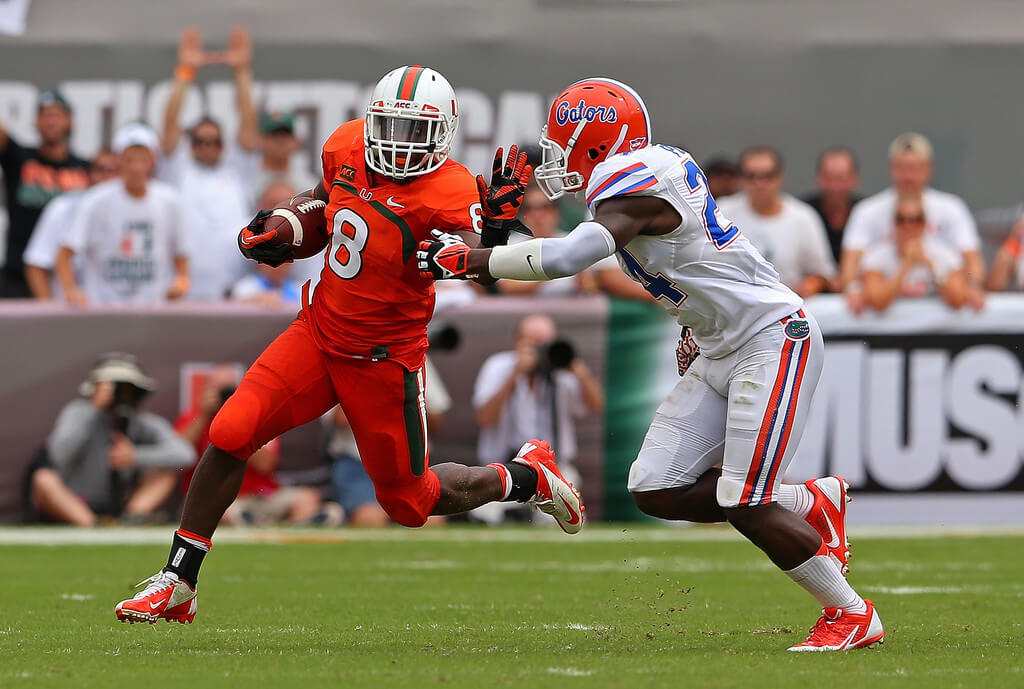 A move that has been expected to take place for about a week has been made official.
Former heated in-state rivals Florida and Miami will renew their bitter series one final time in the Camping World Kickoff one week earlier than initially scheduled. The Gators and Hurricanes will play in Orlando on Saturday, August 24; the game will kick off at 7:00pm ET and air on ESPN.
Both schools were brimming with excitement about the move.
"ESPN approached both Miami and Florida with the unique idea to broadcast this matchup as the culmination of a daylong celebration of college football's 150thanniversary season," said Miami AD Blake James. "After consulting with Manny Diaz, we agreed that this would be a tremendous opportunity to showcase Hurricanes football – both our present team and our long, storied tradition – on a national stage."
"Moving the Camping World Kickoff to Aug. 24 is a unique and rare opportunity that showcases college football, both storied programs, and the state of Florida," added Florida AD Scott Stricklin. "By mid-August the public is hungry for college football, and America is now going to be able to watch the Gators and Hurricanes in a marquee game a week earlier than usual. I'd anticipate the exposure for the sport of college football, and both schools, to be immense. There has been a lot of moving parts over the past few months and we're thankful for the NCAA, ESPN, Florida Citrus Sports, Miami and CFB150, Inc.for their cooperation during this process. I'd also like to thank the fans from both schools for their understanding of the date change."
That last point definitely raises some eyebrows. ESPN approached both schools and Florida Citrus Sports- the organization that hosts the event- back in December about the idea, and filed a waiver to the NCAA back in January to approve the date change. Yet only last week did the news of the intention to move the game up last week surface, a sizable interval of time during which people undoubtedly made reservations that they now have to cancel. That is objectively horrendous planning by everyone involved- they were all intent on making this change of in December and didn't think to let anybody else in on their secret until the final day of February- and displays a profound lack of interest in the folks who spent money on non-refundable reservations that they're now stuck with.
But get past that part of it, and the prospect of this new date grows more exciting by the day. Florida and Miami will sit alone as the marquee college football matchup of the day, and even for fans of teams other than the Gators and the Hurricanes, the mere idea that college football now starts a whole week earlier will make the long offseason that much easier to navigate through. And you can bet that monopolizing a time slot, and an entire weekend, will serve as a gigantic boost for both schools' recruiting.
This game, and the final chapter of this rivalry for the foreseeable future, deserves the royal treatment. Ideally, it should have just been scheduled for August 24th to begin with, but nonetheless, that day is now officially the one you can circle on your calendar.