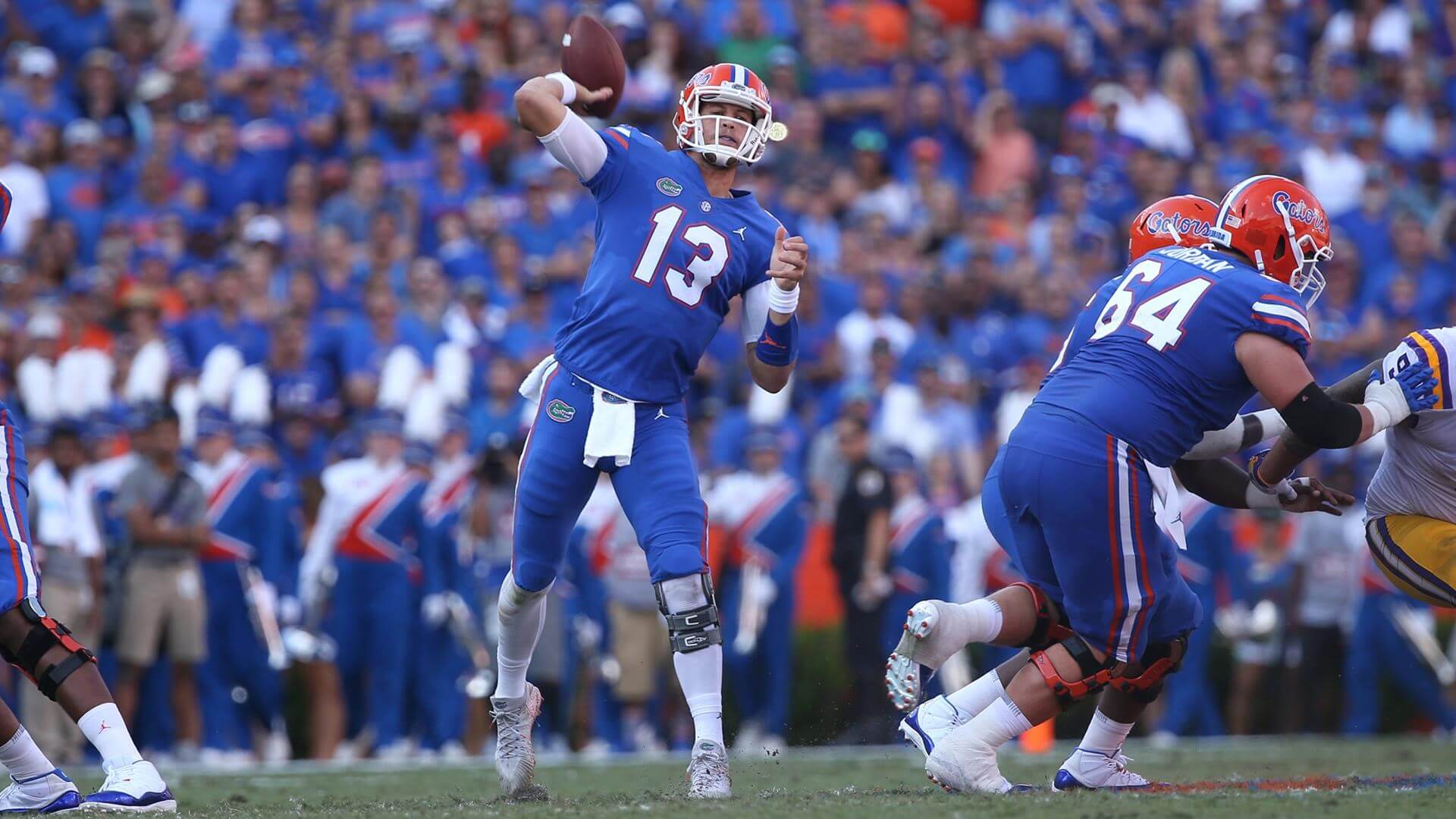 Feleipe Franks' career as a Florida Gator is over.
Franks, a redshirt junior from Crawfordville, announced his decision in an Instagram post this afternoon. He started for much of the past two seasons before returning for his third year as a starter this year, but suffered a gruesome broken ankle against Kentucky that cost him the rest of the 2019 season. He was replaced by Kyle Trask, who held onto the job for much of the season and occasionally gave way to Emory Jones.
Franks threw for 698 yards, five touchdowns and three interceptions before being injured against Kentucky. That came after a solid 2018 season in which he threw for 2,284 yards, 23 touchdowns and six picks. But his career was also marked by inconsistency, and he developed a penchant for fitting a beautiful ball in between two defenders for a big gain before throwing an ugly interception into triple coverage on the next play.
The cold, hard reality of the situation is that it was becoming very difficult to argue that there was a place for him on this team in 2020; the quarterback position is, by nature, unique in that you're either the best one on the roster or you don't play at all. Sometimes, you can stretch that a little bit with two different quarterbacks who each do their own thing well, like Florida had with Trask (the passing QB) and Jones (the running QB). But dual quarterback systems rarely work, if for no other reason then that the presence of one of them in the game gives the defense a hint as to what's coming, and when they do work, the third guy on the depth chart almost never plays.
To potentially give him the reins over both Trask and Jones in 2020, as well as Anthony Richardson, would not be possible after the job that the former two did in 2019– especially after the way Trask revitalized the offense against Kentucky. Perhaps the best way to put it was that it just wasn't meant to be for him in Gainesville. I have zero doubts that he did the best he could while in orange and blue, and he deserves fans' respect and best wishes for that. But from a purely football perspective, it seems as though this is what's best for everybody involved. Franks certainly could start at a number of Power Five programs (which is ultimately what I think he'll do), where he could bulk up his NFL Draft resume, while Mullen now has a larger percentage of quarterbacks in his QB room that fit what he want to do rather than trying to shove a square peg into a round hole.
So, from the bottom of my heart: best of luck wherever you go next, Feleipe. Everyone who speaks about you has good things to say about you, and I'll be rooting for you moving forward.