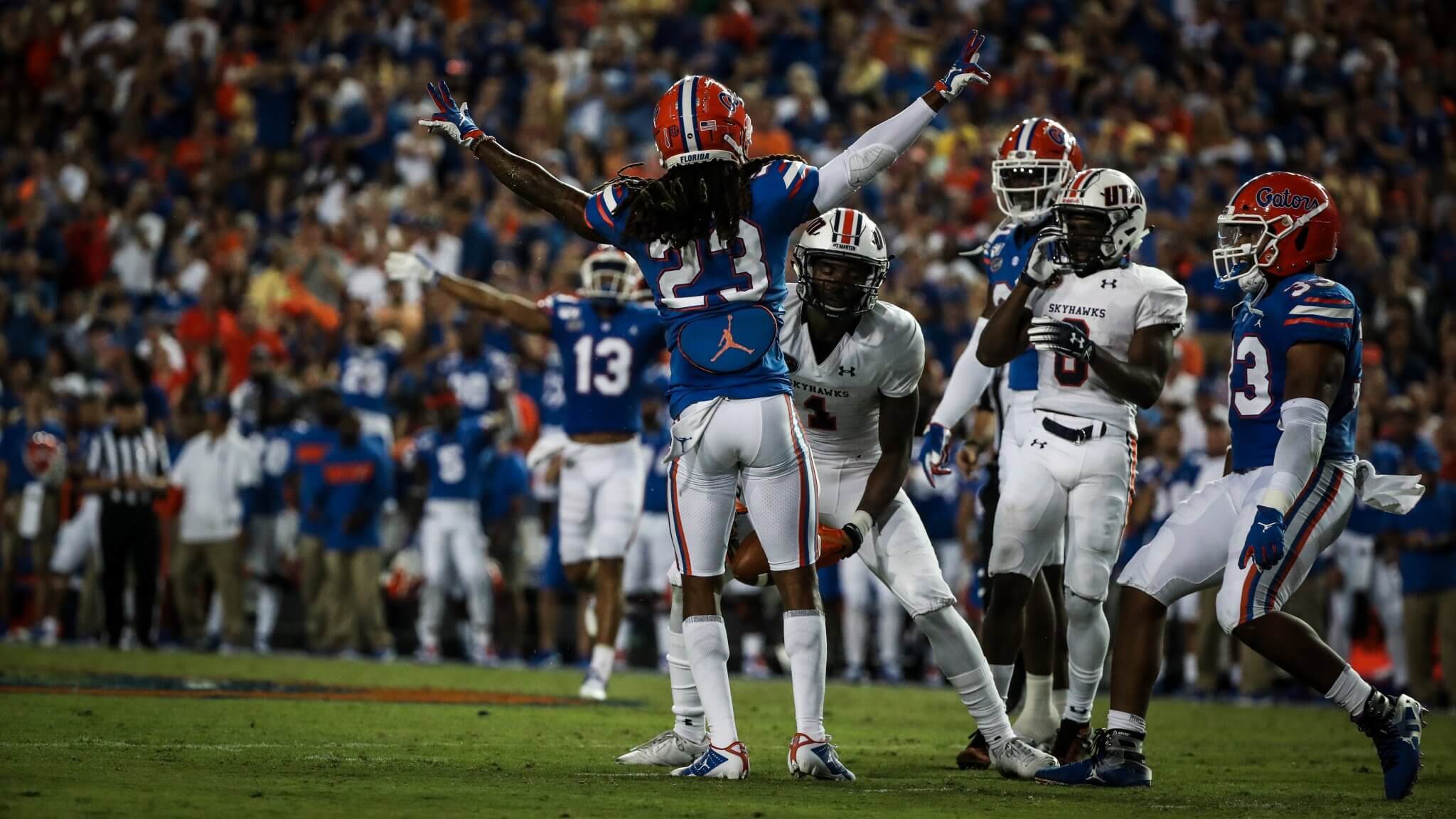 Florida's 45-0 blowout of UT-Martin was more or less what people expected to happen because of the fact that it was an FCS team on the other sideline. But it was a win, and Florida definitely recorded its share of highlights.
So who earned a helmet sticker in the Gators' home opener?
-CJ Henderson, for his pass breakup early in the second quarter. The only time the game actually felt in danger was on this drive: Florida led 3-0 with twelve minutes to go in the half, and UT-Martin had the ball at the Gators' 43 yard line. SkyHawks quarterback John Bachus III looked to take advantage of the situation by taking a shot to Jaylon Moore, but Henderson played this ball perfectly and broke it up to preserve the 3-0 lead.
-Feleipe Franks and Van Jefferson, each, for their 70 yard touchdown strike. Things were really starting to get tense at this point, as a 3-0 lead over an FCS team midway through the second quarter was definitely not what the Gators had in mind when they paid UT-Martin half a million dollars for the game. But Franks and Jefferson finally gave Gator fans the ability to exhale with this bomb- the first touchdown in the Swamp in 2019. Nice job by Jefferson to break free, nice job by Franks to see him and deliver it to him.
-Jaydon Hill, for his pass breakup midway through the second quarter. Here's a thought: maybe the Gators actually kept the most talented member of the Chris Steele-Jalon Jones-Jaydon Hill dorm room? (Sorry Jaydon, last time I'll ever associate you with them.) Hill was thrust into duty due to Henderson's injury and immediately showed why the Gator staff wanted him in the first place when UT-Martin decided to test him. He timed the downward slap of his arm perfectly- any sooner and it's pass interference, any later and the receiver has brought the ball in. Well done by the rookie.
-Khris Bogle, for his TFL late in the second quarter. You'd expect a high four star signee to be able to abuse FCS competition, and Bogle does just that. But he gets a helmet sticker because of the MLB rule for a player getting his first hit. First of many, Khris.
-Andrew Chatfield, James Houston and Zach Carter, each, for their late third quarter TFL on a 4th and 1. Chatfield dominated his opponent inside, Carter was met with minimal resistance, and Houston was completely unblocked. But while the game was clearly over at this point (it was 31-0 with two minutes left in the third quarter), it was a big play at a big moment that prevented UT-Martin from keeping things respectable.
-Kyle Trask and Jacob Copeland, each, for their eight yard touchdown connection. Trask has an awesome story of loyalty and perseverance, but it's pretty clear that he'll never have a football team to call his own. So it was nice to see him share in some glory. The real glory on this play, though, goes to Copeland, a redshirt freshman fans have been raving about ever since he defied his mother's wishes and chose Florida over Alabama two National Signing Days ago. Like with Bogle's TFL, it figures to be the first of many for Copeland as his career progresses.
-Jaydon Hill, for his touchdown saving tackle early in the fourth quarter. No sooner had Copeland scored to make it 38-0, UT-Martin threatened to end the shutout. QB John Bachus III pulled the ball and kept it off the left side, fooling the entire Gator defense. But Hill- who got walled off by his receiver at the start of the play- didn't give up, hustling down the field and flagging Bachus down to keep the shutout alive.
-Kaiir Elam, for his shutout saving interception early in the fourth quarter. We just knew any blood relative of Matt Elam was going to be worth signing, right? Uncle Matt would be proud of the way Elam played this ball. Down 38-0, Bachus tried to break the shutout on a fade route in the corner of the end zone. But Elam out positioned his opponent and came down with it to preserve the bagel.
-Emory Jones, for his 12 yard touchdown run late in the fourth quarter. Jones wasn't perfect in mop-up duty, but he did display a flash of brilliance that indicates to me that he will one day run this offense. On a third and nine, Jones pulled the ball on a read option and took off straight between the hashmarks for his first score of 2019. That made the score 45-0, and would conclude the adjustments to the scoreboard for the evening.
And the game ball goes too… Copeland. The redshirt freshman is not exactly a clone of Kadarius Toney- they're simply different players- but he's going to have to fill the role Toney has played until he returns from his injury, and his first attempt to do so went very well. The Pensacola product caught three passes for 23 yards and a score, and also picked up 15 yards on a jet sweep. Keep an eye out for him to explode in a bigger role in the coming weeks.