Another week, another Gator win, another batch of highlights for Florida, and another batch of not-so-great things that they can work on. Due to the quality of the opponent, this review will not be as detailed as the Miami game was.
Jeawon Taylor was out for this game, which gave Shawn Davis the start at safety next to Stiner. FCS opponent or not, it gives Davis a good chance to earn the starting safety spot over Taylor, or at the very least, to earn more snaps over Taylor. Davis was the only safety vs. Miami who showed a lot of promise in the angles he took to ball carriers and not missing a bunch of tackles. And right away we see the upgrade Davis provides in terms of his tackling ability. Watch how he squares up and doesn't go for the knockout blow.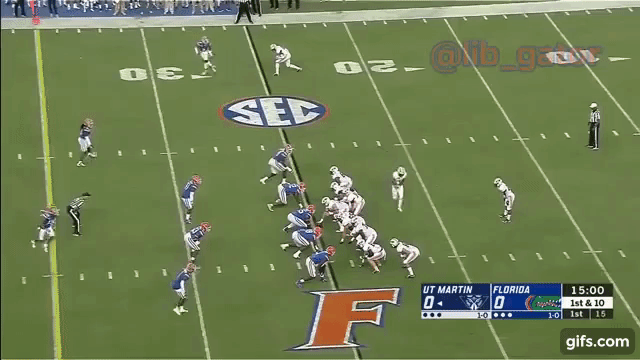 This play, combined with some poor judgement on Toney's part vs Miami, is why I truly believe the comparisons to Percy Harvin should fade away. Toney is very explosive and shares similar lateral quickness as Percy, but the two are not in the same tier in terms of vision and trust in their blocking schemes. I love Toney's explosiveness, but it's just not an accurate comparison. The blocks look to be set up quite well to me and there is no need for Toney to reverse course on this play, so just plow forward and get what you can. Yes, UTM probably hits Toney a couple yards after he runs forward, but then with that explosive power we all know he has, Toney also might break a couple of tackles like he did vs Miami. When Toney returns from injury, he really needs to figure out how trust the blocking schemes setup for him.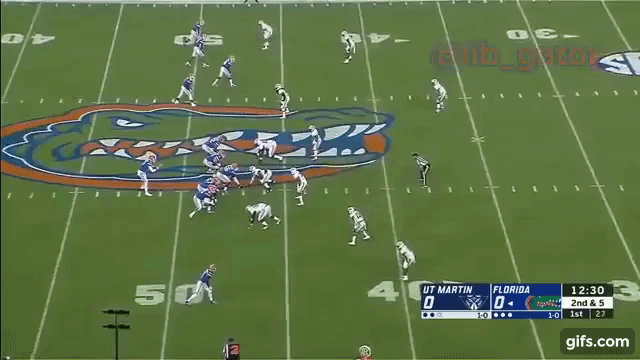 And here, he has two options IMO, cut straight up the field and hope to beat the DB closest to him with his speed, or take advantage of the double team block and bounce it outside. I don't see any reason, knowing Toney's speed, that he can't quickly get the first down here if he was to bounce this towards the sideline.
This is about the best blocking the starting offensive line provided against UTM, which I'll dig into more. This is the kind of hole that Florida should be opening on a consistent basis vs. an FCS program.
Again, everybody from Florida is on a body from UTM.
This looks like a play we saw multiple times against Miami. Questionable tackling fundamentals, help defense over running the play and no contain on the backside until late, and in this case the backside help doesn't really put himself in an ideal position to actually make a play on the RB. This is going to be a big issue against a tailback like D'Andre Swift for Georgia, a guy who has arguably the best jump cut in CFB.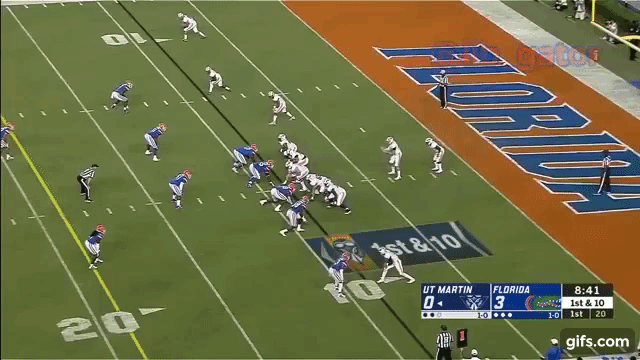 This next play is a simple play I'm pointing out because this is the kind of linebacker play Florida consistently needs to see vs. the rest of their schedule if the defense is going to be better as a whole. David Reese has some issues scrapping through debris and taking on blockers, so it's nice to see Miller sidestep a potential block, go one on one with a blocker, not lose the battle, and be the first guy to make the tackle as well. This needs to happen a lot more from Reese and Miller needs to continue to build on what he's done vs Miami and UTM early on.
On the very next play, we see another good play by Miller against the counter QB keeper here, TE wraps up and Miller does a good job staying long and quickly fighting off the block. He doesn't make the primary tackle, but he does enough to grab the shoe of the QB and make the help defender's job easier.
I keep trying to skip along to keep this short but Miller continues to stand out, and again, I realize the opponent should be held in mind in terms of context, but I haven't been a fan of David Reese vs. the run, despite the tackling numbers, so I am really liking what I see from Miller in this game so far. Again, he takes on a lineman head up, doesn't lose, and is the first defender there to slow the RB down on the screen.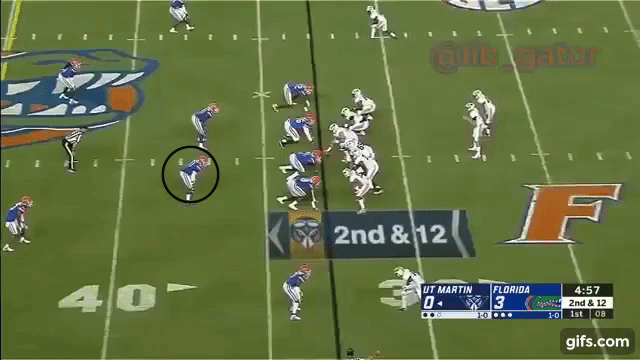 I mentioned during the Miami review that I don't think Florida's offensive line is good enough to pull as much as Dan utilizes blocking schemes that involve pulling linemen. But in this case, I'm starting to really notice how much work the tight ends have to do as run blockers. Based on my knowledge of this kind of blocking scheme, Pitts cuts way too far inside and it allows a defender to come in unblocked.
The yellow is what I believe Kyle Pitts is supposed to be doing, he opts for the red. The pulling OL does his job, the defender in red I circled red to let you know he's the one that Pitts missed the block on by taking the wrong angle on his pull assignment.
Two games into the season, I am of the opinion that the weakest linemen in terms of pass protection is Jean Delance. I pointed him out on several occasions vs Miami and I'll point him out here. More defensive coordinators are going to notice how poorly he handles stunting linemen, as this is usually the result of linemen who stunt. Franks handles it well and picks up the first down, but the schedule only gets tougher in terms of defensive lines from here, so Delance is going to need to progress faster than I'm convinced he can as a fresh face to the OL.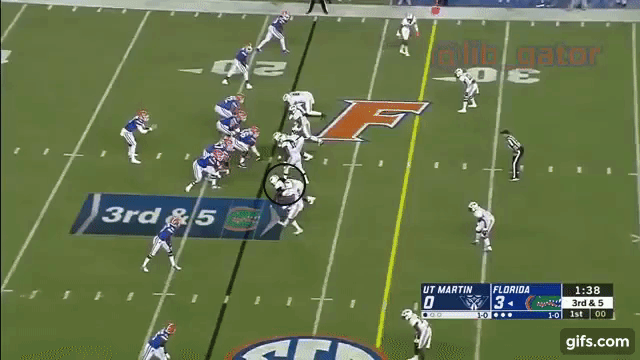 I believe this is the play that knocked Toney out, and I'm not here to criticize Toney, I'm calling out the suspicious lack of creativity in getting him the ball this season. Every single touch for Toney on the year came behind the line of scrimmage, and it looks to me like UTM was selling out on the run, as at no point this season has the Florida staff given the opposing defense any reason to believe Toney is anything but a gadget RB. At some point the criticism on Toney needs to shift to the play callers, and in this case, Dan Mullen and company need to re-evaluate how they get Toney the ball when he returns. If he is a WR, treat him like one.
Another poor run with a result that's coming largely off of Chris Bleich not completing his pulling assignment. He's way too far off line and needs to be closer to the OL. He's so far off line that he completely has to stop and try and adjust his block. At this point the blocking is thrown off and the RB can't create any momentum. Pitts also seems to have no idea which defender he wants to block. I don't know the exact blocking scheme here so I am not sure who messed up here, but I feel strongly that both Bleich and Pitts aren't supposed to be targeting the same defender. All I know is, one of them definitely got it in the film room for this.
Again, this is what I believe should be the result. Bleich wraps around and heads up field, Pitts blocks the defender who is behind him here.
On the flip side to this, the very next play we get a nice, clean pocket for Franks, and to save from over using GIFs, I'll just go with a still. UTM used a stunt here, but it wasn't directed at Delance. Either way, it's weird to see an OL that is quite bad in their run scheme discipline consistently look like this in pass protection. This isn't just a "well it's UTM" scenario, as we had quite a lot of clean pockets like this vs Miami.
Another play that has Bleich pulling. Most of my knowledge on blocking schemes comes from a lot of reading coaches and scouts writing on the subject, so I very well may be wrong here, but I believe in this instant, Pitts is supposed to take the MLB and Bleich takes the OLB and that should spring Franks. Instead, just like just above, we end up with a Bleich and Pitts double team on one defender, freeing up another to come and make contact with Franks.
This is what I believe the blocking scheme should look like.
But this is what it looks like, Pitts and Bleich end up blocking the same defender and the man in the red is unblocked. If this is blocked correctly, this is a first down with the first defender downfield being 6 yards from Franks and it being an undersized safety.
For as questionable as CJ Henderson is vs. the run or in fighting off blocks in the screen game, there are not many, if any, corners in CFB who are better at him at playing the ball in the air cleanly. Let's not shortsell him here. This isn't good coverage, or great coverage; this is perfect coverage.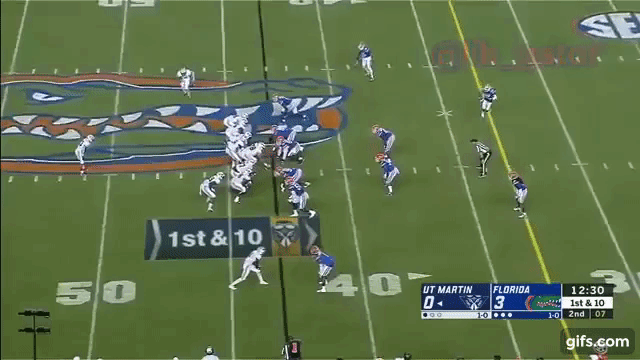 To save some of your browsers from GIF overuse, our pass rushers really seem to get going as the game goes on. This is not exactly what you want your tackles to look like vs any kind of pass rush, reaching and over extending before your QB hits his drop is less than ideal. This ended up in a sack.
This is the 2nd best run of the day up to this point. It is no surprise to me that when our linemen and TEs are not being tasked with pulling and making a decision on who to block, and just line and go forward, the run blocking is good enough to move the ball and potentially win you games vs. better opposition. It's not perfect blocking; I'd ideally like to see Bleich fire off that double team and head to the next level with more commitment. But it works.
This play very likely goes for a big, big gain if Delance does a better job on his assignment here. I'd like to see us run these stretch plays a little more often but I guess if Delance can't hold his block properly vs. UTM, the staff won't be overly confident in his ability against Auburn or LSU.
And if you're asking yourself what did Delance do wrong?
This.
In my review of the Miami game, I focused much heavier on the little mistakes Franks made, because I completely agreed with PFF's low grade of him in that game. But against UTM, there really isn't much to criticize him on. At least, not based off what limited view of the field that I have. Arm talent is arm talent and Franks very likely has the strongest arm in CFB, the issue is reigning in what goes on in his head and scaling back the overthrows when our receivers beat defenses deep (remember the Georgia game last year?). On this play, it's hard to tell, but it looks like he looks at the safety, looks the safety off to the left, and then goes back right where he goes deep to Van Jefferson. Also of note, again, is how fantastic the offensive line is pass protection. It's quite odd to see a line as poor as Florida's is in the running game be so strong in the passing game for a group that has 4 new starters on the OL. Per Phil Steele, this united ranked 127th in returning experience. You don't normally get this kind of pocket with that level of returning experience unless you recruit like UGA does up front, and we haven't recruited remotely as well as UGA has on their OL, I know a lot of people, myself included, criticized the John Hevesy hire, anyone that did so looks like a fool.
Anyways, the first play of 2018 that lit up the Swamp: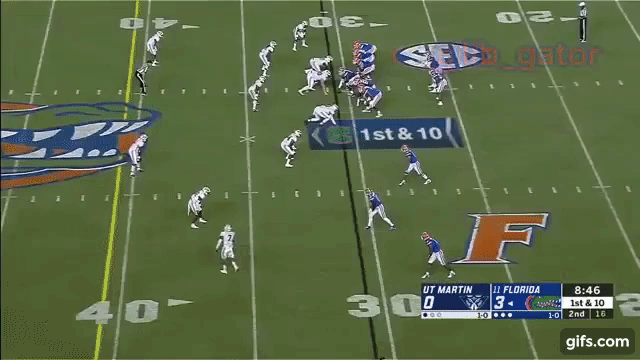 Jaydon Hill may be really good for a freshman, that will be determined going forward as he gets more playing time with CJ Henderson out, but I like how the true freshman plays the screen. Gets inside leverage on the WR and does enough to slow down the ball carrier and makes it easier for Reese and Davis to clean up. It wouldn't surprise me if UTM saw Hill out wide and thought they had an advantage in the screen game, but if they did, Hill proved that to be a mistake.
Jaydon Hill, true freshman, once again, perfect coverage, perfect timing, perfect breakup of the pass.
This is on the same drive, at this point I'm convinced that the offensive staff saw Hill on the field and immediately thought they could move the ball at will by targeting a true freshman.
I feel like Perine is a really timid runner behind this OL. I don't know if he's grown concerned about what he deals with in practice, but Perine was a much tougher, straight forward runner in the past. Now, the OL has this sealed off quite well, Tyrie Cleveland does a pretty subpar job on the outside, but in the past, Perine hits the corner and the gas and just goes. Here, he hits the corner and immediately starts dancing. Perine a year ago turns this into a first down. Perine this year? I'm not quite sure, since I'm not in Perine's head and since it's only been two games, but he's been a very timid runner so far this season.
This play was setup by earlier looks where Toney was in at WR and went into motion to receive the handoff out of the shotgun. Florida has been very run dominant out of this look and this is a great call, it helps that the entire defense bites on the run, and again, Franks a year or two ago over or under throws this ball.
Time to feature another true freshman, Khris Bogle (#97). He's matched up here on a TE, so he should win this matchup, and he does. He creates separation with strength and does a good job of forcing the RB back inside to the defense, doesn't need the help though as he pretty much shuts the RB down on his own.
Bogle wins (circled in black) this time with an inside pass rush. I really like what I'm seeing out of him early on. Zuniga also wins quite easily with speed and a rip, Lacedrick Brunson cleans up with a sack, which makes up for him getting badly beat on a wheel route on the play prior to this.
My favorite thing about Zuniga right now is that he can lineup anywhere and win. If you think a teams weakest linemen is their LG or RG, you can confidently line up Zuniga over the shoulder of that linemen and feel comfortable in Zuniga winning quite a lot of those one on one battles.
If Perine continues to dance and run timid/scared, it won't surprise me to eventually see Davis take over the RB1 role. Though I'm not sure the difference between RB1 and RB2 will matter that much by years end in terms of carries, but this is the running style I remember from Perine a year ago, both Davis and Pierce did a better job to this point of getting the ball, seeing the hole, and going.
I said this before last season, and I'll say it again: for all my criticism of Franks, I think he has really solid ball placement on these slant routes. He puts the ball low and almost entirely out of the way of a DB being able to jump the route.
Picture time, this is a stunt. Delance is targeted directly here with the stunt and Franks has to get rid of this throw as Delance has lost the battle.
Delance in picture form, part 2. This is the 2nd play this drive that his pass set has ruined from properly being able to play out how the coaches drew it up. Franks has to break the pocket and run here.
Franks does a really good job here evading the pressure, keeping his eyes downfield, patiently waiting for someone to get open, a nice throw moving left, a little sideways with the release to get through the junk.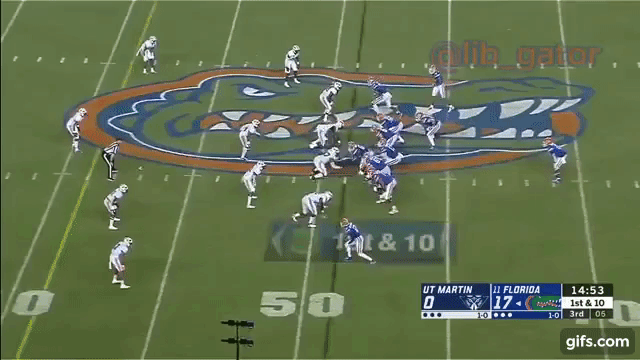 This is the kind of run by Perine I like to see, even if it doesn't gain a lot of yards. Gets the ball, puts one foot in the ground, cuts, and goes.
And now we have two good runs by Perine, again, one cut and go. Curious if someone on the staff got onto him about the timid dancing I noticed in the first half.
I believe this would register as Franks' worst throw of the day. The pocket isn't great, but I would prefer him to throw this away or find a better target. Two WRs in the same area (which is a different question on its own) vs. three DBs.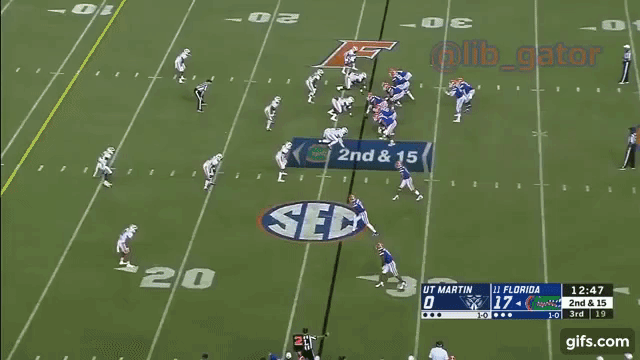 Everyone is obsessed with the deep ball, but this is the play I want to see him make more consistently as it is the higher percentage throw and will open up the deep stuff. It is a good enough pocket (the interior gets muddy at the end and keeps Franks from stepping all the way into the throw), Franks looks right long enough to move LB that way and it opens up the middle for the throw to Trevon Grimes.
At this point in the game I am going to shift gears a little bit and primarily focus on the backups the best I can, with the exception being if I notice something either really great or really awful with a starter.
Here we have another true freshman standing out for fundamentally sound play, Kaiir Elam with a great open field tackle. Note how he simply squares up and doesn't miss.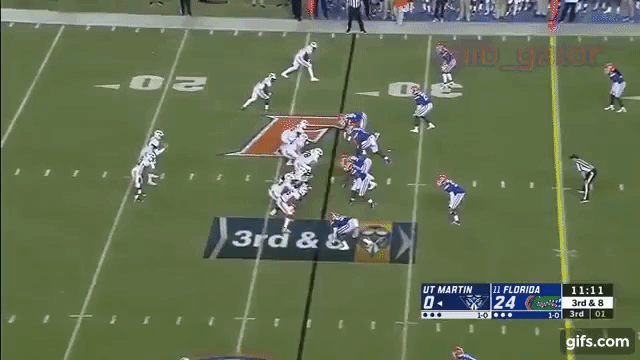 This play may not register as "really awesome", but it stood out to me enough after the Miami RPO debacle. Without knowing the play call I can never be 100% certain on the play, but I'm confident that this is an RPO, Franks notices he has a numbers advantage with a one on one match-up outside and pulls, and throws.
This is less than sublime tackling here by Quincy Lenton. Frankly, I'm not sure what he is doing here; he doesn't even attempt to wrap up, he just kind of wildly throws his body into the RB, forcing the true freshman, Jaydon Hill, to clean up. And thank god for Hill, otherwise this may have been a much bigger gain for UTM.
As I'm still getting into the groove with my film reviews, sometimes I overlook guys, so I'm glad TJ Slaton and Zach Carter popped up on the same play here as I haven't really noticed them up to this point. I expect big things for Slaton, not in terms of his numbers, but I'm hoping he earns more playing time and can be a guy who sucks up two blocks. Carter was highly hyped out of high school and I'd like to see him become a reliable 3rd pass rusher that you can lineup next to Zuniga and Greenard depending on the situation. And for both of them, this is a good start.
Here is Carter again, very next play. Just uses flat out power to push the guard right into the QB. Keeping this GIF short and just focusing on Carters rep here.
Redshirt freshman alert, Andrew Chatfield showing up on this play. This play is pretty much dead for UTM from the get go as multiple guys get beat here, but Chatfield is out of his stance faster than anyone else and has the best set here for me because he's the only guy of the three in the backfield who actually gets blocked, and he just overpowers the linemen and turns him completely outside. Big win for the freshman.
And here is a still to show you where Chatfield is right at the snap, perfect timing.
Now we get to a redshirt freshman on offense that I'm extremely excited about: Jacob Copeland. This is Copeland's third touch of the day, the other two were catches, but I posted this one because the play is very similar, if not the exact same as one of Toney's prior plays in this game that went for a loss. I have no idea what Toney would do in this situation based on his inconsistency in terms of putting his foot down and going or dancing wildly behind the line of scrimmage. But this play is a good example of why I think Copeland is a perfectly suitable replacement for Toney, and in one area, potentially an upgrade. No dancing, he sees the hole, and he goes.
Copeland already has more catches past the line of scrimmage in one quarter than Toney did in five and some change quarters. At this point, I'm thoroughly convinced that the staff has some kind of trust or confidence issues in Toney as an actual WR, he's basically just a gadget RB. This slant route is nothing crazy, but the DB is draped on Copeland, its a good throw by Trask and a good catch by a freshman WR. It's still way too early to tell if Copeland can be a better version of Toney, or just flat out better than Toney, I'm assuming we'll find out a lot more vs Kentucky, so I don't want to jump off the deep end in terms of optimism on two plays vs a FCS team, but what I'm seeing from Copeland already gives me confidence that Florida won't miss Toney. And a big part of that is that we're just flat out deep enough at WR that even if Copeland struggles, you have enough experienced guys there to do the variety of things Mullen wants to do.
Anyway, onto the slant, and the touchdown that has social media buzzing about this kid:
Lenton is a guy that I've noticed twice now show almost no proper tackling fundamentals. This is another play where he just kind of throws his head and shoulder at the ball carrier and hopes he wins the round, but he just bounces off and he needs help to bring the ball carrier down. If you're losing one on one vs. every UTM ball carrier, you're going to lose to every single RB Florida plays. And that's a statement that includes Towson. I'm convinced that if Lenton plays any snaps vs someone like Georgia, we're going to have a really hard time winning that game, a la CJ McWilliams last year. Unfortunately, Florida's depth at safety is thin, so we're probably going to see a lot more of Lenton. Let's just hope the staff notices these kind of bad tackling fundamentals and works them out before we have Lenton seeing a one on one situation with someone like D'Andre Swift. Because from what I'm seeing seeing here, my money is on Swift.
This next play is one of those plays I'm confident doesn't happen with the starters on the field. I'm posting it because again, Chatfields get off. I have no issue with how he played this, partly because I have no idea what the play call is here, but generally you have either linebackers who are supposed to read and stick with the QB while the DE crashes or LBs scrap down onto the RB while the DE pops out to contain the QB. Pretty much everyone but Jaydon and Chatfield play this wrong. Only because of Jaydon's speed does the shutout remain alive.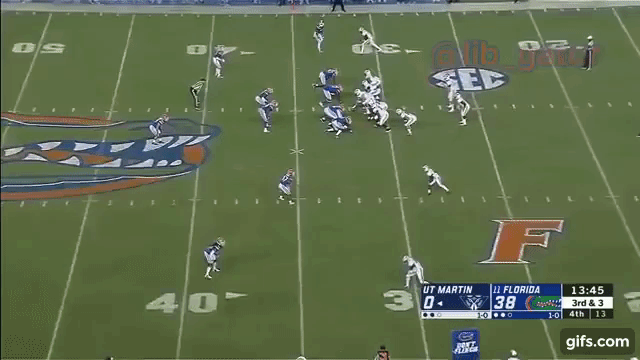 Again, I'm loving Chatfield's motor. Once again he beats everyone off the line of scrimmage with ease.
Elam also grabs his first interception on the next play. Unfortunately, the ESPNU camera work is so awful that I'm not even going to bother breaking it into a GIF. The freshman DBs had quite the great start to their careers in this game.
Home stretch of this film room session. Trask here drops a dime in between the DBs playing zone. When I originally saw the "OR" between him and Emory on the Gators' depth chart, I thought it was a motivational tactic for Emory, but while Emory is faster and runs Dans read option stuff better, I actually do believe Trask is just flat out the better passer between the two and so the staff is probably split on who is the better backup right now.
This is what I want to routinely see out of Slaton when he is on the field. I assume this is the backup offensive line for UTM, but the double team does nothing, he still moves laterally and makes the tackle. A guy thats 350+ pounds should get this kind of double team treatment on a consistent basis. Just need him to do this against SEC starting offensive lines.
And again, but this one is more impressive. In the last play one of the linemen breaks off his double team on Slaton to move up to block a linebacker. This time, both linemen stay engaged on Slaton the entire time and Slaton moves them both, without issue, and is once again the reason this run goes nowhere. This is the kind of play that is extremely impressive to me, backup FCS OL or not, that is two grown men at 300+ pounds that can not move Slaton away from where Slaton wants to go.
This is the best run of the day, not the best blocked run of the day, it's not bad, but this is pretty much all freshman Iverson Clement. It's nice to see this kind of athleticism and vision in terms of finding the cutback lanes, and this could be the start of a great career for him, but it's hard to get too excited about this kind of run late in the 4th against what I imagine are mostly walk-ons at this point.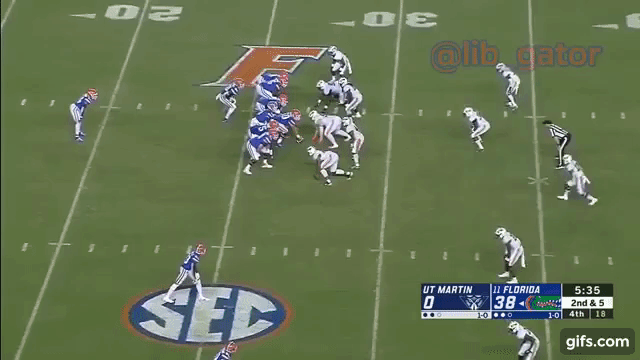 I believe this might be an inverted veer. Whether or not I'm correct, Emory shows what he brings to the QB position when he is in, and I'm surprised by how often we had Emory running up the A and B gap in this game. I was always under the impression he would be more of a read option, off tackle runner, but he had a number of runs right up the gut of the defense. Also note here #75, TJ Moore, I feel like he pulls and attacks with a bit more aggression then Bleich has shown so far from the guard position. Maybe we could see Moore mixed in with the first string OL a little bit more to see if we have more success on those runs that Mullen is asking his guards to pull on.
And that is where we end the film review.
Conclusion
You have to keep the competition in mind when watching this game. The offense got off to a really slow start, and without all-22 film I can't tell you whether that is the fault of Franks or not. He had a great game and his stat line was solid, no other Florida QB has ever put up those numbers and we know Florida has played many a awful cupcake teams in the programs history. The issue for Franks has always been consistency. He won't do this vs Kentucky and I think most people realize that, it's about improving on the Miami game and not being the reason Florida loses to a team they should beat in Lexington.
The biggest issue for me in this game is that offensive line and Pitts primarily at the TE spot, really struggled in the run game. You shouldn't struggle to open up lanes vs UT-Martin, you just shouldn't. And the odd part is that I could have included another 10 still pictures of all the clean pockets Franks had in this game, so the offensive line isn't bad as a whole. This will be an offense where the pass will have to open up the run game, because I see nothing through two games that tells me that Franks will have a lot of success working off the play action (though he did have one big key pass vs Miami that was based off a play action fake to Perine). I didn't log run yards out of specific formations, but I believe our best runs came out of a standard pro formation with Franks under center and the line just going forward. The moment we start asking guys to pull, things get ugly and more often then not the RB in at the moment is getting hit at or behind the line of scrimmage. Ultimately what an armchair coach thinks means nothing, but I'd like to see Mullen utilize less of the pulling linemen until they show they can do it.
I don't foresee Florida's offense missing Toney. This isn't a knock on Toney, despite some of my criticism of his lack of patience and questionable vision. It has more to do with my faith in depth at WR and that Copeland is a more developed WR, even as a RS Freshman.
On the defensive side, nothing from the defensive line concerns me, it's still the best and deepest unit on that side of the ball and if Chatfield continues to get his reps, Grantham will have a lot of options to play with in terms of rushing the passer. Slaton is a make or break guy for this line going forward. I want to see him on the field with Greenard and Zuniga more, as the more snaps he played in this game, the better he looked. Think back to how difficult Alabama was to scheme around because of Terrence Cody, I think Slaton has similar potential in terms of forcing you to double team him, and if he can take up an extra blocker, that always helps your linebacker group.
I still believe Miller is the best linebacker on the team right now, I don't believe Reese played many snaps in this game, which is fine, this teams needs to develop more experience behind Reese and Miller.
I don't think CJ Henderson can be replaced in pass coverage, but several of the freshman corners, specifically Jaydon Hill, gave me reason to believe there won't be a drastic drop-off in that area. Thankfully it seems as if CJ will only be out a couple weeks, so Marco Wilson needs to shine now as the guy to shutdown opposing teams #1 WR, thankfully, Florida doesn't really play anyone with a fearsome WR unit while CJ is out.